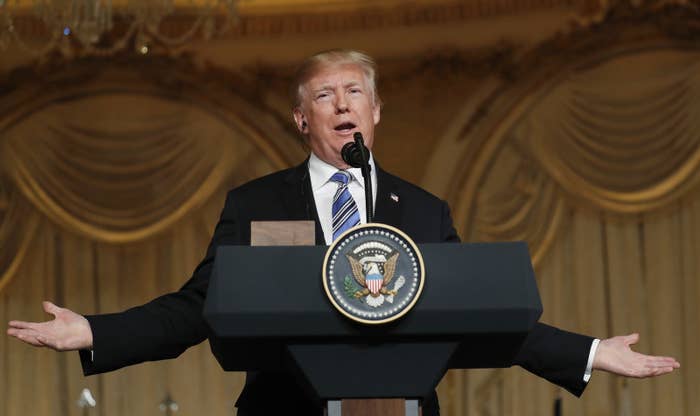 The Democratic National Committee filed a lawsuit Friday alleging a far-reaching conspiracy between Donald Trump's campaign and the Russian government to interfere in the 2016 presidential election.
The lawsuit pulls heavily from work done so far by special counsel Robert Mueller's office, and then takes a big leap, drawing lines between the special counsel cases and the hack of the DNC's servers by Russian intelligence, claiming that together they represent proof of a deliberate conspiracy.
It's a step that Mueller's office hasn't taken. None of the criminal cases to date have alleged this sort of conspiracy, and they haven't addressed the DNC hack — Trump has even claimed the indictments as victories, pointing to the fact that no one has been charged with colluding with the Russian government. The DNC appears to be hoping that, pulling together the information from these cases and media reports, and combining them with what's known about the hack, they can prove otherwise.
The case, filed in the US District Court for the Southern District of New York, is rooted in the hack of DNC servers in 2015 and 2016. In a January 2017 report, the US intelligence community concluded that Russian intelligence had obtained access to DNC networks starting in July 2015 — a month after Trump formally launched his campaign — and kept that access through at least June 2016. Russian intelligence released the information pulled from the DNC's networks through WikiLeaks and other sources, the report found.
The DNC claims that the theft of its data was carried out "with the active support and approval of the Trump campaign and the Trump Associates." The defendants include Trump, the Russian government and its intelligence arm, Donald Trump Jr., Trump's son-in-law and White House adviser Jared Kushner, WikiLeaks and its founder Julian Assange, longtime Trump ally Roger Stone, former senior campaign officials Paul Manafort and Rick Gates, and former campaign adviser George Papadopoulos.
Beyond pressing the broad allegations of collusion, the DNC is suing for damages, saying it lost out on donations because of donors' fears about their information being compromised, and had to pay more than a million dollars to address the hack.
"The illegal conspiracy inflicted profound damage upon the DNC. Defendants undermined and distorted the DNC's ability to communicate the party's values and vision to the American electorate; sowed discord within the Democratic party at a time when party unity was essential to electoral success; and seriously compromised the DNC's internal and external communications," the DNC's lawyers wrote.
There may be benefits for the DNC in drawing from Mueller's work, said Jodi Avergun, who leads the white-collar defense practice at the law firm Cadwalader, Wickersham & Taft. The lawsuit names two individuals as defendants who pleaded guilty to charges in the Mueller investigation — Gates and Papadopoulos — which may make it harder for them to argue against the allegations in the civil case, she said. Manafort is also fighting charges filed by the Special Counsel's Office.
There appears to be precedent for this type of lawsuit — the DNC in 1972 sued then-president Richard Nixon's reelection campaign over the Watergate break-in. That case ended in a settlement. But the existence of the Mueller probe may limit options for how the two sides can resolve the case. Avergun said she thought a settlement was unlikely, "given the level of anger and the level of denial that has existed about the very existence of a conspiracy of the Trump campaign to collude with Russia."
"They can't settle because that goes to the very essence of the Mueller investigation," she said.
To prove claims of racketeering, the DNC will have to show that there was an agreement among the defendants to commit criminal acts, and that there was evidence of intent and a plan. The lawsuit's recitations of relationships and events that the DNC argues are proof of a conspiracy represent an amalgamation of allegations that have come from Mueller's office to date.
In alleging that Trump and his associates had ties to Russia that "provided fertile ground" for the conspiracy, the suit presents two sets of evidence: Trump's longstanding business ties to various Russian officials and Russia-connected individuals, and the work that Manafort and Gates did for pro-Russia Ukrainian officials, which formed the basis for the criminal charges filed by Mueller's office. Neither has been charged in connection with their work for the campaign. Instead, they were charged with money laundering, failing to register as agents for Ukraine, tax violations, making false statements, and several other related crimes.
Gates pleaded guilty on Feb. 23 and has agreed to cooperate with the Special Counsel's Office.
The DNC's lawsuit points to information from the Special Counsel Office's case against Alex van der Zwaan, a lawyer with ties to Gates and Manafort who pleaded guilty to lying to investigators about his contacts with Gates and an unnamed person referred to as "Person A." In van der Zwaan's case — which also did not touch on the campaign — prosecutors had alleged that Person A had ties to Russian intelligence, including in 2016, and that van der Zwaan knew this because Gates told him.
The DNC suit appears to claim that "Person A" is Konstantin Kilimnik, an associate of Manafort and Gates. The DNC's complaint alleges that the FBI believed Kilimnik maintained ties to Russian intelligence during the 2016 campaign and that Gates was in touch with Kilimnik while he was working on the campaign — both allegations that were raised in van der Zwaan's case concerning Person A and their ties to Gates. The complaint cited an article about the documents filed in van der Zwaan's case concerning Gates and Person A. Media reports have speculated that Kilimnik is Person A, but Kilimnik has denied having ties to Russian intelligence. Neither Kilimnik nor Mueller's office has confirmed that he is Person A.
The section about Kilimnik in the DNC's case also cites a court filing in Papadopoulos's case, but Gates and Kilimnik aren't included in that document. A DNC spokesperson told BuzzFeed News that the citation was a mistake and that they meant to cite van der Zwaan's case.
The lawsuit also discusses the ties between Papadopoulos and a London-based professor, Joseph Mifsud — also named as a defendant — who allegedly offered to put Papadopoulos in touch with an unidentified female Russian national while Papadopoulos was an adviser to Trump's campaign. The woman was introduced to Papadopoulos as a niece of Russian President Vladimir Putin, but that turned out to be false, according to court filings. The professor allegedly told Papadopoulos that the Russians had "dirt" on Hillary Clinton in the form of "thousands of emails."
The DNC suit claims, as Mueller's office previously alleged in Papadopoulos's criminal case, that Trump campaign officials knew about Papadopoulos's meetings and efforts to arrange a meeting between Trump and Russian officials. The complaint notes that several days before Papadopoulos allegedly had the meeting with Mifsud where Mifsud discussed the "dirt," Russia had carried out a cyberattack on DNC servers in Virginia and Washington, DC.
Lawyers for Papadopoulos released a statement saying that Papadopoulos was still cooperating with Mueller's investigation, so they would not address the allegations raised in the DNC's lawsuit.
"Revealing details at this point in time or responding to allegations made today would not serve the administration of justice. It is our hope that when all the facts are known, the plaintiff will voluntarily dismiss Mr. Papadopoulos from the complaint," lawyers Thomas Breen and Robert Stanley said in the statement.
The lawsuit ties together other events and alleged communications that took place during the campaign as proof of the conspiracy, such as the June 2016 meeting between members of Trump's campaign, a Russian lawyer, and others, as well as emails between Donald Trump Jr. and music publicist Rob Goldstone setting up the meeting.
According to the emails, which Trump Jr. released, Goldstone had told Trump Jr. that Emin Agalarov — a Russian pop star — had said that his father, Aras Agalarov — a developer who worked with Trump on the Miss Universe pageant in 2013 in Moscow — met with a Russian official who offered incriminating information about Hillary Clinton. Trump Jr. had replied with his appreciation, writing, "Seems we have some time and if it's what you say I love it especially later in the summer." The Agalarovs are also named as defendants in the DNC's lawsuit.
A lawyer for the Agalarovs, Scott Balber, said in an email to BuzzFeed News that the DNC's claims were "frivolous."
"My clients had absolutely nothing to do with any alleged hacking of DNC computer networks or any effort to influence the US election. The complaint appears to be nothing more than a publicity stunt," Balber wrote.
The suit also refers to reports that Roger Stone communicated with Julian Assange and knew leaks would be coming — WikiLeaks and Assange told CNN they never communicated with Stone — and Trump's tweets and public statements promoting documents from the DNC published by WikiLeaks.
Stone is already a defendant in a lawsuit raising similar allegations against Trump's campaign filed in July 2017. A hearing on motions filed by Stone and the campaign to dismiss that case is scheduled for May 17. A lawyer for Stone, Robert Buschel, said in an email to BuzzFeed News that the DNC's suit was a "regurgitation" of the earlier case.
"Roger Stone did not conspire, collude, or do any action to subvert the electoral process," Buschel wrote. "Sadly, these meritless lawsuits against Roger Stone is not effective form of therapy for loss the DNC suffered in 2016."
WikiLeaks said in a statement posted via Twitter that, "As an accurate publisher of newsworthy information @WikiLeaks is constitutionally protected from such suits."
UPDATE
Updated with comment from WikiLeaks and lawyers for George Papadopoulos.