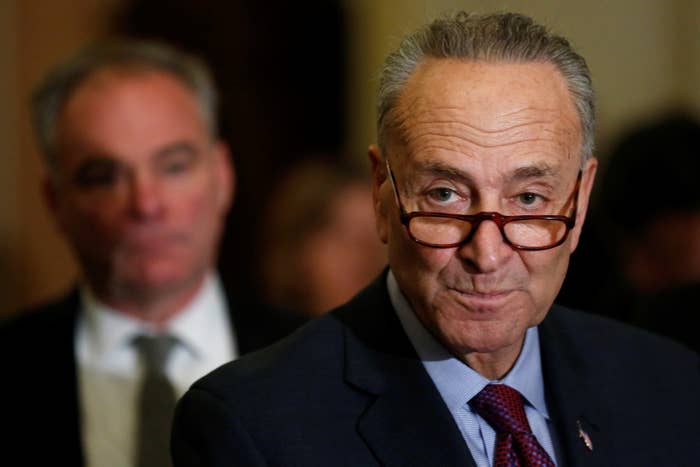 WASHINGTON — Senate Minority Leader Chuck Schumer announced on Thursday that Democrats will try to mount a filibuster against President Trump's nominee for the US Supreme Court.
The move will force Republicans to find a supermajority of 60 votes to advance Judge Neil Gorsuch's nomination to a confirmation vote. If they can't, Senate Majority Leader Mitch McConnell and the Republicans will have to decide whether to take the dramatic step of changing the vote threshold and essentially eliminating the filibuster.
The news came in the midst of the confirmation hearing for Gorsuch before the Senate Judiciary Committee. Schumer made his announcement from the Senate floor as members of the judiciary committee heard from witnesses for and against Gorsuch's nomination. (Gorsuch finished his testimony on Wednesday evening and wasn't at the hearing on Thursday.)
It takes a 60-vote supermajority to end a filibuster over a Supreme Court nominee, if mounted, and move to a confirmation vote. This cloture vote would end debate on the nomination. If Republicans don't have the votes, though, they could attempt to change the rules — the so-called "nuclear option." If that rule change is made, going forward it would only take a simple majority to advance a high court nominee.
Senate Democrats invoked the nuclear option in November 2013 to change the supermajority rule for lower court nominees, in order to push through President Obama's nominees to the US Court of Appeals for the DC Circuit. The effort was successful in getting Obama's nominees confirmed, but it also means that it is now harder for Democrats to block Trump's nominees to the lower federal courts.

Schumer announced the move by highlighting that recent past Supreme Court nominees reached a 60-vote threshold.
"To my Republican friends who think that if Judge Gorsuch fails to reach 60 votes we ought to change the rules I say: if this nominee cannot earn 60 votes, a bar met by each of President Obama's nominees, and President Bush's last two nominees, the answer isn't to change the rules – it's to change the nominee," Schumer said in his prepared remarks on Thursday.
Noting that Schumer had announced he would attempt to block any nominee before Gorsuch was even nominated, a McConnell spokesperson pushed back.
"After spending much of last year lamenting the consequences of a vacancy on the Supreme Court, he's now arguing to keep the seat vacant for the next four or eight years. Try to figure that one out," Don Stewart told BuzzFeed News via email. "I guess #WeNeedNine only applies when there's a Democrat president."

Stewart also pushed back against Schumer's claim of the 60-vote "bar," noting that the norm is not requiring a cloture vote on Supreme Court nominations.
"Historically, there are just simple up-or-down votes [on Supreme Court nominees]. Yes, Dems took the unprecedented step of attempting a partisan filibuster of Justice Alito. But that was the anomaly," he said, highlighting that Justice Clarence Thomas was confirmed with 52 votes — and no cloture vote.
Nonetheless, several Democrats on Thursday announced plans to oppose Gorsuch and to vote "no" on cloture, including Pennsylvania Sen. Bob Casey, Oregon Sen. Ron Wyden, and Vermont Sen. Bernie Sanders. At least one Democrat, West Virginia Sen. Joe Manchin, has said he will not support a filibuster, according to Yahoo News.
Asked about Schumer's plans at Thursday's press briefing, White House press secretary Sean Spicer deferred to the Senate leader.
"I am not going to start to tell Sen. McConnell what to do from here," Spicer said.
Additional reporting by BuzzFeed News legal editor Chris Geidner.
UPDATE
This story has been updated to provide further information on senators who have announced how they will vote.