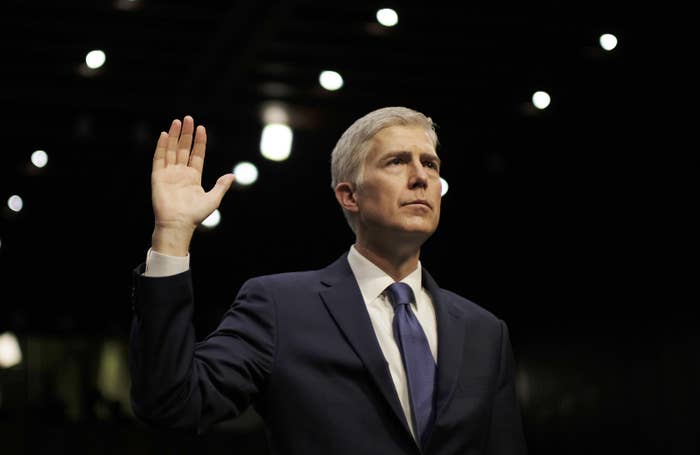 WASHINGTON — Monday's confirmation hearing for Judge Neil Gorsuch, President Trump's nominee for the US Supreme Court, was in large part about a judge who wasn't even in the room: Judge Merrick Garland, President Obama's blocked Supreme Court nominee.
One after another, Democratic senators used the first day of Gorsuch's confirmation hearing to blast Republicans for refusing to hold a hearing, let alone vote, on Garland's nomination last year for the Supreme Court vacancy that Gorsuch is now poised to fill. Gorsuch sat and listened, mostly in silence, for more than four hours as Democrats repeatedly talked about the other judge they wished were there instead.
"I just want to say I am deeply disappointed that it's under these circumstances that we begin our hearings," Senate Judiciary Committee Ranking Member Dianne Feinstein said in her opening remarks on Monday.
Vermont Sen. Patrick Leahy — the ranking Democrat when Garland was nominated — used his opening statement to call the Republican obstruction of Garland's nomination one of the "greatest stains" in the judiciary committee's more than 200-year history.
Minnesota Sen. Al Franken said Senate Republicans' refusal to hold a hearing on Garland was a "truly historic dereliction of duty." Rhode Island Sen. Sheldon Whitehouse took a jab directly at Gorsuch, saying Garland was "even more qualified than you, and that's saying something."
Monday's hearing was devoted to opening statements from the 20 members of the Senate Judiciary Committee. Gorsuch will answer questions starting on Tuesday. He did give prepared opening remarks at the end of the hearing, saying that in his decade on the bench he'd tried to treat everyone who came before him "fairly and with respect."
Obama in March 2016 nominated Garland — a judge on the US Court of Appeals for the DC Circuit since 1997 — for the Supreme Court a month after Justice Antonin Scalia died. Even before Obama announced Garland as his nominee, Republicans in the Senate, who held the majority, said that they would not act on the nomination, citing the fact that it was a presidential election year.
Democrats on Monday shied away from attacking Gorsuch's credentials — he's a Harvard Law School graduate with a doctorate in legal philosophy who has served on the Tenth Circuit in Denver since 2006.
Beyond attacking the treatment of the nominee who came before Gorsuch, Democrats' opening statements focused on the parts of Gorsuch's record that they said were concerning, such as his writings questioning how much deference federal agencies get in court — get ready for questions on Tuesday about a Supreme Court case known as Chevron. Some also questioned his embrace of an approach to judicial decision-making known as textualism, which focuses on the words of a law under review — to the exclusion of legislative history or other factors.
Hawaii Sen. Mazie Hirono delivered some of the sharpest criticism of the day, saying that in reviewing Gorsuch's opinions, "I have not seen that the rights of minorities are a priority for you." Hirono said that the hearing over Gorsuch's nomination was about "people in this country who are getting screwed every single stinking minute and hour of the day."
Connecticut Sen. Richard Blumenthal said that in light of Trump's attacks on the judiciary in recent weeks, Gorsuch had a "special responsibility" to defend the courts' independence at his hearing.
"It isn't enough to do it in the privacy of my office, or my colleagues', behind closed doors. I believe that our system really requires and demands that you do it publicly and explicitly and directly," Blumenthal said, recalling his earlier mention of comments Gorsuch had made to him about attacks on the judiciary.

With Republicans in control of the Senate, Democrats don't have the votes to block Gorsuch if the committee splits along party lines. Democrats could try to filibuster Gorsuch, which — if they succeed — would force Republicans to decide whether to alter Senate rules to defeat that effort and put Gorsuch on the bench.