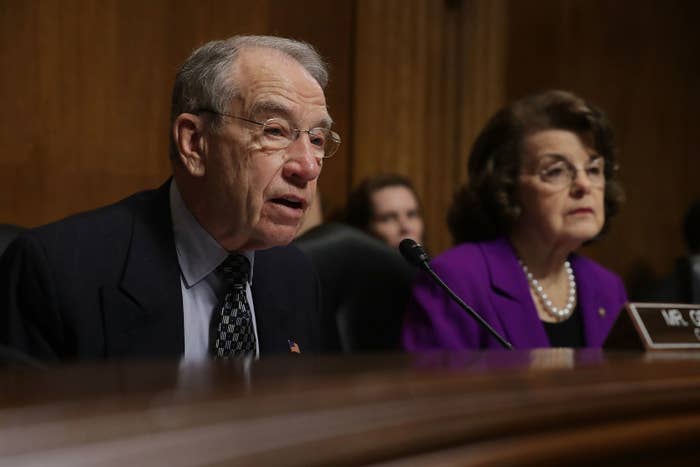 Democrats in the Senate have announced that they'll attempt to block two of President Donald Trump's federal appeals court nominees for the first time, finally forcing a decision from Senate Judiciary Committee Chairman Chuck Grassley on what he's willing to do to break Democratic opposition.
Oregon Sens. Ron Wyden and Jeff Merkley, as well as Sen. Al Franken of Minnesota, have invoked what's known as the "blue slip" process. Historically, senators who refused to return blue sheets of paper stating whether or not they approved of a home state nominee — as Wyden, Merkley, and Franken have said they will not do — would stop hearings from taking place.
But there have been exceptions to that rule, and Grassley has indicated that he could break with that tradition once again, a move that would chip away at the already limited leverage Democrats have on nominees in the Trump administration.
Fights over the blue slip system have cropped up at regular intervals over the past 40 years. As is the case now, these fights have pitted senators' desire to have leverage against an opposition party White House against the party in power's desire to get as many judges confirmed as possible.
The blue slip system is not a formal rule, and each chair decides how to handle it. It's been described as a Senate tradition, but that would wrongly imply that it's been static. Democratic and Republican chairs have applied it in a variety of ways, giving both liberals and conservatives room to now claim that history is on their side.
As committee chairman at the end of the Obama administration, Grassley would not schedule hearings for nominees unless both home state senators returned their blue slip. In recent months, however, he's signaled that he might loosen the practice, at least for the federal appeals courts. A spokesperson for Grassley did not return a request for comment.
But there are also risks for Republicans if Grassley decides to schedule hearings without both blue slips in hand. It would help the White House push past Democrats in the short term, but the process gives all senators more heft in negotiating for their preferred candidates. Senators routinely pitch former staffers, colleagues, and political supporters for federal judgeships.
If Grassley changed the practice now, it would give Democrats political cover to take a similar approach if they took control of the Senate and the White House in the future. Grassley has thus far followed the practice of his immediate predecessor, Vermont Sen. Patrick Leahy, a Democrat, in refusing to move on nominees without blue slips from both home state senators — a practice that had Democrats frustrated with Leahy at times.
Previous committee chairs have said they would allow nominees to get hearings over opposition from a home state senator in certain circumstances, including former vice president Joe Biden when he was in the Senate. Although there is a precedent for Judiciary Committee chairs to schedule hearings even if there are unreturned or negative blue slips, it's been rare for those nominees to actually get confirmed.
"There must be at least some [Republicans] who are sympathetic to the idea that they want to retain the blue slip veto because who knows who's going to be in the White House in 2021," said Russell Wheeler, a visiting fellow at the Brookings Institution who follows judicial nominations.

"Less strict use"
Conservatives say Senate Democrats are abusing the blue slip process. Liberals, pointing to Republicans' success in blocking former president Barack Obama's judicial nominees, say it would be unfair for Grassley to now change the rules. Liberal and conservative advocacy groups in recent weeks have launched public relations pushes; the conservative Judicial Crisis Network on Wednesday announced a new digital and television ad campaign aimed at Franken.
Both sides accuse each other of selective memory when it comes to the history of blue slips.
In an interview in May on C-SPAN, Grassley drew a distinction between appeals court and district court nominees, hinting that he might stick to requiring both blue slips for the latter, but not the former. He said that although it was important for the White House to communicate with senators on nominees, the White House historically had more of a say on appeals court picks.
"This is going to be an individual case-by-case decision, but it leads me to say that there is going to have to be a less strict use or obligation to the blue slip policy for circuit. Because that's the way it's been," Grassley said.
The ranking Democrat on the Senate Judiciary Committee, California Sen. Dianne Feinstein, said in a statement that she hoped Grassley would follow the blue slip process as he did under Obama. She cited examples of Obama-era appeals court nominees who did not get hearings under Grassley because Republican home state senators would not return blue slips.
"It's the prerogative of home-state senators to evaluate potential federal judicial nominees and determine whether or not they are mainstream and well-suited to hold these important positions of public trust, which have real-world consequences for their constituents," Feinstein said.
A Trump administration official said their practice has been to reach out to senators from both parties about judicial nominees around the time the White House begins brainstorming candidates. White House Counsel Don McGahn has spoken with senators in advance of nominations, including Democrats, the official said, noting that McGahn spoke with Franken and Minnesota Sen. Amy Klobuchar, also a Democrat, before the White House announced the nominee Franken is attempting to block: Minnesota Supreme Court Justice David Stras, whom Trump nominated to the US Court of Appeals for the Eighth Circuit.
"For the vast majority of the blue slip's history, it has been a consultation requirement. We have done everything we can to consult home state senators in good faith before nominating candidates, in accordance with that longstanding tradition," the official said.
Democrats dispute the extent of that consultation. Klobuchar said she was willing to support a hearing for Stras, but Franken announced on Sept. 5 that after reviewing Stras' record, he was concerned that Stras would be a "deeply conservative jurist." Franken said the White House had not been willing to work with him to find a "consensus candidate," and had already settled on Stras — one of the judges who was on Trump's short list for the US Supreme Court — before approaching him.
For an Oregon seat on the Ninth Circuit, McGahn has accused Wyden and Merkley of dragging their feet as the White House tried to work with them. In a Sept. 6 letter that McGahn sent to the senators, which was obtained by BuzzFeed News, McGahn noted that the White House vetted a candidate pitched by Wyden, US District Judge Marco Hernandez. However, he wrote that the administration still preferred the candidate that Trump ended up nominating, Oregon federal prosecutor Ryan Bounds, who had served in the White House and the Justice Department under President George W. Bush. McGahn said Wyden had refused to speak with him via his staff and neither senator had met with Bounds.
Wyden and Merkley previously told McGahn that they planned to set up a judicial nominating commission to consider candidates, although McGahn indicated in the Sept. 6 letter that the White House received inconsistent information about the status of that process. A Wyden spokesperson told BuzzFeed News that the commission is accepting applications for the Ninth Circuit seat, for which Trump has already nominated Bounds, through Oct. 1. The spokesperson did not provide information about who is serving on the commission.
In a Sept. 7 letter that the senators sent to McGahn, they said they were willing to expedite Hernandez through their selection process, but McGahn had "demonstrated that you were only interested in our input if we were willing to preapprove your preferred nominee." The senators said they would not return their blue slips for any nominee who hadn't been chosen via the commission process.
A White House spokesperson declined to comment.
No clear precedent
The history of the blue slip doesn't provide easy answers.
A 2003 report from the Congressional Research Service places the origin of the blue slip around 1917, when the Judiciary Committee formalized historical deference to home state senators on judicial nominees.
For roughly the first four decades that blue slips were in use, a vote of disapproval from a home state senator would not stop a nominee from getting a hearing. But from 1956 to 1978, when Mississippi Sen. James Eastland led the committee, a negative or unreturned blue slip would block committee action on a nominee, according to the CRS report. A former aide to President Lyndon Johnson, Joseph Califano Jr., wrote in a 2001 Washington Post op-ed that Eastland wanted to ensure segregationist judges were nominated in the wake of the Brown v. Board of Education decision.
In January 1979, the incoming chairman, Massachusetts Sen. Edward Kennedy, announced that an unreturned blue slip would not stop a nomination. Instead, Kennedy said the committee would vote on whether to consider a nominee over a senator's objection, according to news reports. The decision angered Republicans, who wanted to keep their veto power against then-president Jimmy Carter's nominees.
Successive chairmen adopted a variety of practices. South Carolina Sen. Strom Thurmond gave senators a week to lodge an objection, giving them a sort of veto power but preventing them from holding onto blue slips as a way to block a nominee. Historians have noted, though, that one district court nominee was confirmed during Thurmond's tenure over objection from a home state senator. Thurmond was followed by Biden, who said that a negative blue slip wouldn't stop a nomination from going forward, assuming the White House had consulted with senators.
Starting in 1995, the chairmanship bounced between Utah Sen. Orrin Hatch, a Republican, and Vermont Sen. Patrick Leahy, a Democrat. Under Hatch in the late 1990s, Republican senators were able to block or delay nominees via unreturned or negative blue slips. Hatch was frustrated with what Republicans felt was a lack of consultation by the White House, according to news reports, and announced that he would hold up nominees if senators were not involved.
After President George W. Bush took office in January 2001, Hatch reportedly signaled that an unreturned or negative blue slip would not automatically halt action on a nomination, spurring Democrats to accuse him of unfairly changing course. Hatch said he was just following Biden's practice, and prioritizing White House consultation. When Leahy was chairman, he would not schedule hearings on nominees until both blue slips were returned, a practice that he continued through 2015, when Grassley took over.
Potential challenges ahead
Of Trump's 13 circuit court nominees so far, seven have come from states with at least one Democratic senator. Some Democrats have returned blue slips and allowed nominees to go forward. Pennsylvania Sen. Bob Casey and Wisconsin Sen. Tammy Baldwin, both Democrats, have not returned blue slips for circuit court nominees from their states, but they haven't yet announced whether they'll withhold them indefinitely.

The White House has historically deferred to home state senators' preferences on district court judges more so than circuit judges. So far, Trump hasn't announced any district court nominees yet from states with Democratic senators. The Trump administration official told BuzzFeed News that there hadn't been blue state nominees yet because they were trying to work with Democrats on consensus picks.
To date, five of Trump's nominees for the lower courts have been confirmed, plus US Supreme Court Justice Neil Gorsuch. The administration has 47 nominees pending in the Senate. There are 144 lower court vacancies — 16% of all active judgeships — and 18 more upcoming vacancies have already been announced.