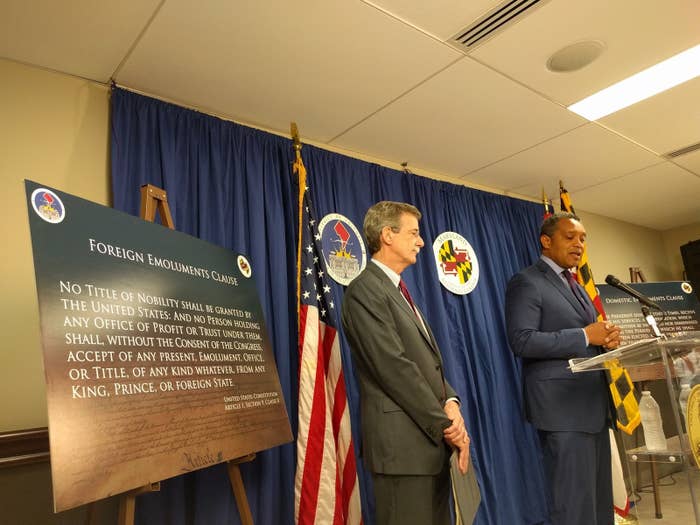 Two Democratic attorneys general in President Trump's backyard are behind a new legal attack against Trump's continued interests in his business empire.
District of Columbia Attorney General Karl Racine and Maryland Attorney General Brian Frosh filed a lawsuit in federal court on Monday accusing Trump of violating constitutional prohibitions on federal officials accepting gifts and other "emoluments" while in office, including payments by foreign officials for rooms at a Trump hotel, and leases by foreign-owned entities of Trump properties.
The president is already fending off similar claims in federal court in New York that he violated the foreign and domestic emoluments clauses. The foreign emoluments clause says that federal officials can't accept "any present, Emolument, Office, or Title, of any kind whatever, from any King, Prince, or foreign State," without approval from Congress. The domestic emoluments clause forbids the president from receiving any other "emolument" while he's in office, generally defined as a payment or other financial benefit.
The Justice Department filed papers on Friday asking a judge to dismiss the New York suit, arguing that the challengers lack standing to sue, and that the emoluments clauses don't apply to the types of private commercial transactions at issue.
Racine and Frosh pushed back against that argument at a joint press conference in Washington, DC, on Tuesday. Frosh said that if the Justice Department is right, the emoluments clause has "no meaning." Racine called it "remarkable."
"What DOJ wrote in a pleading in federal court is it is entirely permissible for the president of the United States to receive all the money in the world from foreign countries to his businesses, notwithstanding that he has not formally divested himself from those businesses," Racine said.
The lawsuit, filed in US District Court for the District of Maryland, claims that Trump's businesses have received millions of dollars via leases and purchases of Trump properties from entities controlled by foreign governments, Trump's lease with the General Services Administration for his DC-based hotel, payments related to international broadcasts of The Apprentice and spin-off shows, and a slew of other business dealings between Trump properties and foreign governments.
"We know exactly what's going on every single day," said Racine, noting that he could see Trump's hotel in Washington from his office. "Foreign governments are spending money there to curry favor with the president of the United States."
Racine and Frosh insisted that the lawsuit wasn't political, with Racine saying they would pursue a similar lawsuit against any future president — he proffered Facebook's Mark Zuckerberg as one possible example — who held onto substantial business ties after taking office. Still, Democratic attorneys general have led the charge in challenging the president in court.
White House press secretary Sean Spicer on Tuesday disputed that Trump's interests in his businesses violated the emoluments clause, pointing to the arguments raised by the Justice Department in its motion to dismiss the case in New York. He told reporters on Monday that the administration would move to dismiss the new lawsuit.
"It's not hard to conclude that partisan politics may be one of the motivations behind the scene. The suit was filed by two Democratic attorney generals, the lawyers driving the suit are an advocacy group with partisan ties," Spicer said, referring to the involvement of the group Citizens for Responsibility and Ethics in Washington. "The suit challenges the sort of business transaction that everyone from Penny Pritzker, who served in the last administration, and others have engaged in while in office."
A lawyer for the Trump Organization did not immediately return requests for comment.
Racine and Frosh are getting legal support from lawyers at CREW, the group behind the emoluments clause lawsuit in New York. Norm Eisen, chair of CREW's board, was at the press conference on Tuesday with Racine and Frosh. Racine said he and Frosh were supportive of CREW's lawsuit in New York, but that their case offered another chance to develop the record and the law.
Trump said that he would give up any role in running his companies and cede control to his sons after taking office, but he did not divest his ownership interests in those businesses. Racine noted that although Trump said he wouldn't be involved in his businesses, he was still getting briefings from his sons. Eric Trump previously said he would continue to brief his father on the state of the business.
Racine and Frosh want a judge to say that Trump is in violation of the emoluments clauses, and to order him to take whatever action is needed to come into compliance.
Racine and Frosh say that they have standing to sue Trump because authorities in DC and Maryland are injured by any pressure — real or perceived — to give special treatment to Trump businesses, and because the benefits to Trump's businesses come at the expense of his competitors in DC and Maryland. Racine on Tuesday said DC and Maryland's "unique sovereign status" meant they had an obligation to protect the interests of residents.
Frosh said that as part of the lawsuit they'll be seeking Trump's financial records, including his tax returns.
CORRECTION
A previous version of this post misspelled Mark Zuckerberg's name.
CORRECTION
Trump's lease for his DC hotel is with the General Services Administration. A previous version of this post misstated the name of the agency.
UPDATE
The story was also updated with comment from Press Secretary Sean Spicer.