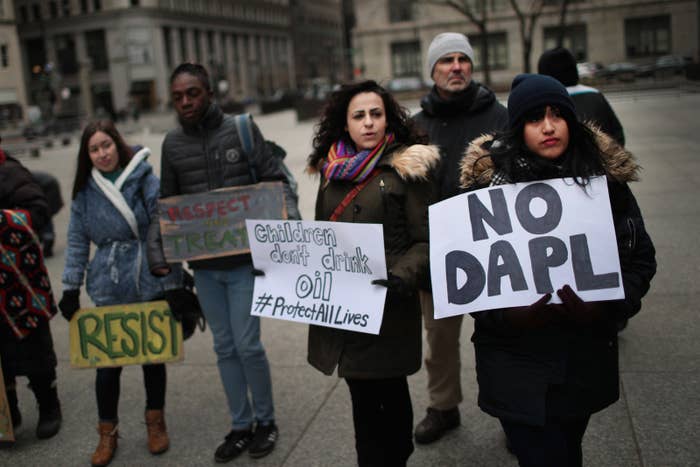 An American Indian tribe challenging the Dakota Access pipeline is racing to court to stop further construction on the project after the US Army Corps of Engineers granted the approvals needed for the pipeline to go through federal land.
The Army Corps on Wednesday granted the easement to Dakota Access LLC, the company building the pipeline. In a series of court papers filed just after 3 a.m. on Thursday, the Cheyenne River Sioux Tribe — one of two tribes that have been challenging the pipeline in court since last year — asked a judge to intervene.
The tribe is asking for a temporary restraining order immediately stopping any construction, a preliminary injunction requiring the Army Corps to withdraw the easement, and permission to amend the lawsuit to include a claim under the federal Religious Freedom Restoration Act. The tribe argues the Army Corps failed to consider the "substantial impact of this project on tribal members' free exercise of their religion," since it would be built through a site they believe is sacred.
"The granting of the easement and resulting construction activity violates the Tribe's and its members' Constitutional rights, and will result in immediate and irreparable harm to the Tribe and its members before this Court will be able to rule on the merits of this claim," the tribe argued in its request for a temporary restraining order.
The Obama administration halted construction in December, and called for additional consideration of the project's environmental impact. President Trump last month reversed course, instead calling for an expedited review of the project. After the easement was granted on Wednesday, a spokeswoman for the pipeline company told BuzzFeed News, "We plan to begin drilling immediately."
In court earlier this week, a lawyer for Dakota Access LLC told the judge that it would take about 60 days to finish building the pipeline once construction resumed, and about 80 days until oil is flowing through it.
UPDATE
US District Judge James Boasberg will hear arguments on the temporary restraining order request on Feb. 13.
Here are the documents filed by the Cheyenne River Sioux Tribe.