Courts Hand Losses To Electors In Anti-Trump Movement
Electors hoping to convince their peers not to vote for Donald Trump lose requests for court orders that would block state laws requiring electors to vote for the winner of the popular vote.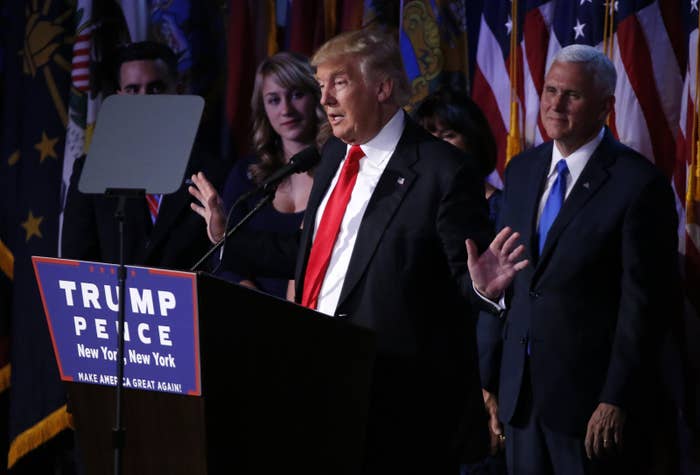 Two federal courts and a state supreme court on Friday handed losses to members of the electoral college who are seeking the right to vote for a presidential candidate of their choice, as opposed to the candidate who won the popular vote in their state.
The cases involve states that Hillary Clinton won in November — California, Colorado, and Washington — but they're part of a broader effort to embolden electors elsewhere who may want to vote against Donald Trump in states that he won. A favorable ruling for challengers in one court could provide a template for electors who want to challenge similar laws in their state.
With electors nationwide set to meet on Monday in their states to vote for the president and vice president, a federal district judge in San Jose, California, and a three-judge panel of the US Court of Appeals for the Ninth Circuit on Friday denied requests to block enforcement of laws in California and Washington that require electors to vote for the winner of the popular election in those states.
The Colorado Supreme Court on Friday declined to hear a case brought by electors in that state, leaving in place a lower court judge's ruling against the electors. A case in federal court is pending.
Donald Trump won 306 electoral votes, compared with Hillary Clinton's 232 votes. Anti-Trump electors and activists want to convince other electors not to vote for Trump in order to bring his total down below the threshold of 270 electoral votes that he needs to win. A tie would send the election to the US House of Representatives.
Not all states have laws that bind electors to the results of the popular vote, but California, Colorado, and Washington are among those that do. The electors suing in those states argue that the US Constitution gives them the right to vote for whichever candidate they believe is "fit and qualified" to be president.

In the California case, US District Judge Edward Davila wrote on Friday that the electors raised a "serious question" about the constitutionality of placing limits on how electors vote. But he found that the challengers failed to show that they would face "irreparable harm" — in this case, criminal prosecution — if the court didn't act now and they voted for a candidate other than Clinton.

The challengers appealed late Friday to the Ninth Circuit.
In the Washington case, the electors who sued have said that they want to cast votes in a way that would hurt Donald Trump's bid for the presidency because they believe he is unfit for the office. The Ninth Circuit said in a two-page order on Friday that the challengers failed to show they were likely to succeed on their constitutional claims or that they would suffer irreparable harm absent immediate action by the court.
The Washington electors took the case to the Ninth Circuit after a federal district judge ruled against them on Thursday. US District Judge James Robart found that most of the consequences the Washington electors said they feared they would face if they didn't vote for Clinton—being removed as an elector and being fined $1,000 — were unsupported or contradicted by the law or the facts.
Sumeer Singla, a lawyer for the Washington electors, told BuzzFeed News that they haven't decided yet whether to attempt to take the case to the US Supreme Court. A lawyer for the California electors was not immediately reached for comment.
In Colorado, a state court judge on Dec. 12 denied an injunction to electors challenging that state's law. The Colorado Supreme Court on Friday declined to hear the case, leaving the lower court judge's order in place.
The Colorado challengers have a separate case pending in federal court. A federal district judge on Dec. 12 denied their request for an order blocking the state from enforcing its elector voting law, and the Tenth Circuit has yet to rule on the challengers' appeal.
Jason Wesoky, a lawyer for the Colorado electors, said that they were disappointed with the results in court so far, "but that doesn't diminish our efforts." It took courage for the electors to come forward, Wesoky said, and "we hope that a court has similar courage to take up this issue on its substance and its merits without dismissing it as a political stunt."
UPDATE
The Tenth Circuit on Friday evening denied the Colorado electors' request for an injunction. A three-judge panel found that the electors failed to point to specific provisions of the US Constitution that supported their argument, and didn't show how they would suffer irreparable harm if the court denied their request for an emergency injunction.