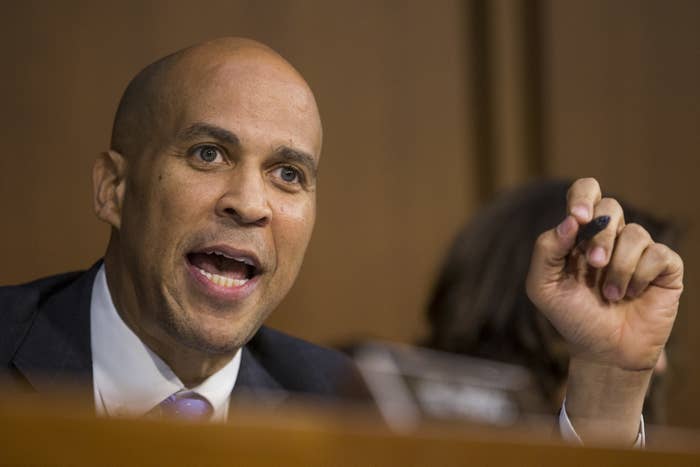 The third day of US Supreme Court nominee Brett Kavanaugh's confirmation hearing kicked off with Sen. Cory Booker announcing he would violate Senate rules and release a document marked as confidential, a move he claimed would risk him expulsion.
The pronouncement marked the latest escalation of frustration by Democrats on the Senate Judiciary Committee over how Senate Republicans and the Trump administration have handled the production and public release of documents dating back to Kavanaugh tenure in the White House under former president George W. Bush.
But in the hours after Booker's dramatic announcement, Republicans pushed back on the notion that Booker had, in fact, broken any rules. A spokesperson for Judiciary Committee Chair Chuck Grassley sent out a statement saying the documents requested by Booker and other Democrats were cleared for release at 4 a.m. on Thursday, and that senators were notified before the hearing began. When the hearing began, Grassley announced that the committee was working with the Justice Department to clear documents for release, and that they'd be available by the end of the day; he didn't specify what had been cleared for release at that point.
Bill Burck, the private lawyer overseeing the review of documents on behalf of Bush, told BuzzFeed News that they had cleared the documents Booker requested last night and were "surprised to learn about Senator Booker's histrionics this morning."
Speaking to reporters Thursday afternoon, Booker did not specifically address whether he was notified before the hearing that the documents he released on Thursday morning — emails about racial profiling issues — had already been cleared, but noted that he had read from them during the hearing the night before, when they were still designated as confidential. Booker also released more documents that appeared to be confidential later on Thursday.
"Last night I read from committee confidential documents in violation of the rule, and throughout the day today we have been releasing committee confidential documents," Booker told reporters. "We are continuing to release committee confidential documents in violation of a sham rule."
Shortly after Booker made his announcement on Thursday morning, his office released emails related to racial profiling that had been marked as "committee confidential" — meaning members could see them, but they wouldn't be released to the public and couldn't be used in the public hearing. The 12-page cache included an email thread that Kavanaugh was part of in January 2002 about airport and other law enforcement security, and whether the administration should adopt a "race-neutral" system.

Booker said there was no personal or other information in the emails that merited secrecy. He said he understood that he risked expulsion from the Senate for breaking the rules.

Grassley then asked Booker how much longer he wanted to speak.
"I'm saying I'm knowlingly violating the rules," Booker replied.
Booker sparred with Sen. John Cornyn over the document release issue, with Cornyn saying that the unauthorized release of confidential documents was akin to releasing classified information. The Texas Republican took a jab at Booker, invoking speculation about the New Jersey senator's presidential ambitions.
"Running for president is no excuse for violating the rules of the Senate," Cornyn said.
Later in the day, though, Cornyn seemed to walk back his accusation that Booker had violated the rules.
"Ironically, I don't think Senator Booker knew this, but actually that document had been vetted and been made available for public review," he told reporters. "I think Senator Booker wants to make himself a martyr."
Booker's decision spurred immediate support from other Democrats on the committee, who said that if Booker was going to be punished, they wanted to be punished as well. "Let's jump into this pit together," Sen. Dick Durbin said. Ranking member Dianne Feinstein and senators Mazie Hirono, Chris Coons, Sheldon Whitehouse, and Richard Blumenthal expressed support for Booker.
Hirono also released a set of emails marked as committee confidential. Hirono had read from the documents at the hearing the night before, but had not asked for them to be released and was not told that they were cleared for release before the hearing, according to a spokesperson for the senator.
Booker joked that it was as close as he would ever get to an, "I am Spartacus" moment. The moment of levity was brief. Cornyn read aloud the Senate rule stating that a senator who disclosed confidential information faced explusion from the Senate.
"Then apply the rule, bring the charges," Booker said.

The emails released by Booker with the subject line "Racial Profiling" show that Kavanaugh was in favor of adopting a "race-neutral" system for airport and other security systems. Racial profiling at airports and across law enforcement was a signficant issue that the Bush administration grappled with in the aftermath of the Sept. 11, 2001, terrorist attacks. In a Jan. 17, 2002, email to Helgi Walker, who at the time was an associate counsel to Bush, Kavanaugh wrote about the need to figure out what to do in the interim.
"But the people (such as you and I) who generally favor effective security measures that are race-neutral in fact DO need to grapple — and grapple now — with the interim question of what to do before a truly effective and comprehensive race neutral system is developed and implemented," Kavanaugh wrote.
After Booker released the emails, Grassley's office formally made them public, along with dozens of other committee confidential documents that Democrats had asked to be released.
Booker's release came shortly after the New York Times published a story Thursday morning about another set of Kavanaugh emails, including one related to Roe v. Wade, that were designated as confidential but leaked to the Times.
Chris Geidner and Paul McLeod contributed to this report.
This is a developing story. Check back for updates.