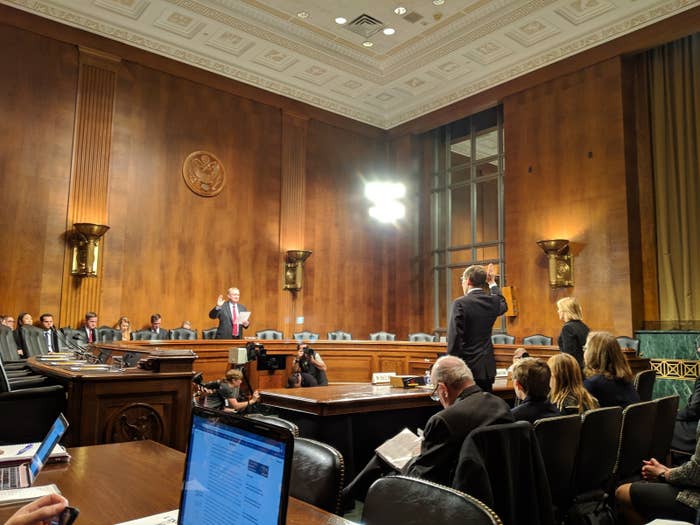 Over the past two weeks, two of President Donald Trump's controversial federal court nominees appeared for their confirmation hearings. There was Washington lawyer Allison Rushing, facing criticism for her youth and ties to a group opposed to same-sex marriage. And Eric Miller, opposed by Native American organizations for his work on tribal law issues.
But unlike Trump's other contested picks for lifetime appointments on the federal bench, Rushing and Miller testified before a row of mostly empty chairs. At both hearings, only a handful of senators showed up, and even fewer asked questions. No Democrats attended either hearing.
It was the latest iteration of the bitter partisan divide that has gripped the Senate Judiciary Committee over federal court nominees. Democrats are furious at committee chair Chuck Grassley for holding hearings while the Senate is in recess leading up to the midterm elections in November — Grassley didn't attend the hearings either.
The Judiciary Committee is the only Senate committee holding hearings during the preelection recess while most members of Congress are at home campaigning. Sen. Dianne Feinstein, the top Democrat on the committee, has said the decision to hold hearings was unprecedented, and that the committee never held a hearing during a recess without the minority party's consent.
"There's no rule they won't break. There's no norm they won't disregard. There's no practice they won't throw overboard," a Democratic Senate aide told BuzzFeed News. "The idea that they would have a hearing in the three weeks of recess before an election, I'm out of words for it. Outrageous doesn't begin to cover it."
Grassley — who has been in Iowa during the hearings — counters that Democrats agreed to these dates with the knowledge that the Senate might recess, and that it was unfair to ask nominees and their families to reschedule their travel plans. His office sent reporters a fact sheet noting that at now-Justice Neil Gorsuch's confirmation hearing for a federal appeals court seat in 2006, Republican Sen. Lindsey Graham was the only senator to attend. That hearing lasted less than 12 minutes. The Senate was not in a recess at the time.
Democrats aren't just upset that the hearings are happening, but also that they involve controversial nominees. Civil rights groups have opposed Rushing's nomination to the US Court of Appeals for the 4th Circuit, pointing not only to her age as a problem — she was born in 1982 and graduated from law school in 2007 — but also her background working for a conservative legal advocacy group, Alliance Defending Freedom, and her comments criticizing US v. Windsor, the US Supreme Court decision that struck down the federal Defense of Marriage Act.
Liberal groups have also spoken out against Miller, who testified before the committee Wednesday. Miller's home state senators — Democratic Sens. Patty Murray and Maria Cantwell of Washington state — refused to give their approval, and civil rights groups have highlighted Miller's work opposing Native American tribes in court on issues of tribal sovereignty and treaty rights. The National Congress of American Indians and the Native American Rights Fund oppose his nomination. Another 9th Circuit nominee, US Magistrate Judge Bridget Bade, also testified Wednesday.
At both hearings, the Republicans in charge did ask the nominees about the concerns raised about their nominations. Rushing defended her experience in response to questions from Louisiana Sen. John Kennedy, who chaired her Oct. 17 hearing in Grassley's absence, saying she had spent significant time practicing in federal appeals courts. Idaho Sen. Mike Crapo chaired the hearing this week and asked Miller about tribal sovereignty. Miller replied that the positions he took in court were on behalf of his clients, not his own personal views, and that tribal sovereignty was a "foundational principle" and the US should honor treaties.
But with just one senator asking the questions, the hearings were much shorter and the testimony more limited than they would be if other senators, especially Democrats, were in the room. At judicial nominations hearings in the past year, Hawaii Sen. Mazie Hirono has asked each nominee if they ever committed sexual assault or harassment as an adult. Connecticut Sen. Richard Blumenthal has sparred with nominees who demurred when he asked if they believed Brown v. Board of Education and Roe v. Wade were correctly decided.
Republicans are planning a busy schedule for the rest of 2018 in the hopes of getting as many judges confirmed as possible by the end of the year. Grassley spokesperson Taylor Foy told BuzzFeed News that the committee is looking at holding confirmation hearings on Nov. 14, Nov. 28, and Dec. 12.
Most of Trump's controversial nominees to the federal courts have made it out of the committee with party-line votes, but there have been exceptions. In December 2017, Matthew Petersen withdrew his nomination to the federal district court in Washington, DC, after a clip of him struggling to answer questions from Kennedy at his confirmation hearing about basic legal procedure went viral.
The Senate is supposed to provide "advice and consent" on nominees, reviewing their qualifications before giving final approval via a vote. The hearings offer the only opportunity for senators to publicly question nominees, although they can submit written questions after. Russell Wheeler, a senior fellow at the Brookings Institution who follows judicial nominations, questioned how much it really mattered now if senators showed up for these hearings to question nominees.
"I wouldn't think not having many members in attendance makes much difference. All that matters is having a quorum when it comes time to vote to send the nominations to the floor. Grassley and [Senate Majority Leader Mitch] McConnell have turned the circuit judge confirmation process into a machine that, without the usual institutional restraints, just grinds forward," Wheeler wrote in an email to BuzzFeed News.
Many members were away from Washington on the campaign trail during the hearings. Four Democrats on the committee are up for reelection in November — Feinstein, Hirono, and Sens. Amy Klobuchar and Sheldon Whitehouse — as is Texas Sen. Ted Cruz.
Feinstein spokesperson Ashley Schapitl told BuzzFeed News in an email that the senator was in California. Asked if Democrats had an agreement not to show up to the hearings, Schapitl wrote that, "Each Democratic member made their own decision about whether to attend the hearings based on their schedules." The Democratic aide who spoke on condition of anonymity also said they weren't aware of any agreement not to come to the hearings.
Most senators' offices didn't return requests for comment by BuzzFeed News about where the members were during the last two hearings. Twitter provided some answers. On Wednesday, Texas Sens. John Cornyn and Ted Cruz were together in Texas. Sen. Jeff Flake was in New York; he made an appearance on CNN after one of several bombs sent to prominent Democrats was discovered in the building.
On the Democrat side, Hirono's office confirmed the senator was in Hawaii. Klobuchar was also in her home state of Minnesota. New Jersey Sen. Cory Booker was in Nevada.
The only senators to attend both hearings were Utah Sen. Orrin Hatch, who is retiring at the end of the year, and Crapo, who isn't up for reelection until 2022.
CORRECTION
Orrin Hatch's name was misspelled in an earlier version of this post.