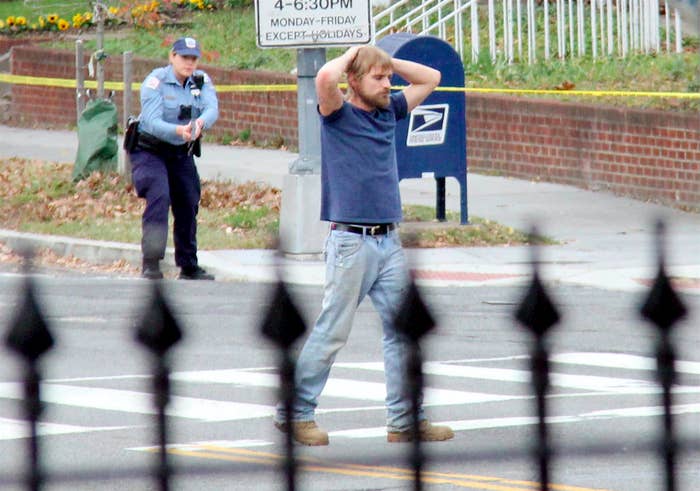 WASHINGTON — The North Carolina man charged with bringing loaded guns into a Washington, DC, pizza restaurant to investigate the "Pizzagate" conspiracy theory pleaded guilty on Friday to two weapons charges.
As part of a plea deal, prosecutors agreed to drop a firearm possession charge against Edgar Maddison Welch, 28, that carried a mandatory minimum sentence of five years in jail and a maximum sentence of 15 years in jail.
The plea deal did not include an agreement about what each side would seek at sentencing. The two weapons charges that Welch did plead guilty to — one federal, one under DC law — each carry maximum sentences of 10 years in jail, but according to the plea agreement Welch faces estimated sentencing guidelines of 18 to 24 months for the first charge and 18 to 60 months for the second charge.
Welch agreed to pay $5,744 in restitution to the restaurant, Comet Ping Pong, to cover damage to a computer, a door and a lock, and a ping pong table. According to court papers, he caused the damage when he fired several shots inside the restaurant — when he failed to open a locked door with a butter knife, he fired at it with an AR-15 assault rifle — and moved furniture around. He'll also have to forfeit three firearms and a box of ammunition to the government.
A sentencing hearing is scheduled for June 22.
Welch allegedly walked into Comet Ping Pong, a restaurant in northwest Washington, around 3 p.m. on Dec. 4 carrying a loaded AR-15 rifle and a .38 caliber handgun. He later told police that he was investigating reports he'd seen online that the restaurant was the site of a child sex slave ring, according to charging documents.

Employees and customers inside the restaurant, including children, fled when Welch entered, according to charging documents. An employee who was outside said that he heard three loud bangs, and that when he came inside Welch pointed the rifle at him, an allegation that Welch initially denied but admitted as part of his plea. No one was injured. Welch told police that he fired the rifle to try to open a locked door, and left the restaurant when he found no evidence of child sex trafficking, prosecutors said.
He pleaded not guilty in December to federal and local gun charges. He's been in jail since his arrest, and will stay in jail until his sentencing.
Welch spoke little during the hearing, except to say that he understood the charges against him and the plea deal he had reached with the government. His lawyer, federal public defender Dani Jahn, and prosecutors declined to comment on the agreement after the hearing.
Read the plea agreement in US v. Edgar Maddison Welch:
UPDATE
Updated with additional information from the plea agreement and related documents.