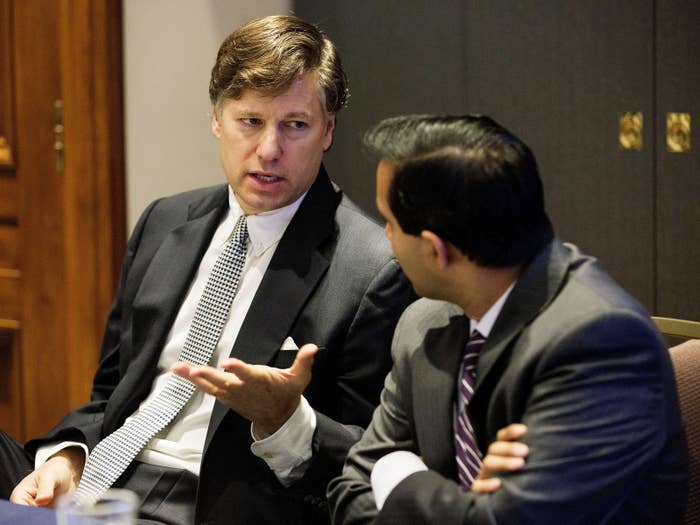 WASHINGTON — Christopher Landau, a veteran appellate lawyer in Washington, DC, who does not have formal diplomatic experience, is being vetted as a potential nominee for US ambassador to Mexico, four sources familiar with the situation told BuzzFeed News.
According to one DC lawyer with firsthand knowledge, Landau, a partner at the law firm Quinn Emanuel Urquhart & Sullivan, is undergoing background checks, a sign that he's far along in the vetting process. The source said they did not know if there were other candidates under consideration by the White House.
It's not unusual to have ambassadors with no diplomatic experience, but the US–Mexico relationship is a critical one, and not only because of trade between the two countries, which came to an estimated $615.9 billion last year. The US ambassador to Mexico is responsible for diplomatically conveying Trump's harsh messages and policies about immigration in general, and Mexican immigrants specifically. And the opioid crisis in the United States — another top priority for the Trump administration — involves Mexico, as illegal drugs come across the southern border.
The next ambassador will also need to manage relations with Andrés Manuel López Obrador, who will be sworn in as president of Mexico next month. López Obrador is an avowed leftist who published a book called Listen up, Trump criticizing the US president's approach to immigration and Mexico. He has also called Trump erratic and arrogant (Trump, for his part, reportedly called López Obrador "Juan Trump," suggesting that he sees himself in his counterpart).
The ambassador post in Mexico has been vacant since Roberta Jacobson left the position in May 2018. Jacobson's resignation was accompanied by a note to staff saying her decision was "difficult" and came at a "crucial time," but did not get into specifics about the reason for her departure. Jacobson, unlike Landau, had decades of diplomatic experience and was assistant secretary of state for Western Hemisphere Affairs before becoming ambassador.
In a New York Times op-ed published last month, Jacobson wrote, "Some chaos is normal at the start of an administration. But it has been extreme under Mr. Trump … Moreover, the disconnect between the State Department and the White House seems intentional, leaving ambassadors in impossible positions and our allies across the globe infuriated, alienated and bewildered."
Jacobson declined to comment on how important she felt diplomatic experience was for the job. She did, however, note in an email to BuzzFeed News that Landau's father, the late ambassador George Landau, "was very well known in the Latin America bureau." George Landau served as US ambassador to Chile, Paraguay, and Venezuela; Chris Landau was born in Spain while his father was assigned there, according to his law firm bio.
Landau declined to comment. A White House spokesperson did not return a request for comment.
Landau's name has long been kicked around for a presidential appointment since Trump took office. As previously reported by BuzzFeed News, he was a contender for Justice Brett Kavanaugh's former seat on the DC Circuit, and in December 2016, the National Law Journal reported that he was being considered for US solicitor general. In 2011, he was named as a member of then-presidential candidate Mitt Romney's Justice Advisory Committee.
This fall, Landau was involved in a lawsuit filed by Democratic Sen. Jeff Merkley, who asked a judge to stop the US Senate from holding a vote on Kavanaugh's Supreme Court nomination until the Senate received all documents from Kavanaugh's time in the George W. Bush administration. Landau represented another lawyer at his firm, William Burck, who was overseeing document production for the Bush library. (The judge declined a request to expedite the case when it became clear a vote was imminent, and the case became moot when Kavanaugh was confirmed on Oct. 6.)
Landau has spent the bulk of his career at private law firms, with a focus on arguing before federal appeals courts and the Supreme Court. His clients over the years have included federal judges seeking pay raises, biotech companies, the Commonwealth of Puerto Rico, and BP PLC in litigation after the Deepwater Horizon explosion. Judge Laurence Silberman of the US Court of Appeals for the DC Circuit, who recruited Landau to represent the judges, declined to comment when asked if Landau was being vetted for the ambassador job. Asked if he thought Landau was qualified to be an ambassador, Silberman, who served as US ambassador in the 1970s to what was then known as Yugoslavia, described him as "a man of restraint and careful temperament, and he's quite brilliant."
Landau earned his law degree in 1989 from Harvard Law School and held a string of prestigious clerkships. After law school, he clerked for Justice Clarence Thomas, who at the time was a judge on the DC Circuit. He then clerked on the US Supreme Court for both the late justice Antonin Scalia and for Thomas. He speaks Spanish and studied Latin American studies as an undergraduate at Harvard.
All three US ambassadors to Mexico under former president Barack Obama had previous diplomatic experience. But the US ambassador during the George W. Bush administration, Antonio Garza, is also a lawyer who did not have diplomatic experience when he was nominated; Garza served from 2002 to 2009.
"Diplomacy matters," Jorge Guajardo, former Mexican ambassador to China and current senior director at McLarty Associates told BuzzFeed News in response to whether having a diplomat or someone with regional experience in that role was important.
Still, he added, just having the post filled with a confirmed ambassador could be positive for the US–Mexico relationship.
"Ambassadors are important. The US would be well served by having ambassadors in every country with which it has diplomatic relations. Other countries, with which the US vies for influence, have ambassadors. By leaving the posts vacant, the US misses an opportunity for better understanding with other countries," he said.
A Democratic congressional staffer familiar with Western Hemisphere Affairs took a different view. "As President-elect Lopez Obrador transitions into power, President Trump needs to finally understand Mexico will always be one of the most important bilateral relationships we have. There is no binary decision between leaving ambassadorships vacant or filling them with political supporters unprepared to manage global diplomacy and defend our national interests," the source wrote in an email to BuzzFeed News.