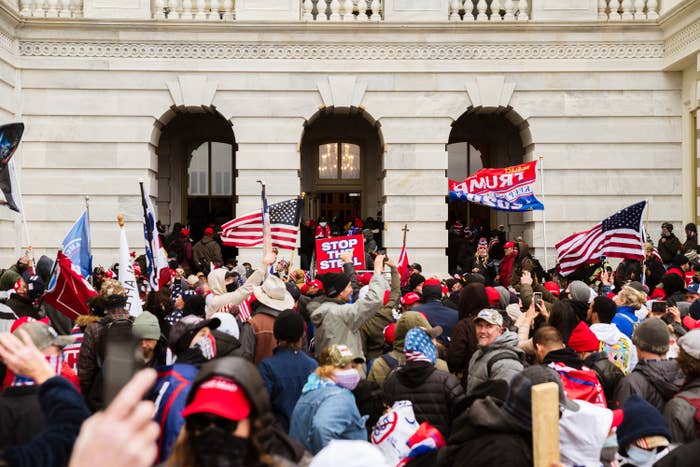 WASHINGTON — Federal prosecutors are in "advanced plea negotiations" with an alleged Capitol rioter with Oath Keeper ties in exchange for his cooperation with the ongoing investigation of the Jan. 6 Capitol insurgency, a new filing in federal court revealed Monday.
The public filing had apparently been made in error — prosecutors had intended to file it under seal because the defendant, Jon Schaffer, was already providing information to the government. Revealing his cooperation "may reveal the existence, scope, and direction of the ongoing and confidential investigation," Assistant US Attorney Ahmed Baset wrote in the brief, which was quickly removed from the public docket but has been viewed by BuzzFeed News. It was not immediately clear how the document ended up on the public docket.
The government had previously shared in public court filings and hearings that it is extending plea offers to some of the more than 350 people charged to date with participating in the Capitol insurrection. But prosecutors have been nonspecific about the timelines and terms of those plea negotiations and in this filing said its negotiations with Schaffer were "the first and most advanced" involving "any of the over 300 Capitol Riot defendants."
Among other things, Schaffer, who is 53 and from Columbus, Indiana, was charged with spraying US Capitol Police officers with "bear spray" as he and other rioters tried to push officers back in order to force their way into the Capitol. Prosecutors said Schaffer, whom they note is well known for his role as the guitarist and main songwriter for the heavy metal band Iced Earth, was captured on surveillance tape inside the Capitol building carrying "bear spray" and holding clear sunglasses. He was arrested on Jan. 17 and has been in detention since then.
At the time of his arrest, prosecutors noted a connection between Schaffer and organized extremist group the Oath Keepers, pointing out that he was wearing a baseball cap reading "Oath Keepers Lifetime Member" on Jan. 6. In a separate case, a dozen alleged Oath Keepers members and associates have been charged with conspiracy for their role in the events of that day, although Schaffer has not been identified in court papers as being involved with that group of defendants. The Indiana Oath Keepers chapter released a statement a week after Schaffer was arrested saying he is "NOT" a member of that group.
Monday's filing didn't include any details about what information Schaffer has shared with investigators.
"If alerted to this information, investigation targets against whom the defendant may be providing information about could be immediately prompted to flee from prosecution, destroy or conceal incriminating evidence, alter their operational tactics to avoid future detection, attempt to influence or intimidate potential witnesses, and otherwise take steps to undermine the investigation and avoid future prosecution," Baset wrote.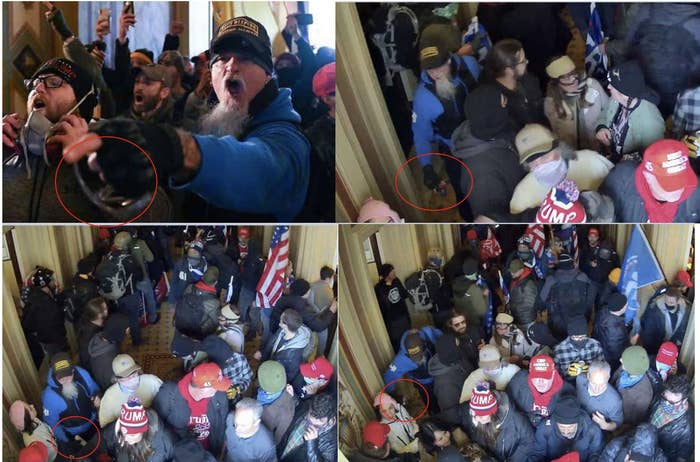 A spokesperson for the US attorney's office in Washington, DC, and Schaffer's attorney did not immediately return requests for comment.
On Sunday night, the government publicly filed a request with the court to push back deadlines in Schaffer's case and indicated in general terms that they were discussing a plea deal. On Monday at around 3:55 p.m., according to an automatic email alert that goes out from the court's internal filing system whenever a new document is posted on the public docket, the government filed a supplement with the court that included more details about the status of Schaffer's case, intending it to be under seal; it is no longer on the public docket.
The prosecutor, Baset, wrote that Schaffer had participated in a "series of debrief interviews" since early March. In exchange for Schaffer's cooperation, the government was considering giving up its effort to keep Schaffer in jail while his case is pending and instead allow him to go free until he is sentenced.
"Based on these debrief interviews, the parties are currently engaged in good-faith plea negotiations, including discussions about the possibility of entering into a cooperation plea agreement aimed at resolving the matter short of indictment," Baset wrote.
Baset wrote that because Schaffer was the first case to involve plea talks, the terms of any agreement "required extensive review and approval at various levels of government necessitating more time than usual to approve and negotiate." The government asked the judge to suspend deadlines in the case for another two weeks "to provide additional time to exhaust all avenues of negotiation."
Schaffer hasn't been indicted by a federal grand jury and Baset wrote that keeping Schaffer's case in its current position would help move along the plea talks. If plea talks failed, Baset added in a footnote, "the government is in a position to rapidly obtain an indictment" against him.
As prosecutors noted in their original criminal complaint against Schaffer, he has long been open about his anti-government views. In a 2017 interview, according to prosecutors, he referred to the federal government as a "criminal enterprise." In the fall of 2020, at the "Million MAGA March" he gave an interview in which he declared: "If somebody wants to bring violence, I think there's a lot of us here that are ready for it. We don't want that, but if they bring it we're going to respond to that, trust me."
Schaffer founded his band in 1984 under the name the Rose and has released 12 studio albums and toured internationally. Since his arrest, three members of the band have reportedly quit Iced Earth, and its label, Century Media Records, has dropped the band. A second band founded by Schaffer, Demons & Wizards, was also dropped.