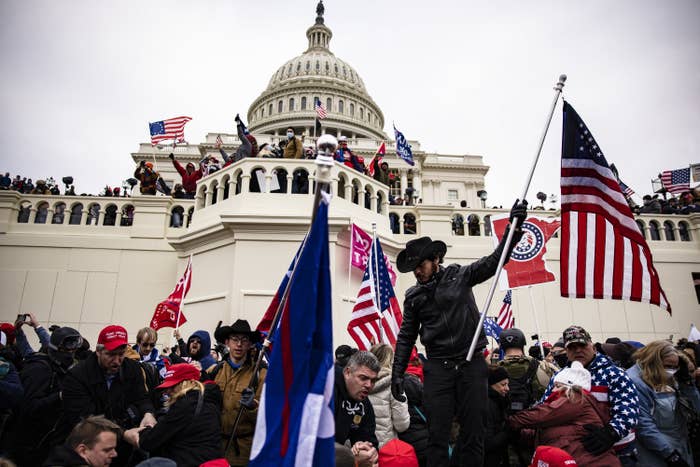 WASHINGTON — Scott Fairlamb, a former mixed martial arts fighter from New Jersey captured on video punching a police officer in the head at the US Capitol on Jan. 6, was sentenced on Wednesday to 41 months in prison.
Fairlamb is the first Capitol rioter set to spend years behind bars. The sentence from US District Judge Royce Lamberth was three months less than the 44 months in prison that prosecutors had argued for, and 30 months more than the 11 months that Fairlamb's lawyer had argued would be appropriate; he's already served nearly 10 months in jail since his arrest.
Ahead of sentencing at the Wednesday hearing, prosecutors laid out his criminal history, including two past convictions for assault as well as a threat he made against Rep. Cori Bush, in arguing for the need for a significant sentence for deterrence.
"His previous sentences were not sufficient to deter this particular assault," prosecutors said. "And so, we would submit that there is a real need for specific deterrence here."
Prosecutors also urged the court to deliver a sentence based on federal guidelines, noting that there is a "large number of defendants" in the Jan. 6 riot. Lamberth later acknowledged it was "significant" that Fairlamb is the first Capitol rioter who has been charged with assaulting law enforcement officers on Jan. 6.
Fairlamb isn't the first Capitol rioter to face sentencing after pleading guilty to a felony charge, but he is the first person sentenced in these cases who pleaded guilty to assaulting a police officer and the first defendant to appear before a judge with a hefty amount of potential prison time on the table. According to his plea agreement, his estimated sentencing range was 41 to 51 months in prison; judges aren't bound by those recommendations, but they're meant to provide guidance.
"It's such a serious offense under the circumstances, and an affront to society and to the law," the judge told Fairlamb during the sentencing hearing. "I cannot, in good conscience, go below the guidelines."
Fairlamb, a former gym owner, was arrested on Jan. 22. He was captured on video assaulting a police officer on the grounds outside the Capitol — video that was shown at his sentencing hearing — and admitted to going inside the building.
Fairlamb also recorded a video of himself holding up a police baton and bragging about joining the attack.
"What patriots do? We fuckin' disarm 'em and then we storm the fuckin' Capitol," he says in the video.
Lamberth granted the government's request to keep Fairlamb in jail while his case was pending after Fairlamb unsuccessfully tried to argue that he should be allowed to go home. A federal grand jury returned a 12-count indictment that included not only the assault charge that he ended up pleading guilty to, but also additional counts for obstructing Congress, participating in a civil disorder, and illegally being on the Capitol grounds with the baton, which the government alleged qualified as a "deadly or dangerous" weapon.
In a sentencing memo filed in advance of Wednesday's hearing, Fairlamb's lawyer Harley Breite wrote that his client was remorseful for his actions at the Capitol and noted that a representative of the special House committee investigating Jan. 6 had asked Fairlamb in September if he would be willing to speak with the committee. Breite wrote that Fairlamb "without hesitation agreed," but added that officials at the DC jail facility had been unwilling so far to make arrangements for Fairlamb to do that.
Most Capitol rioters to face sentencing so far have pleaded guilty to misdemeanor charges and received sentences of probation, home detention, or relatively minimal amounts of jail time ranging from 14 days to several months.
Correction: Fairlamb's sentence is 30 months more than his lawyer had argued for. An earlier version of this story misstated that number.