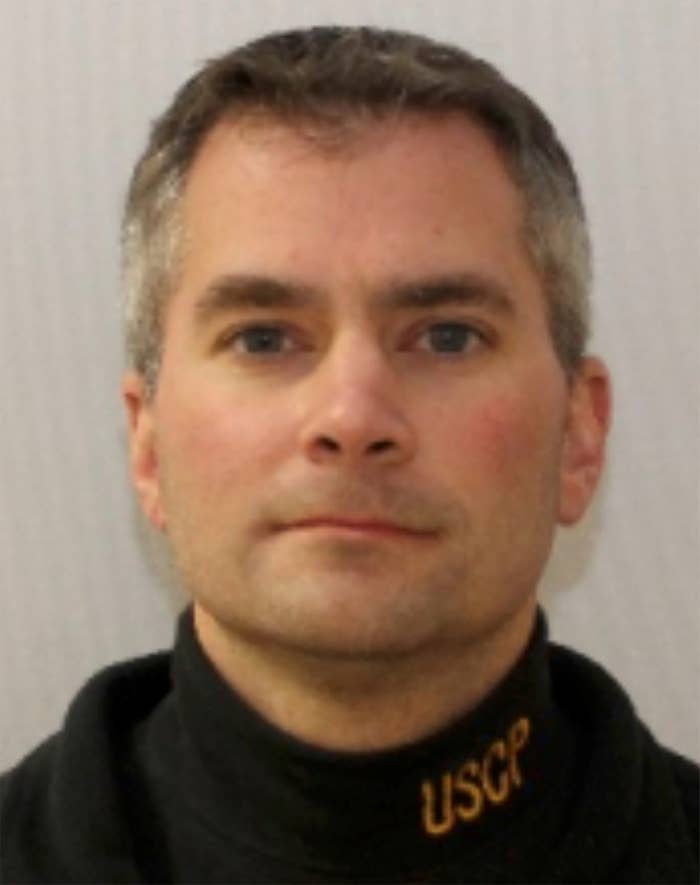 WASHINGTON — US Capitol Police Officer Brian Sicknick died of natural causes the day after the Jan. 6 riots at the US Capitol, the chief medical examiner in Washington, DC, announced Monday.

Dr. Francisco Diaz, the medical examiner, determined that Sicknick, 42, had strokes caused by a blood clot before he died, according to an email from his office.
Two men have been charged with conspiring to assault Sicknick using a chemical spray, but they aren't charged in connection with this death; in court filings and during recent hearings, prosecutors have noticeably shied away from bringing up the fact that Sicknick died. Diaz told the Washington Post, which first reported the office's findings, that there was no evidence that Sicknick had an allergic reaction to chemical irritants or that he had internal or external injuries.
Sicknick was one of five people who died during or immediately after the riots at the Capitol.
According to a timeline provided by the medical examiner's office, Sicknick was sprayed with the chemical irritant at around 2:20 p.m. on Jan. 6. At around 10 p.m., he collapsed at the Capitol and was taken to a hospital. He died just under 24 hours later, at around 9:30 p.m. on Jan. 7.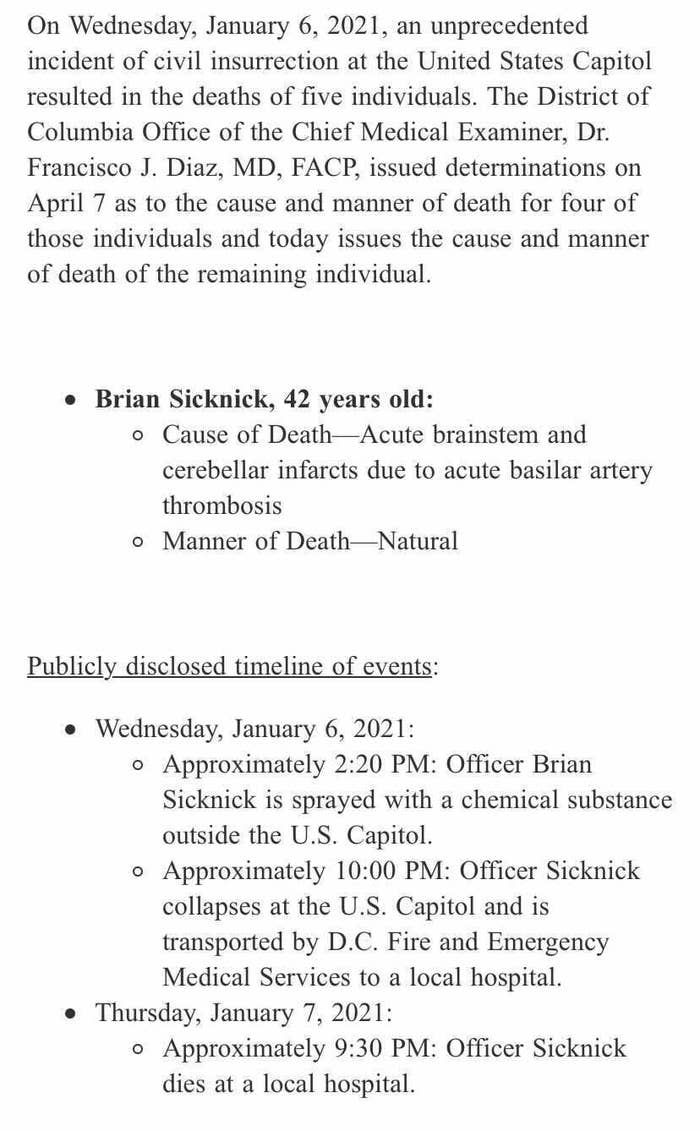 In announcing Sicknick's death at the time, US Capitol Police released a statement that it was "due to injuries sustained while on-duty." The Justice Department also said Sicknick "succumbed ... to the injuries he suffered defending the U.S. Capitol." But the medical examiner's office said in an email Monday that Sicknick's death was ruled "natural" and was not "hastened by an injury."
At the same time, the Washington Post reported that Diaz "noted that Sicknick was among the officers who engaged the Capitol mob and said 'all that transpired played a role in his condition.'" The medical examiner's office declined to clarify the seeming contradiction in those statements.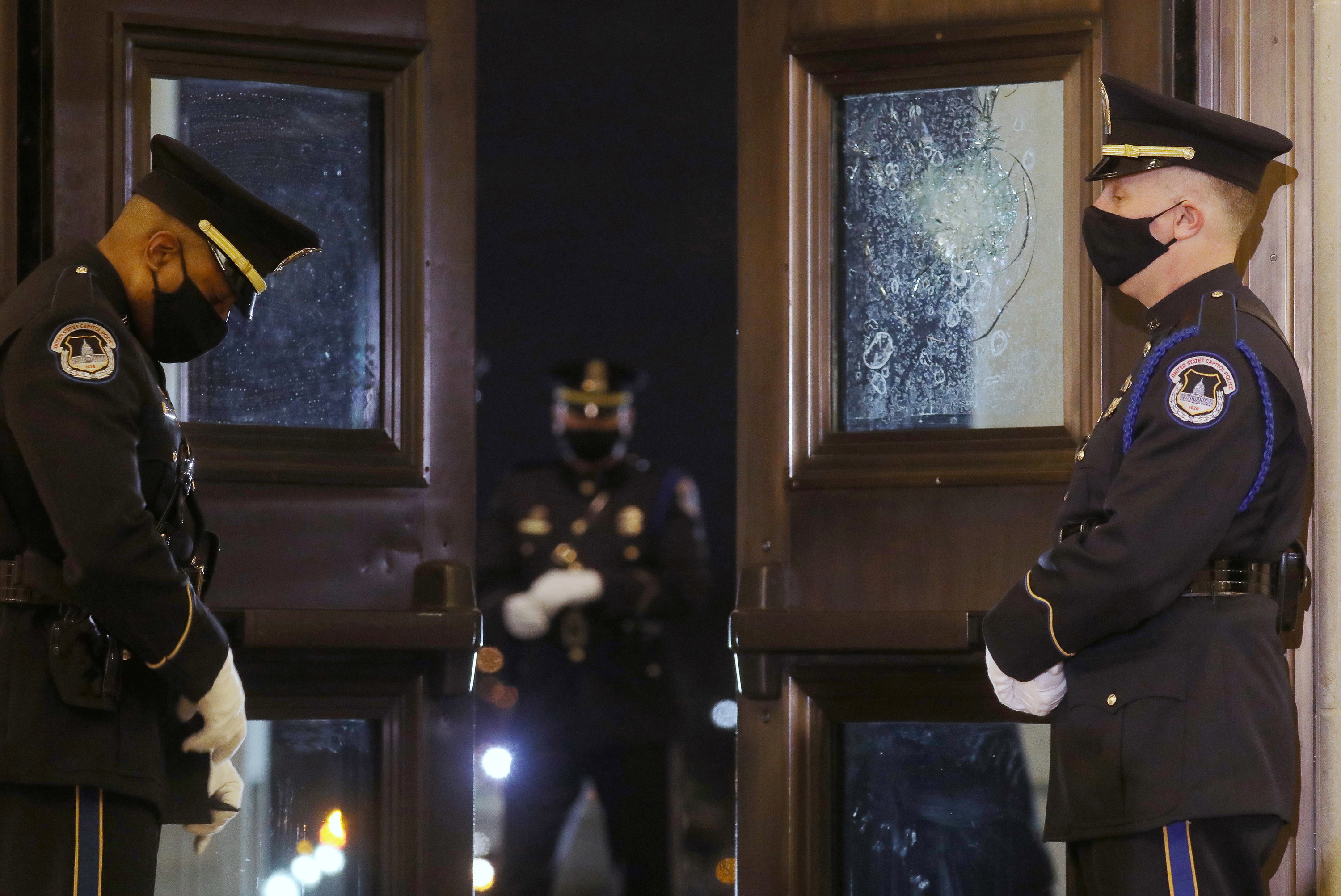 The Capitol Police said in a statement that the department "accepts" the medical examiner's findings "that Officer Brian Sicknick died of natural causes. This does not change the fact Officer Sicknick died in the line of duty, courageously defending Congress and the Capitol."
The department noted the two men arrested for assaulting Sicknick, saying "the USCP will continue to ensure those responsible for the assault against officers are held accountable."
"The United States Capitol Police will never forget Officer Sicknick's bravery, nor the bravery of any officer on January 6, who risked their lives to defend our democracy."
This is a developing story. Check back for updates and follow BuzzFeed News on Twitter.‏