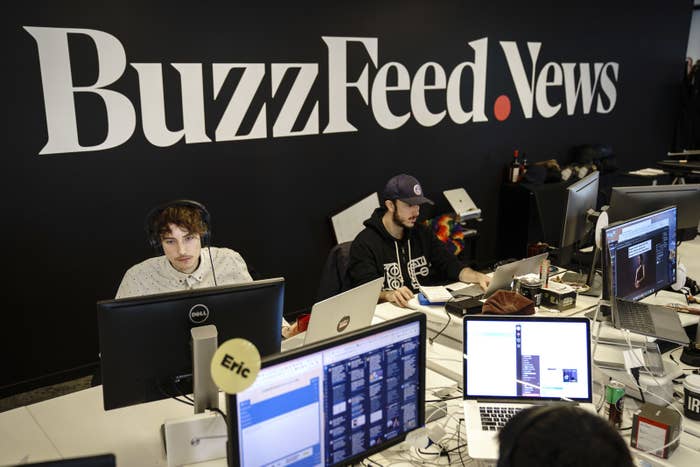 WASHINGTON — A federal judge on Wednesday dismissed a defamation lawsuit against BuzzFeed News over the publication of a dossier in January 2017 that alleged several years of links between Russia and then–president-elect Donald Trump.

A Cypriot businessman, Aleksej Gubarev, was named in the dossier, and his name wasn't redacted in the version originally published by BuzzFeed. Gubarev sued shortly after the article came out, claiming he was defamed by having his name included.
US District Judge Ursula Ungaro in Florida found that BuzzFeed News was shielded against defamation claims because the dossier was the subject of official proceedings — both Trump and then-president Barack Obama had been briefed on it, according to reporting at the time, and the FBI investigated allegations in the documents. The judge concluded that BuzzFeed News was protected by what's known as the "fair report" privilege.
Ungaro also found that the BuzzFeed News article was "fair and true" because it just reproduced the dossier — it didn't express any opinions about it.

If you believe in this kind of journalism, support our reporting by becoming a BuzzFeed News member today.
Gubarev's lawyers said in a statement they plan to immediately appeal the decision.
Ungaro rejected arguments by Gubarev's lawyers that in order to win, BuzzFeed News had to show that information about Gubarev specifically was part of the official proceedings. Gubarev's lawyers noted that the dossier was actually a collection of reports, and it was possible not all of the information — including mention of Gubarev — was part of the briefings or the FBI's activities.

The judge wrote that "a report is to be given a degree of liberality," and also that New York law didn't require that close a reading.
"Indeed, such a line-by-line review would curtail the scope of the privilege and thus restrict the press's ability to serve its basic function," the judge wrote. "As discussed above, the privilege exists to protect the media while they gather the information needed for the public to exercise effective oversight of the government."
A trial had been set to begin in late January.
Gubarev's lawyers said in their statement that the judge's ruling that an average reader would understand the dossier was the subject of an official action because BuzzFeed News had linked to a CNN report about the subject was a novel one for an appeals court to rule on.

"First and foremost, nothing in today's ruling by the Court suggests in any way that the allegations concerning Mr. Gubarev, Webzilla, or XBT Holding were true. Instead, the Court ruled on a narrow legal issue, finding that Buzzfeed had a privilege to publish the information even if it was false," Gubarev's lawyers said (Gubarev is CEO of XBT, and Webzilla is a subsidiary company). "When we started this case, we knew that it would be a marathon and not a sprint. We remain convinced that, after appeal, this matter will be presented to a jury and that we will succeed in vindicating the Plaintiffs' good names."
In a statement, BuzzFeed News Editor-in-Chief Ben Smith said, "We are thrilled by today's outcome and thank Judge Ungaro for taking the time to consider this case on the merits."

"When we published the Steele Dossier in 2017, we were met with outrage from many corners — a major news anchor and President Trump both deemed it 'fake news'; and several Russian businessmen, plus Michael Cohen, sued for defamation. Today, almost two years later, a federal judge has vindicated our decision," Smith said. "As Judge Ungaro affirmed in her ruling, a key principle underlying the First Amendment is that the public has a right to know about actions taken by its government. As we have said from the start, a document that had been circulating at the highest levels of government, under active investigation by the FBI, and briefed to two successive presidents, is clearly the subject of 'official action.'"
The case shed light on how exactly BuzzFeed News got hold of the dossier. Ungaro wrote that in late December 2016, reporter Ken Bensinger was shown a copy of the dossier by David Kramer, a former deputy assistant secretary of state, who had received it from Christopher Steele. Steele, a former British intelligence officer, had been hired by a private research firm, Fusion GPS, to look into ties between Russia and the Trump campaign; later reporting indicated that the work was paid for by a law firm representing Hillary Clinton's campaign and the Democratic National Committee.

Bensinger informed Mark Schoofs, an editor at BuzzFeed News at the time, and Schoofs directed reporters to investigate some of the allegations in the documents. The judge noted that BuzzFeed News did not investigate any allegations about Gubarev, and didn't try to contact him.
After CNN reported that the dossier existed on Jan. 10, 2017, but did not publish it, Bensinger and Smith made the decision to put the dossier online as part of an article about it. The article noted that the dossier "includes specific, unverified, and potentially unverifiable allegations."