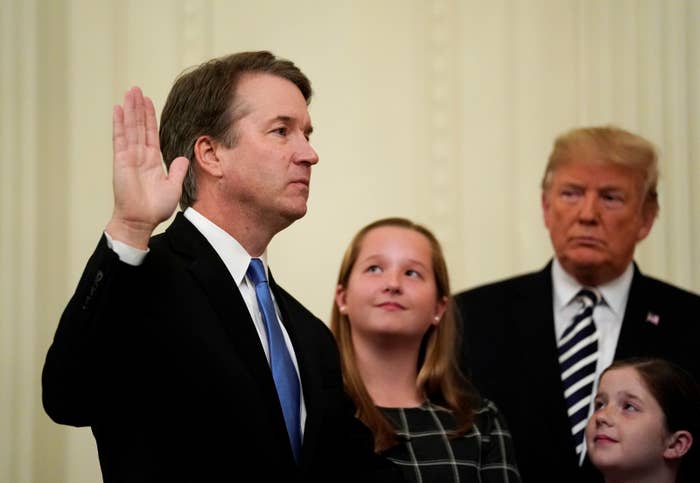 WASHINGTON — US Supreme Court Justice Brett Kavanaugh received an enthusiastic welcome at this year's Federalist Society convention, with hundreds of members of the influential conservative lawyers group erupting into cheers and applause when his name was announced at the kick-off dinner Thursday night.
Kavanaugh was one of four justices to attend the black-tie–optional Antonin Scalia Memorial Dinner, held in the cavernous, statue-lined hall of Union Station in Washington, DC. Kavanaugh was the last justice in attendance announced — justices Clarence Thomas, Samuel Alito, and Neil Gorsuch were also there — and the standing ovation he received lasted nearly a minute.
The dinner marked Kavanaugh's first public appearance since his bruising confirmation process. The conservative legal community largely rallied around Kavanaugh after allegations surfaced accusing him of committing sexual assault in high school and college — claims that he vigorously denied — and his appearance at the dinner represented a victory celebration.

Gorsuch was the headline speaker at the dinner last year, spurring speculation that Kavanaugh, as the newest justice, might speak this year. The absence of an announcement of a keynote speaker until the day of the dinner fueled the rumor mill. But in the end, it wasn't Kavanaugh; Senate Majority Leader Mitch McConnell and former White House counsel Don McGahn were on tap to speak. A Federalist Society source said Kavanaugh would be announced at the dinner as next year's speaker.
The Federalist Society has long served as a pipeline to the bench for conservative lawyers under Republican presidents, but its influence has been particularly pronounced under President Donald Trump. Nearly all of his nominees for federal appeals courts have been members at some point in their careers. Trump has broken records with the number of circuit judges confirmed in his first two years in office, and many of them are moderating panels at this year's convention.
Kavanaugh has been a member of the Federalist Society since 1988, when he was a student at Yale Law School. He's spoken at numerous events sponsored by the group, and spent two years, from 1999 to 2001, as the cochair of a school choice subcommittee of the organization's Religious Liberties Practice Group, according to his Senate questionnaire.
Also in attendance at the dinner: former attorney general Jeff Sessions, who also received cheers and a standing ovation when his name was announced.