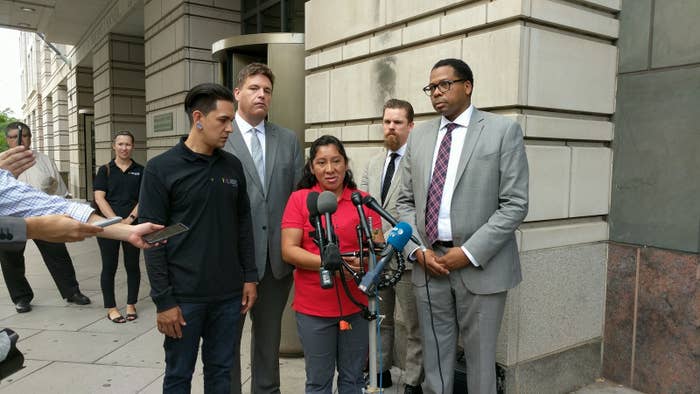 A Guatemalan woman has been reunited with her 7-year-old son after she sued the US government.

The woman, Beata Mariana de Jesus Mejia-Mejia, was separated from her son Darwin shortly after they were taken into custody at the US–Mexico border, according to the lawsuit filed earlier this week in federal court in Washington, DC; they have been separated for a month.

De Jesus Mejia-Mejia was released on bond while her asylum case is pending and sued to regain custody of her child, who has been held at a facility in Phoenix. She was reunited with her son at Baltimore-Washington International airport in the early hours of Friday morning.
A judge scheduled a hearing for Thursday afternoon on an emergency motion filed by de Jesus Mejia-Mejia's lawyers seeking immediate intervention by the court, but Justice Department lawyer Sarah Fabian told the judge that they planned to release Darwin later in the afternoon, likely making the emergency motion moot. The judge agreed to put the motion on hold until the government confirmed Darwin's release.

Darwin is expected to arrive in Washington, DC, on Thursday night and be reunited with his mother. De Jesus Mejia-Mejia has been staying with friends and family in Austin since her release, according to her representatives, but she traveled to Washington for Thursday's hearing.
De Jesus Mejia-Mejia gave a brief statement in Spanish to reporters outside the courthouse.
"All I want is to be with my son," de Jesus Mejia-Mejia said through an interpreter. "I want to see him. I appreciate very much the attorneys and their help. I appreciate all of the help. I just want to be with my son."
De Jesus Mejia-Mejia plans to fly back to Austin with Darwin, Mike Donovan, CEO of Nexus Services, told reporters outside the courthouse. Nexus Services is the parent company of immigration bond provider Libre by Nexus, which helped de Jesus Mejia-Mejia make bond, and Nexus Services has been funding her lawsuit. (Libre by Nexus is suing BuzzFeed News.)

Donovan said that Nexus Services had authorized funding for a class action lawsuit seeking relief for other separated families, with de Jesus Mejia-Mejia serving as a lead class representative. He did not provide a firm date for when that case would be filed, saying it could come in the following weeks.
"Let's hope that the government understands that detaining Darwin away from his mother is not only unjust, but detaining thousand upon thousands of children from their mothers and fathers is likewise unjust," Donovan said. "And it is time to put this chapter, this very dark and sad and sick and disgusting chapter in this part of American history, behind us."
The American Civil Liberties Union is pursuing a proposed class action in federal court in California challenging the separation of families while in immigration detention. The judge in that case scheduled a hearing for Friday to discuss the significance of the executive order that President Donald Trump signed this week that addresses border separations.
In the days since de Jesus Mejia-Mejia filed suit, Donovan said the government flip-flopped on whether they would release Darwin, initially saying on Wednesday that he would be released — Donovan said they bought a plane ticket — but then reversing course and saying he would not be released, prompting the lawyers to go forward with Thursday's hearing.
According to the lawsuit, de Jesus Mejia-Mejia and her son crossed the US–Mexico border on May 19, arriving in Arizona; they did not enter the country through an official port of entry. When they were approached by border agents, de Jesus Mejia-Mejia says she told them she was seeking protection from the US government because of "severe violence and threats of death" she and her son had experienced in Guatemala, including from her husband. Sessions earlier this month issued a decision restricting immigration judges from granting asylum to victims of domestic violence; it was not immediately clear how this could affect de Jesus Mejia-Mejia's case.
The two were held together at first, but several days they later they were separated. De Jesus Mejia-Mejia was not indicted on criminal charges and made bond after she passed her initial credible fear hearing with an asylum official. She said she was not told why they were separated, and struggled to get information about Darwin's location and status. According to Donovan, Darwin was held at a facility managed by Southwest Key Programs, a nonprofit that contracts with the federal government to provide housing facilities for immigrant children.
De Jesus Mejia-Mejia's lawyer Mario Williams told US District Judge Paul Friedman that they had not decided if they would continue to pursue the current lawsuit once Darwin is returned. Friedman expressed support for Darwin's release.
"I hope this all happens," Friedman told the lawyers.