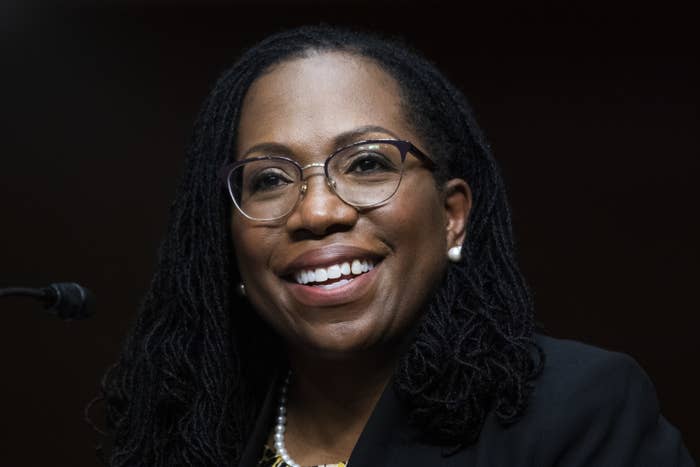 WASHINGTON — President Joe Biden has selected Judge Ketanji Brown Jackson as his nominee for the US Supreme Court, making her the first Black woman ever chosen for the high court and kicking off Democrats' effort to secure what remains of the court's liberal minority.
"I'm proud to announce that I am nominating Judge Ketanji Brown Jackson to serve on the Supreme Court," Biden tweeted Friday morning, calling her "one of our nation's brightest legal minds." Speaking from the White House later in the day, Biden praised Jackson's legal expertise as well as her "pragmatic understanding that the law must work for the American people."
"For too long our government and our courts haven't looked like America. I believe it's time that we have a court that reflects the full talents and greatness of our nation with a nominee of extraordinary qualifications," Biden said. He was joined by Vice President Kamala Harris, whom he thanked for her counsel during the vetting process but did not speak.
Jackson, a judge on the powerful US Court of Appeals for the DC Circuit, was widely considered a frontrunner for the next Supreme Court vacancy under a Democratic president long before Justice Stephen Breyer announced his retirement and Biden was even elected. She brings both the elite credentials that have defined modern nominees — two Harvard degrees, prestigious clerkships, stints at white-shoe law firms; as a federal public defender and member of the US Sentencing Commission, she also has less common professional experiences that liberals have clamored for on the bench.
She is poised to make history. There have been 115 justices since the earliest iteration of the Supreme Court in 1789. If confirmed, Jackson not only would be the first Black woman to serve but also only the third Black person and the sixth woman. Black women have been dramatically underrepresented across the federal bench. Nominations of people of color and women picked up in the latter part of the 20th century, but the representation of Black women has continued to lag.
During Friday's White House event, Jackson began by thanking god and her family and concluded with a tribute to the late Constance Baker Motley, who was the first Black woman to serve as a federal judge. Jackson noted that she and Motley shared a birthday, separated by 49 years.
"Today I proudly stand on Judge Motley's shoulders, sharing not only her birthday but also her steadfast and courageous commitment to equal justice under law," Jackson said.
Jackson's nomination was met with resounding enthusiasm across the Democratic political establishment and a wide array of advocacy groups who have increasingly organized around the fate of the Supreme Court as key to achieving policy wins on issues that matter most to liberals, including civil rights, voting access, gun control, reproductive health, the environment, and labor protections.
"This is a moment of joy," said Brandi Colander, one of the founders of She Will Rise, an advocacy group that's been dedicated to advocating for a Black woman justice. "Every American wins because we are creating a court that is more inclusive, that will be better equipped to handle the issues of today."
Democrats hold a slim majority in the US Senate, giving Biden the numbers he needs to move Jackson's nomination through, but with little margin for error. Jackson was nominated for the DC Circuit during Biden's first year in office, giving her the benefit of recently going through the Senate confirmation process, not to mention the Republican opposition wringer. She was confirmed to the appeals court in June 2021 by a vote of 53 to 44, managing to secure a small amount of bipartisan support along with all 50 Democrats.
Republican Sen. Lindsey Graham, one of the three Republicans who voted in favor of Jackson's nomination to the DC Circuit, signaled that he might not support her for the Supreme Court. He released a statement saying that the choice showed that "the radical Left has won President Biden over yet again." Graham lamented that his choice for Breyer's seat, US District Judge J. Michelle Childs — who was championed by Democratic Rep. James Clyburn — wasn't selected.
Jackson's relatively brief tenure on the DC Circuit means she has less of a record of precedent-setting opinions for her supporters to champion — and her detractors to pick apart — than other recent Supreme Court nominees. As a federal district judge in Washington since 2013, however, she has presided over a string of high-profile cases and developed a long record of written opinions.
In a 120-page opinion in November 2019, she ruled that former president Donald Trump's first White House counsel, Don McGahn, had to comply with a congressional subpoena to testify in connection with the Russia investigation. The legal fight slogged through the DC Circuit for the next year and a half and ended with McGahn reaching an agreement to testify last summer. The way that case ended meant the appeals court never resolved the Trump administration's challenge to Jackson's core conclusion that McGahn couldn't claim total immunity, but it left intact a ruling that upheld her finding that House Democrats had standing to bring the case in the first place.
In spring 2018, Jackson was one of several federal judges who blocked the Trump administration from cutting off funding to teen pregnancy prevention programs. The following year, she halted the administration's efforts to expand fast-track deportations. The DC Circuit later lifted the injunction, but the majority defended her decision to enter an order that applied nationwide; Trump administration officials and conservative legal advocates routinely criticized judges who blocked policies on a national scale, versus applying orders to a specific region or the parties who sued. One of Jackson's colleagues, citing her opinion several months later, called her analysis "incisive."
Jackson's criminal case docket over the years included the prosecution of Edgar Maddison Welch, a man who brought loaded guns into a DC restaurant in response to the "Pizzagate" conspiracy theory. She sentenced him in 2017 to four years in prison.
Although she's only been on the DC Circuit for several months, she's already been involved in a handful of notable cases. In December, she was part of the three-judge panel that gave Trump a loss in his effort to stop the special congressional committee investigating the Jan. 6 insurrection from getting certain archived White House records; Trump argued they should be shielded by executive privilege. Jackson didn't write the opinion but joined the 3–0 decision. Trump ultimately failed to convince any court, including the US Supreme Court, to block the National Archives from turning over records to the committee.
Last summer, she was on a panel that rejected an effort by Julian Khater, one of two men charged with conspiring to assault Officer Brian Sicknick with a chemical spray at the US Capitol during the Jan. 6 insurrection, to challenge his detention pending trial. In the three-page order — which didn't set precedent for the circuit and only applied to Khater's case — the judges concluded they didn't find any clear error with the district judge's decision to keep him in custody.
Jackson and the other judges considering Khater's case noted "the violent nature of appellant's assault on law enforcement on January 6, which evidences a flagrant disregard of legal authority and disrespect for law enforcement, in addition to the district court's findings that appellant had engaged in some level of prior planning and coordination and ultimately contributed to the breach of the Capitol."
Jackson's first published, precedent-setting opinion as a circuit court judge was released at the start of February, just a few weeks before Biden announced her nomination to the Supreme Court. In a win for a coalition of unions representing federal government employees, Jackson and the two other judges on the panel tossed out a 2020 policy change by the Federal Labor Relations Authority that raised the bar for when federal employers had to engage in collective bargaining over changes to "conditions of employment."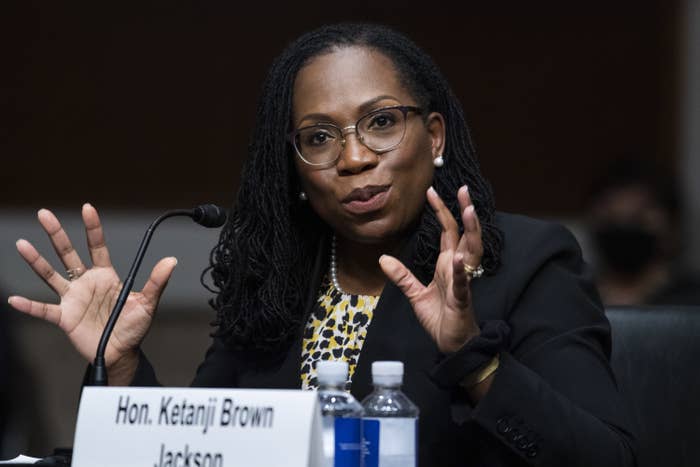 Jackson, 51, was born in Washington, DC, and grew up in the suburbs of Miami. She earned her bachelor's degree from Harvard University in 1992 and graduated from Harvard Law School four years later. A trifecta of selective clerkships followed: US District Judge Patti Saris in Massachusetts (who would later become Jackson's colleague on the Sentencing Commission), 1st Circuit Judge Bruce Selya, and, finally, retiring Justice Stephen Breyer, whose seat she has been selected to fill.

In 2002, Jackson returned to DC after a few years working in Boston as an associate at the large law firm Goodwin Procter. Over the next decade, she did several more stretches in private practice, worked as a federal public defender, and served on the Sentencing Commission, first as a lawyer and later as the vice chair from 2010 to 2014.
Jackson's tenure on the Sentencing Commission was marked by a series of policy changes that had sweeping consequences for how people convicted of drug-related offenses interact with the criminal justice system.
In 2010, Congress passed the Fair Sentencing Act in an effort to get rid of long-standing disparities in sentences for cases involving crack cocaine versus powder, which spurred skyrocketing rates of incarceration for people of color, and Black men especially. The following year, the commission incorporated the law into federal sentencing guidelines that judges nationwide rely on in calculating prison terms. It then voted to make some of those changes retroactive. That decision meant people who had already been sentenced could apply to have their sentences reduced.
In 2014, the commission approved what's known as the "Drugs Minus Two Amendment," which lowered the baseline sentencing ranges for most drug trafficking cases. The commission voted to make those changes retroactive as well, again opening the door for more incarcerated people to petition judges to reduce their sentences. A 2020 report from the commission noted that there was no statistically significant difference between the percentage of people who received sentence reductions after the 2011 and 2014 changes and committed new crimes and those who had served their full, original sentence.
Former president Barack Obama nominated Jackson for the DC federal district court in fall 2012, and she was confirmed in March 2013. She was introduced at her confirmation hearing not only by DC's lone representative in Congress, Rep. Eleanor Holmes Norton, but also Paul Ryan, the former Republican vice presidential candidate and then a member of Congress. He is related to Jackson by marriage and offered his "unequivocal" support. Her nomination was so uncontroversial at the time that she was confirmed by "voice vote," meaning the Senate didn't take a roll call to record each member's vote.
Just a few years after joining the bench, her status as a future Supreme Court contender came into focus when the Obama administration briefly vetted her for the late justice Antonin Scalia's seat, according to the National Law Journal.
Biden's decision to nominate her for the DC Circuit cemented her status as a frontrunner for the next Supreme Court vacancy. The circuit historically has served as a springboard to the highest court, with alumni that include Chief Justice John Roberts Jr., Associate Justices Clarence Thomas and Brett Kavanaugh, and the late justices Scalia and Ruth Bader Ginsburg.
Nidhi Prakash contributed reporting to this story.