The founders of backpage.com, which was shut down by the federal government last week, have been charged with knowingly facilitating prostitution-related crimes through the website, as well as money laundering, according to an indictment unsealed in federal court on Monday.
Government officials touted the indictment and seizure of the popular classified ads website as a major step in the fight against sex trafficking.
The 93-count indictment alleges backpage.com earned $500 million in prostitution-related revenues since launching in 2004. The defendants were charged with hiding the sources of those funds through various schemes, including transferring the money in and out of bitcoin.
A federal grand jury in Arizona returned the indictment against seven defendants associated with the site, including Backpage founders Michael Lacey and James Larkin, on March 28, but it wasn't unsealed until Monday.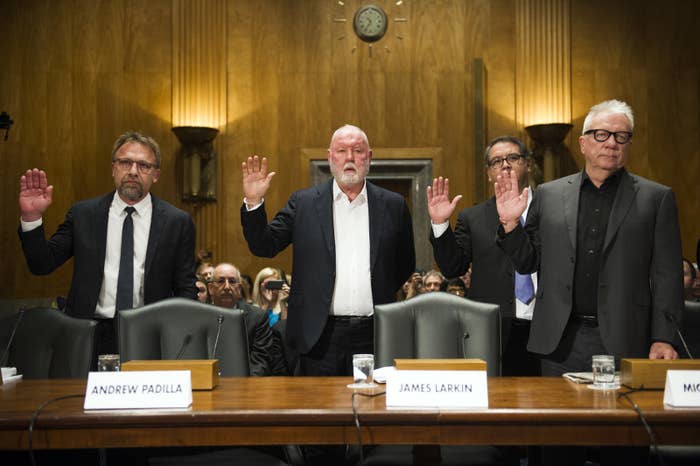 Five of the defendants were arrested on Friday: Lacey, Larkin, Joye Vaught, John "Jed" Brunst, and Scott Spear. Lacey and Vaught made their first court appearance in a closed proceeding the day they were arrested, according to the newly unsealed case records. Prosecutors asked to keep Lacey in custody until a detention hearing scheduled for April 11; the judge denied a request by Lacey's lawyer for an immediate ruling, and he remains in custody. Vaught was released pending trial.
The other three defendants were arraigned on Monday. Larkin is being held until a detention hearing on April 12, while the other two defendants were released pending trial. The status of the remaining two defendants, Dan Hyer and Andrew Padilla, was not immediately clear.
Lawyers for the defendants did not immediately return a request for comment.

The FBI's Phoenix branch raided Lacey's home on Friday, according to local station 3TV/CBS 5. When asked about the raid, FBI spokesperson Glenn Milnor said at the time, "The FBI can confirm that law enforcement activity is occurring."
Visitors to backpage.com and backpage.ca — known for personal adult ads — were met on Friday with a message that stated, "backpage.com and affiliated websites have been seized as part of an enforcement action by the Federal Bureau of Investigation, the U.S. Postal Inspection Service, and the Internal Revenue Service Criminal Investigation Division."
A Justice Department official said the defendants engaged in a "consistent and concerted effort" to host prostitution-related ads. Although the indictment does not charge the defendants with sex trafficking crimes — sex trafficking, which involves the prostitution of children and forced prostitution of adults, is legally distinct from prostitution more generally — the official said the case was part of the government's larger efforts to combat trafficking.
The most serious of the charges carries a maximum sentence of up to 20 years in prison, the official added.
"For far too long, Backpage.com existed as the dominant marketplace for illicit commercial sex, a place where sex traffickers frequently advertised children and adults alike," Attorney General Jeff Sessions said in a statement. "But this illegality stops right now."
Backpage.com was founded in Arizona, where it is also has banking accounts and servers, according to an official with the US attorney's office.
In the indictment, prosecutors allege that although backpage.com's owners and managers tried to make it seem as though the site only advertised lawful activities, those tactics were "a fiction designed to conceal the true nature of Backpage's ads and customers."
The government claimed there were internal company documents and evidence of meetings in which the defendants admitted they knew that most of the website's ads involved prostitution. According to the indictment, one internal document prepared by a public relations firm described the company's media strategy: "Do not acknowledge the prostitution." Prosecutors accused the defendants of refusing to adopt policies that would target ads featuring the prostitution of children and limiting referrals to the National Center for Missing and Exploited Children.
The indictment includes examples of victims who were allegedly trafficked through backpage.com, some of them minors as young as 14 years old. One victim was killed, and the perpetrator attempted to cover up the crime by burning the body, according to the charging documents. According to prosecutors, the victim's father asked backpage.com to remove the ads featuring his daughter after she was killed, but the site "did not immediately comply with this request."
The indictment described alleged efforts by backpage.com managers to find ways to keep prostitution-related ads on the website as much as possible, including instructing employees to edit posts to remove references to prostitution rather than deleting the ads outright, even when the ads referenced child prostitution. Prosecutors quoted one internal email from October 2010 that stated backpage.com was "editing 70 to 80%" of customer ads, arguing this was proof that managers were aware that many ads included text and pictures suggesting prostitution and that they still published them after editing.
The company shuttered the "adult" section of the website in 2017 after the Senate's Permanent Subcommittee on Investigations published a report accusing it of facilitating sex trafficking. But prosecutors alleged that the prostitution-related ads "simply migrated to other sections of the website, where they remain to this day."
The indictment accused defendants of trying to hide money earned from prostitution-related ads, including by transferring money through bitcoin-processing companies. Prosecutors laid out another alleged scheme in which the company had customers send checks and money orders to the post office box of a company called "Posting Solutions LLC," and then funneled the money and transfers from foreign bank accounts to the account of another company with a similarly generic-sounding name, "Website Technologies LLC." The money from that account was then wired to another entity called Cereus Properties LLC, prosecutors said, and then finally made it back to backpage.com or certain individual defendants.
Backpage.com's CEO Carl Ferrer, along with Lacey and Larkin, previously faced criminal charges for conspiracy to pimp and other related counts in state court in California. But that case was dismissed in 2016 after a judge found that the defendants were protected by the federal Communications Decency Act, which provides immunity against charges for speech created on a website by third parties — in this case, the ads on backpage.com.
The latest case in Arizona features different charges under federal law. Ferrer is not named as a defendant.
This is not the first time the US government has seized a website as part of its fight against sex trafficking. In recent years, the government has seized domain names associated with myredbook.com and rentboy.com, which prosecutors said were being used to facilitate prostitution.