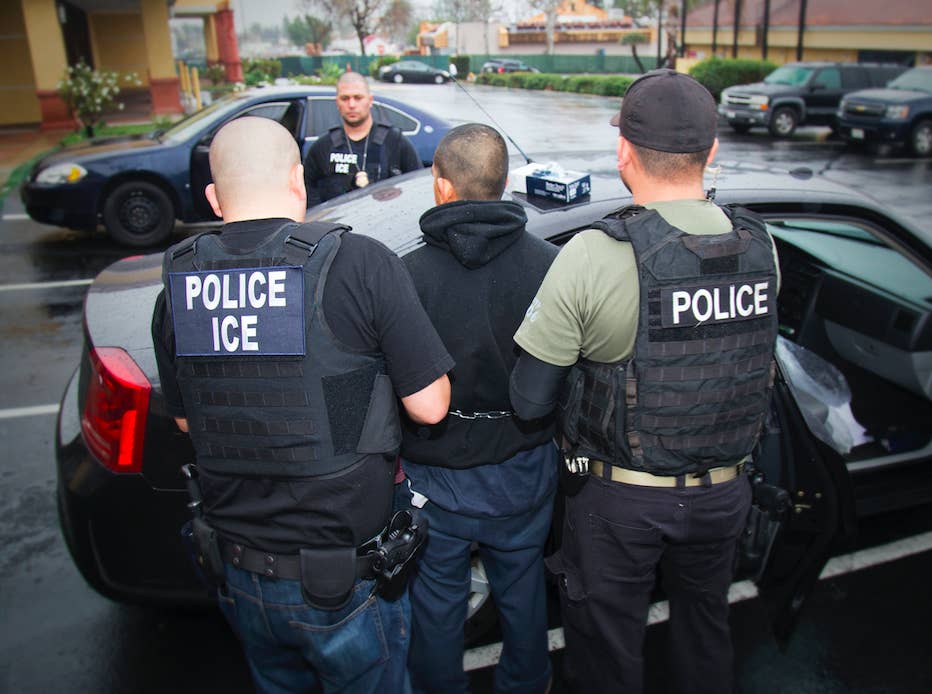 ARLINGTON, Va. — In a small, windowless courtroom on the second floor of an office building, Judge Rodger Harris heard a string of bond requests on Tuesday morning from immigrants held in jail as they faced deportation.
The detainees appeared by video from detention facilities elsewhere in the state. Harris, an immigration judge since 2007, used a remote control to move the camera around in his courtroom so the detainees could see their lawyers appearing in-person before the judge, if they had one. The lawyers spoke about their clients' family ties, job history, and forthcoming asylum petitions, and downplayed any previous criminal record.
In cases where Harris agreed to set bond — the amounts ranged from $8,000 to $20,000 — he had the same message for the detainees: if they paid bond and were set free until their next court date, it would mean a delay in their case. Hearings set for March or April would be pushed back until at least the summer, he said.
But a couple of months is nothing compared to timelines that some immigration cases are on now. Judges and lawyers interviewed by BuzzFeed News described hearings scheduled four, five, or even six years out. Already facing a crushing caseload, immigration judges are bracing for more strain as the Trump administration pushes ahead with an aggressive ramp-up of immigration enforcement with no public commitment so far to aid backlogged courts.
Immigration courts, despite their name, are actually an arm of the US Department of Justice. The DOJ seal — with the Latin motto "qui pro domina justitia sequitur," which roughly translates to, "who prosecutes on behalf of justice" — hung on the wall behind Harris in his courtroom in Virginia. Lawyers from the US Department of Homeland Security prosecute cases. Rulings can be appealed to the Board of Immigration Appeals, which is also part of the Justice Department, and then to a federal appeals court.
As of the end of January, there were more than 540,000 cases pending in immigration courts. President Trump signed executive orders in late January that expanded immigration enforcement priorities and called for thousands of additional enforcement officers and border patrol officers. But the orders are largely silent on immigration courts, where there are dozens of vacant judgeships. And beyond filling the vacancies, the union of immigration judges says more judges are needed to handle the caseload, as well as more space, technological upgrades, and other resources.
Homeland Security Secretary John Kelly acknowledged the immigration court backlog in a memorandum released this week that provided new details about how the department would carry out Trump's orders. Kelly lamented the "unacceptable delay" in immigration court cases that allowed individuals who illegally entered the United States to remain here for years.
The administration hasn't announced plans to increase the number of immigration judges or to provide more funding and resources. It also isn't clear yet if immigration judges and court staff are exempt from a government-wide hiring freeze that Trump signed shortly after he took office. There are 73 vacancies in immigration courts, out of 374 judgeships authorized by Congress.
"Everybody's pretty stressed," said Paul Schmidt, who retired as an immigration judge in June. "How are you going to throw more cases into a court with 530,000 pending cases? It isn't going to work."
Judge Dana Leigh Marks, an immigration judge in San Francisco and president of the National Association of Immigration Judges, said judges have not been formally advised about whether the hiring freeze applies to immigration courts. Kathryn Mattingly, a spokeswoman for the Executive Office for Immigration Review — the Justice Department office that runs immigration courts — said in an email that the office is working with DOJ officials to come up with "guidance that may address specific positions." According to Mattingly, there are more than 50 immigration judge candidates at various stages of the hiring process.
In setting immigration enforcement priorities, the Obama administration focused on individuals involved in gang activity and convicted of felony and "significant" misdemeanor crimes. The Trump administration is casting a wider net, prioritizing deportation for any immigrant unlawfully in the United States who is charged with or convicted of a crime. Trump's executive orders call for the construction of more detention facilities near the southern border and the hiring of 10,000 more immigration officers and 5,000 more border patrol agents.
The only explicit reference to immigration courts in these orders directs the US attorney general to assign judges to detention facilities. That could mean flying judges to border states with large numbers of detainees, if there's space to accommodate them, or holding hearings by video, which lawyers say can put individuals facing deportation at a disadvantage, especially if they don't have a lawyer.
"We actually hear it from both immigrants and people who want strong enforcement policies that the length of time these cases are pending is way too long and should be addressed."
"All of those logistical considerations are daunting," Marks said. Without more judges to augment what Marks described as an "anemic judge corps," especially as Homeland Security hires thousands of more immigration enforcement officers, more cases means more delays, she said.
According to Mattingly, the immigration review office is "evaluating" the executive orders and "having discussions with the Department of Justice regarding implementation." Requests to interview office director Juan Osuna or Chief Immigration Judge MaryBeth Keller were declined.
The immigration review office "recognizes that to reduce the pending caseload and wait times for those in proceedings, the agency must continue its hiring initiative to increase the size of its immigration judge corps and must increase support staff, in the field and at headquarters, accordingly," Mattingly said.
Plagued by delays
There are immigration courts in 27 states, plus Puerto Rico and the Northern Mariana Islands. The National Association of Immigration Judges has long advocated for immigration courts to become independent from the Justice Department, under a structure similar to the US Tax Court. The president can remove Tax Court judges, but otherwise it operates as an independent entity within the executive branch.
The union says this type of structure would give courts more control over dockets and staffing, and bolster public trust. The US Government Accountability Office is studying proposed options to restructure immigration courts in response to a 2015 request from Republican Rep. Trey Gowdy and Democratic Rep. Zoe Lofgren; the office expects to finish the study by the summer, according to a GAO spokesman.
For now, Attorney General Jeff Sessions is in control. The attorney general signs off on all immigration judge appointments. Sessions also has the authority to overrule decisions by the Board of Immigration Appeals.
Greg Chen, director of advocacy for the American Immigration Lawyers Association, said the group is watching to see if Sessions — a proponent of hardline immigration policies — moves to bring in judges who align with his views.
Political screening is a sensitive issue for the immigration courts. The Justice Department's inspector general concluded in a 2008 report that department officials improperly adopted a political test for immigration judges during the second Bush administration.
"We would hope that kind of ideology doesn't infect the process," Chen said.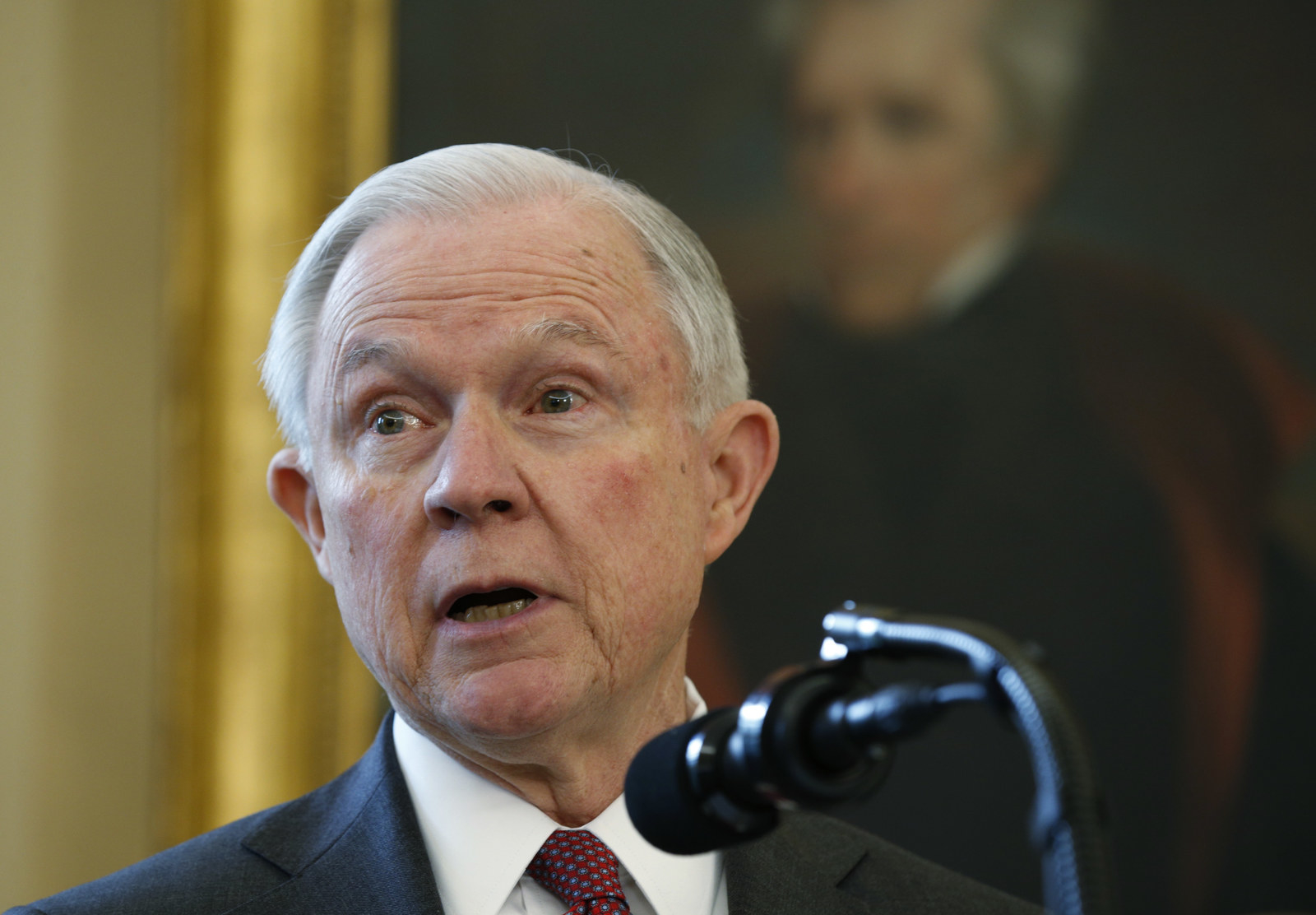 Even if Sessions does move now to fill the current vacancies, it could be years before the courts are at full strength. It can take as long as three years to hire a new immigration judge, according to judges and lawyers familiar with the process. The most recent class of immigration judges was hired in early January.

And even if Sessions does fill all the existing judgeships, Schmidt said it still wouldn't be enough to tackle the backlog. At most, an experienced judge could handle about 750 cases annually without rushing through proceedings and "stomping over everybody's due process rights," he said. With 374 judges, that comes out to about 280,000 cases per year — far short of the current number of pending cases.
Detainees get priority in immigration courts. As of the end of January, there were 20,856 pending detained cases, according to the latest statistics available from the Justice Department, out of more than 540,000 pending cases. Trump's executive orders and Kelly's guidance memos stress that priority will be placed on holding people facing deportation rather than releasing them, so those cases would go the top of the docket.
Kelly criticized the immigration court delays because they meant that immigrants who were illegally in the United States could stay longer. Immigrants with work authorization before they enter into removal proceedings in court — green card holders, for instance — keep that status while their case is pending, and asylum seekers can be eligible for work authorization under limited circumstances. Generally, undocumented immigrants face the same job prospects that they did before they were picked up by immigration officers — working off the books, or self-employment.
During the long stretches in between hearings, Marks said additional problems can arise: evidence can go stale and witnesses can move away or die.
"We actually hear it from both immigrants and people who want strong enforcement policies that the length of time these cases are pending is way too long and should be addressed," he said.
Easing the backlog
Chief Immigration Judge MaryBeth Keller took steps in January to try to ease some of the strain. She issued a memorandum that revised the types of cases considered priorities. The top priority is individuals held by the Department of Homeland Security. She rescinded earlier memos that prioritized classes of unaccompanied children who were not in the care of federal agencies and families who were not detained.
"If you're going to move these many cases in, you're going to have to do something with the cases that are there now."
It wasn't clear from the memo, dated Jan. 31, if it was drafted in response to the Trump administration's new enforcement priorities — Trump signed the two executive orders on immigration enforcement on Jan. 25 — or if it was already in the works when Trump took office. A spokeswoman for the Executive Office for Immigration Review said the priorities outlined in the Jan. 31 memo "reflect the present state of the immigration system and EOIR's efforts to adapt as the immigration landscape changes."
Eliza Klein, an immigration lawyer who retired as an immigration judge in 2015, said that Keller's memo provided some relief to judges. But given the expanded enforcement expected under the Trump administration, she said, "the sense is that might be temporary."
Kelly addressed the immigration court backlog in his guidance memo this week, writing that the "surge of illegal immigration at the southern border has overwhelmed federal agencies and resources." He said the department would expand the class of immigrants who can be immediately removed from the United States without first going before an immigration judge.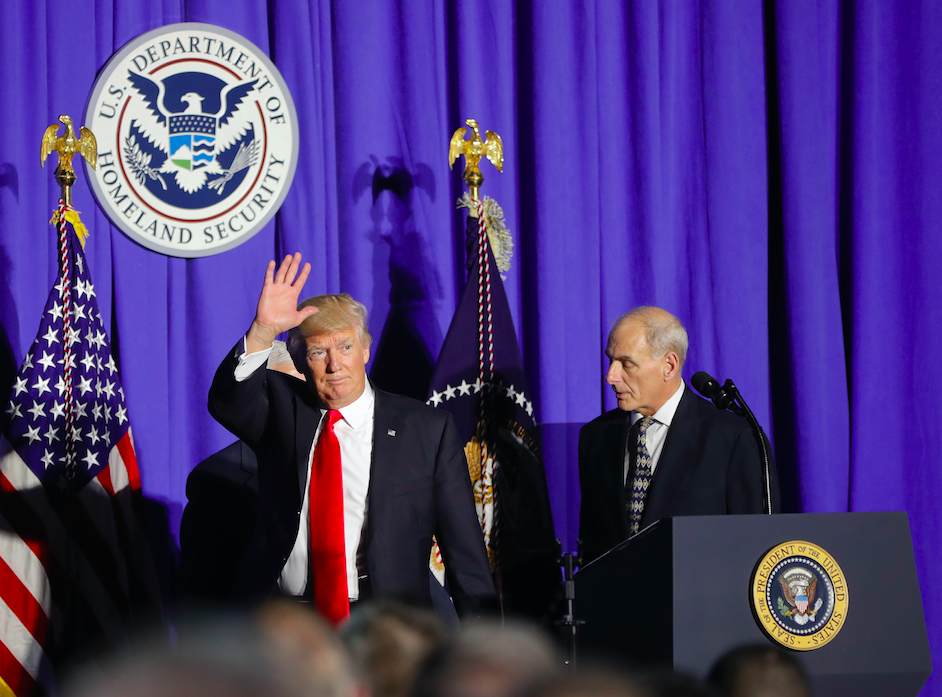 In the past, this "expedited removal" process was applied to immigrants illegally in the United States caught within 100 miles of the border and two weeks of entry. It now will apply nationwide to immigrants who can't prove that they have been in the US for at least two years.
Those cases could still end up in court, though, if an immigrant seeks asylum or expresses a fear of persecution if they're sent back to their home country. There are also carve-outs for children crossing the border alone and individuals who claim they have a legal right to be in the United States.
Schmidt said that expanding expedited removal won't be enough to address the backlog.
"If you're going to move these many cases in, you're going to have to do something with the cases that are there now," he said. "Grant them some kind of temporary status, and make room for new cases. But you can't throw new cases on top of what you had."
Given the Trump administration's hardline approach to immigration so far, any new proposal that goes beyond existing programs to grant immigrants facing deportation temporary legal status to remain in the United States seems unlikely to go far. With the exception of two existing deferred deportation programs, Kelly wrote in one of his guidance memos this week that "the Department no longer will exempt classes or categories of removable aliens from potential enforcement."
Outside Your Bubble is a BuzzFeed News effort to bring you a diversity of thought and opinion from around the internet. If you don't see your viewpoint represented, contact the curator at bubble@buzzfeed.com. Click here for more on Outside Your Bubble.