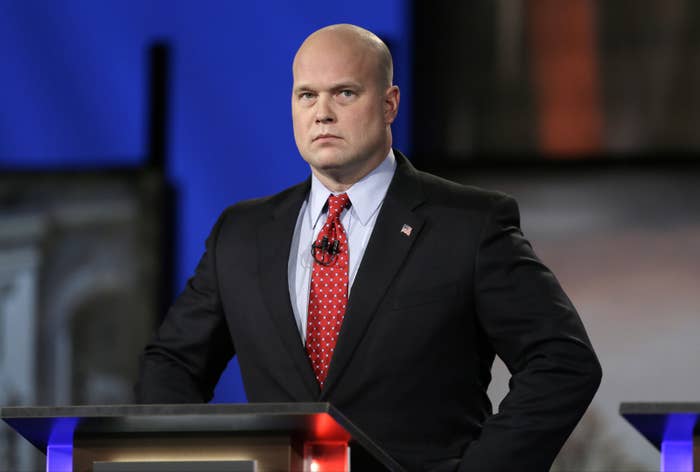 Acting Attorney General Matthew Whitaker, who became the nation's chief law enforcement officer Wednesday after Jeff Sessions was forced out, has been critical of special counsel Robert Mueller's investigation, which he will likely now oversee.
Whitaker has questioned the need for a special counsel as well as the substance of Mueller's work. He'll take over responsibility for the Russia probe from Deputy Attorney General Rod Rosenstein, assuming he isn't precluded from doing so for ethics reasons. Rosenstein, as the department's number two official, has overseen the investigation since Sessions recused himself last year.
As the official now in charge, Whitaker can exercise control over the investigation's scope and even fire Mueller, although he's limited by Justice Department regulations that restrict when a special counsel can be removed from office.

Whitaker, a former US attorney in Iowa during the George W. Bush administration, joined the Justice Department as Sessions' chief of staff in October 2017. He previously served as executive director of the conservative government watchdog group Foundation for Accountability and Civic Trust, and unsuccessfully ran for the US Senate in 2014.
Congressional Democrats and liberal advocacy groups immediately called for Whitaker to recuse himself from the investigation. California Sen. Dianne Feinstein, the senior Democrat on the Senate Judiciary Committee, said in a statement that, "No one who lacks Senate confirmation should be placed in charge of this investigation, especially Matthew Whitaker who publically [sic] criticized Robert Mueller's work just last year."
New York Rep. Jerrold Nadler, ranking member of the House Judiciary Committee, said in a statement that it would be "wholly inappropriate for Mr. Whitaker to supervise the Special Counsel investigation given his documented history of opposition to it."
Under Justice Department regulations, the attorney general — or, in this case, the acting attorney general — can only remove a special counsel "for misconduct, dereliction of duty, incapacity, conflict of interest, or for other good cause, including violation of Departmental policies." If Whitaker did decide to fire Mueller, he would have to tell Mueller in writing and detail his specific reasons for doing so, under the regulations.

Whitaker released a statement Wednesday night praising Sessions as a "dedicated public servant" and saying that it was a "true honor that the President has confidence in my ability to lead the Department of Justice as Acting Attorney General." He did not address the Mueller investigation.
"I am committed to leading a fair Department with the highest ethical standards, that upholds the rule of law, and seeks justice for all Americans. I will work with our colleagues in Federal, State, local, and tribal leadership, including our partners in law enforcement and our U.S. Attorneys, to ensure the safety of all Americans and the security of the nation," Whitaker said.
In May 2017, after Trump fired former FBI director James Comey — but before Rosenstein appointed Mueller — Whitaker wrote in an op-ed in the Hill that calls at the time for an independent prosecutor or commission to investigate Russian interference in the 2016 election "ring hollow" because Democrats hadn't called for special counsels during "scandals" of the Obama administration. Whitaker hadn't yet joined the Justice Department at that point; he was executive director of Foundation for Accountability and Civic Trust.
"Serious, bipartisan congressional investigations into the Russian allegations have been under way for weeks and they have made progress. Hollow calls for independent prosecutors are just craven attempts to score cheap political points and serve the public in no measurable way," Whitaker wrote.
Several months later in August, he wrote in a CNN op-ed that he was concerned about reports that Mueller's office might be investigating the finances of the Trump Organization and Trump's family.
"Mueller has come up to a red line in the Russia 2016 election-meddling investigation that he is dangerously close to crossing," Whitaker wrote.
Whitaker argued against a broad reading of Rosenstein's order appointing Mueller, which authorized Mueller not only to investigate any ties between the Trump campaign and Russia, but also "any matters that arose or may arise directly from the investigation."

"It is time for Rosenstein, who is the acting attorney general for the purposes of this investigation, to order Mueller to limit the scope of his investigation to the four corners of the order appointing him special counsel," he wrote. "If he doesn't, then Mueller's investigation will eventually start to look like a political fishing expedition. This would not only be out of character for a respected figure like Mueller, but also could be damaging to the President of the United States and his family — and by extension, to the country."
Also in August 2017, Whitaker via Twitter promoted an op-ed that ran in the Philadelphia Inquirer, titled "Note to Trump's lawyer: Do not cooperate with Mueller lynch mob." The story was "worth a read," Whitaker tweeted. That month he also flagged as "worth a read" a story in Politico titled "Could Trump Fire Mueller? It's Complicated."
Whitaker was rumored as a leading contender for several top legal jobs in the Trump administration in recent months. As Sessions' chief of staff, he's made several appearances at the White House over the past year. Axios reported in September that Whitaker was being considered to replace now-former White House counsel Don McGahn; the job ultimately went to Pat Cipollone. Later that month, the New York Times reported that Whitaker would have taken over for Rosenstein as acting deputy attorney general if Rosenstein resigned following a Times report that he previously questioned Trump's fitness as president. Rosenstein did not step down.
Chris Geidner contributed to this story.
UPDATE
Updated with a statement from Acting Attorney General Matthew Whitaker.
CORRECTION
The name of the Foundation for Accountability and Civic Trust was misstated in an earlier version of this post.