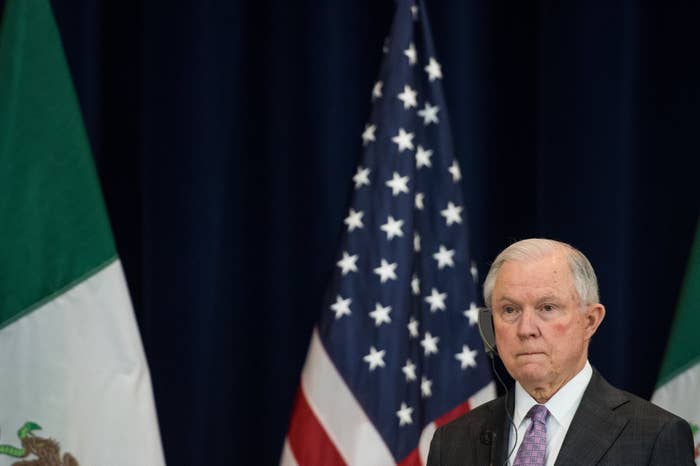 Attorney General Jeff Sessions interviewed with special counsel Robert Mueller's office, a Justice Department spokeswoman confirmed to BuzzFeed News.
The New York Times first reported that Sessions was questioned by Mueller's team. DOJ spokeswoman Sarah Isgur Flores confirmed to BuzzFeed News that the interview took place last week at the special counsel's office and lasted several hours.
Sessions was accompanied by his personal attorney, Charles "Chuck" Cooper of the law firm Cooper & Kirk in Washington, DC. Cooper's office referred questions to the Justice Department.
Mueller's team has reportedly interviewed other individuals in President Donald Trump's inner circle — including his son-in-law and senior adviser Jared Kushner and White House Counsel Donald McGahn — but Sessions is the first member of Trump's cabinet known to have participated in questioning.
The New York Times also reported Tuesday that Mueller's team interviewed former FBI director James Comey last year. Asked about the Times report, Columbia Law School professor Daniel Richman said in an email to BuzzFeed News that he is one of Comey's lawyers and that they would decline to comment. Richman was responsible for sharing the contents of one of Comey's memos about his communications with Trump with a reporter, at Comey's request.
Sessions announced on March 2, 2017, that he would recuse himself from any matters related "in any way" to the 2016 presidential election, after reports surfaced about his communications during the campaign with former Russian ambassador Sergey Kislyak. Sessions' recusal covered the investigation into possible Russian interference in the election, among other things.

The recusal reportedly enraged Trump, and last summer the president told the New York Times that he wouldn't have appointed Sessions as attorney general if he had known that Sessions would recuse.
Deputy Attorney General Rod Rosenstein, as the number two official at the Justice Department, took on oversight of the Russia probe in Sessions' stead. Rosenstein in May appointed Mueller as special counsel to run the investigation, to the dismay of Trump, who has called the probe a "witch hunt."
Mueller's team so far has filed charges against four people: former Trump campaign manager Paul Manafort and his longtime associate Rick Gates, both of whom have pleaded not guilty; Trump's former national security adviser Michael Flynn, who pleaded guilty to lying to investigators in the Russia probe; and former Trump campaign adviser George Papadopoulos, who also pleaded guilty to lying to the FBI in connection with the Russia investigation.
Although Sessions isn't involved in the Russia investigation, stories about him have continued to surface that circle around it. Earlier this month, the New York Times reported that an aide to Sessions asked a Capitol Hill staff member in early May if they had any negative information about former FBI director James Comey, shortly after Comey had testified before the Senate Judiciary Committee. The Times cited a source who said that Sessions wanted negative press about Comey; a Justice Department spokeswoman said that the May exchange did not happen.
Trump fired Comey on May 9, citing recommendations from Sessions and Rosenstein. Rosenstein wrote a memo to the president dated May 9 that recommended firing Comey based on Comey's handling of the Clinton emails investigation. Sessions, in a letter also dated May 9, wrote that he had "concluded that a fresh start is needed at the leadership of the FBI," based on his evaluation and Rosenstein's memo.
The New York Times also reported that Trump told Sessions to resign after news broke that Rosenstein appointed Mueller as special counsel, and that Sessions did submit a resignation letter, which Trump rejected.
Axios reported this week that current FBI Director Christopher Wray threatened to resign after Sessions urged him to replace the FBI's deputy director Andrew McCabe. McCabe, who has spent the bulk of his career at the FBI, became deputy director in January 2016 during Comey's tenure.
UPDATE
Updated with information about a report that James Comey was interviewed by the special counsel office.