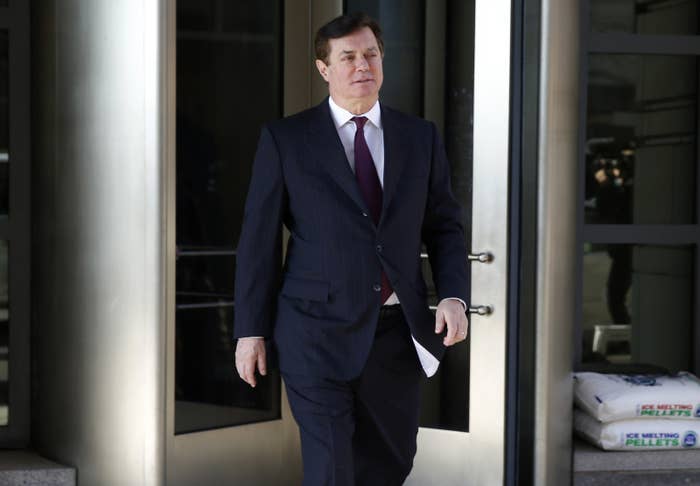 A federal grand jury in Virginia returned a new 32-count indictment against former Trump campaign chair Paul Manafort and his longtime associate Rick Gates, special counsel Robert Mueller's office revealed in court filings on Thursday.
The indictment alleges that Manafort laundered more than $30 million in income that he hid from US authorities.
The two men are charged with filing false income tax returns, failing to report foreign financial accounts, and bank fraud. The new criminal case, filed in the US District Court for the Eastern District of Virginia, is sealed. Mueller's team disclosed the indictment in a filing in the criminal case pending against Manafort and Gates in the US District Court for the District of Columbia.
Manafort and Gates are facing a 12-count indictment returned in October by a federal grand jury in Washington, DC, which accused them of conspiring to hide their work on behalf of the Ukrainian government, as well as the millions of dollars in profits that they earned from that business. Both pleaded not guilty to the charges.
The Virginia indictment repeats many of the same allegations in the Washington indictment with respect to Manafort and Gates' work overseas and their alleged efforts to conceal their profits, but it lodged new charges that the two filed false tax returns and that Manafort, with help from Gates, fraudulently secured more than $20 million in loans by lying about income and debt.
The Washington indictment alleged that more than $75 million "flowed through" offshore accounts that Manafort and Gates used to hide profits from their work for Ukraine, and that Manafort laundered more than $18 million. The Virginia indictment repeated the $75 million sum, but increased the amount that Manafort is accused of laundering, to more than $30 million. In both indictments, Gates is accused of laundering more than $3 million.
The Virginia indictment repeats allegations from the Washington case that Manafort made more than $12 million in wire transfers — income that he allegedly did not pay taxes on — to support what prosecutors described as a "lavish lifestyle," spending the money on home improvements, antique rugs, clothing, cars, and real estate, among other things. It also repeats allegations that the two men failed to file foreign bank account reports, known as FBAR filings, with the US government.

The Virginia indictment added new tax-related and bank fraud charges against Manafort and Gates. The Washington indictment had included claims that Manafort and Gates made false statements in their tax returns and to financial institutions, but did not charge them with that criminal conduct.
Prosecutors alleged that when Manafort and Gates were "flush with Ukraine funds," they used their offshore accounts to help Manafort buy and renovate real estate in the United States. When that income "dwindled," according to the indictment, Manafort, with Gates' help, lied to lenders about Manafort's income and debt in order to secure millions of dollars in mortgages on those US properties.
Manafort's spokesperson, Jason Maloni, maintained his client's innocence — and said the charges "have nothing to do with" the 2016 election interference by Russia that Mueller was appointed to investigate.
"Paul Manafort is innocent of the allegations set out in the newly filed indictments and he is confident that he will be acquitted of all charges," Maloni said in the statement. "The new allegations against Mr. Manafort, once again, have nothing to do with Russia and 2016 election interference/collusion. Mr. Manafort is confident that he will be acquitted and violations of his constitutional rights will be remedied."

Lawyers for Gates did not immediately return requests for comment. On Thursday afternoon, Thomas Green, a white collar defense attorney at the law firm Sidley Austin, entered an appearance in the DC federal court as Gates' lawyer; Green had already been representing Gates, a source familiar with the situation previously told BuzzFeed News, but he hadn't formally entered into the criminal case. Gates' earlier set of lawyers had asked the court to allow them to withdraw. Green, on Gates' behalf, filed notice with the court on Thursday that Gates did not oppose his other lawyers pulling out — a request the judge in the case later granted.
According to a status report filed by special counsel prosecutors in the Washington case on Thursday, Mueller's team pursued charges in Virginia because the evidence did not support bringing them in Washington — meaning that the alleged activity underlying the criminal charges did not take place in Washington.
Although the two indictments include many of the same allegations against Manafort and Gates, they differ in terms of what criminal conduct is actually charged. The Washington indictment charged them with conspiracy, money laundering, failing to file reports of foreign bank accounts, failing to register as agents for foreign entities, making misleading statements under the Foreign Agents Registration Act about their work for Ukraine, and making false statements.
The only charges in the Virginia indictment that overlap with the Washington case are those concerning the filing of foreign bank account reports, but in the Virginia case Manafort and Gates were charged under a different section of federal law that carries a less severe penalty than the section charged in the Washington case.
The bank fraud counts carry a maximum penalty of 30 years in jail — the stiffest potential sentence of all the charges that Manafort and Gates have been charged with so far. The charge of failing to report foreign bank accounts has a maximum sentence of five years in jail, and the tax-related counts carry up to three years in jail.
In the Washington case, the money laundering conspiracy charge has a maximum penalty of 20 years in jail. The charge of failure to report foreign bank accounts in that case has a maximum sentence of 10 years in jail, and the rest of the counts carry up to five years in jail. The foreign bank accounts charge in Washington has a more severe penalty because it alleges that a defendant committed the crime "while violating another law of the United States or as part of a pattern of any illegal activity involving more than $100,000 in a 12-month period."
Prosecutors wrote that they had asked Manafort and Gates if they were willing to waive the venue issue in order to have all the charges handled in one court, but one of them — the filing did not say who — chose not to waive it.
On Wednesday, a document was filed in the Washington case that appeared to indicate that a new charge, or new charges, had been filed in Manafort and Gates' case. The document — a single piece of paper with the word "SEALED" on it and Manfort and Gates' case number at the top — was included in a publicly available binder in the clerk's office that logs new criminal cases. The document did not indicate what had been charged or who it had been charged against, and Thursday's action in Virginia did not immediately clarify the questions raised by the DC document.
This is a developing story. Check back for updates and follow BuzzFeed News on Twitter.‏