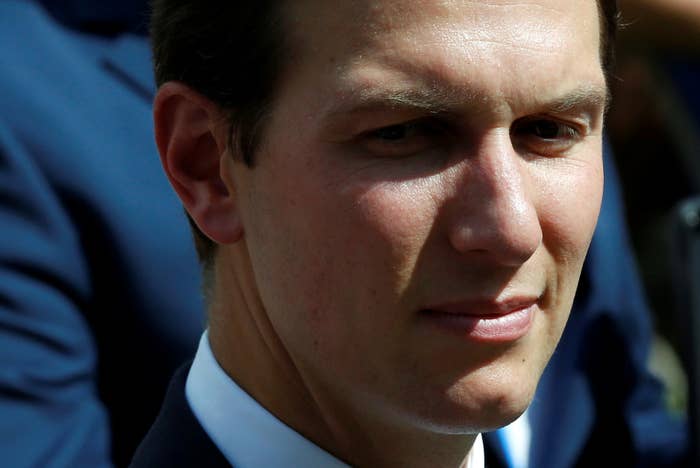 Jared Kushner's lawyer Abbe Lowell appears to have inadvertently sent a letter from the Senate Intelligence Committee meant for his client to a fake email account set up by a prankster who tricked Lowell earlier this week.
CNN first reported that Lowell forwarded an email from the intelligence committee to kushner.jared@mail.com, which is a fake account the unnamed prankster used to communicate with Lowell earlier in the week. A user who goes by the handle @SINON_REBORN tweeted out the full email, which included an attached letter from the committee asking Kushner about reports that he used a personal email account for official business.
This was not the first time @SINON_REBORN appeared to have tricked White House officials with fake email accounts. In August, CNN reported that the user managed to get responses from Homeland Security adviser Tom Bossert and former communications director Anthony Scaramucci.
On Thursday, WIRED identified @SINON_REBORN as James Linton, a 39-year-old web designer who lives in the United Kingdom. In describing how he chooses his targets, he said, "I read stories where I get genuinely angry, and that often leads me to say: 'Well, maybe you'll be next on the list.'" Linton was not immediately available for comment.
The committee asked Kushner to "please confirm that the document production that you made to the Committee — and any and all searches of email accounts for that document production — included the additional 'personal email account' described to the news media, as well as all other email accounts, messaging apps, or similar communications channels you may have used, or that contain information relevant to our inquiry," Chairman Richard Burr and Vice Chairman Mark Warner wrote.
The letter is marked "COMMITTEE SENSITIVE."
Lowell said in an email to BuzzFeed News on Thursday that Kushner's legal team already reviewed his personal email account in response to document requests by congressional committees.
"It is perfectly normal that the committees would want to make sure that they received all pertinent records. We did review this account at the time and there were no responsive or relevant documents there. The committee was so informed when the documents were sent and there is no issue here," Lowell wrote.
He did not respond to questions about the fake email account. Earlier this week, Lowell reportedly communicated with the fake kushner.jared@mail.com account, and the exchange was posted by @SINON_REBORN.
Kushner had a private meeting with the Senate Intelligence Committee in July in connection with the committee's investigation into Russian influence in 2016 election. He read a statement to reporters after the meeting, saying, "I did not collude with Russia. Nor do I know of anyone else in the campaign who did so. I had no improper contacts. I have not relied on Russian funds for my businesses."
It's been a bad month, at least PR-wise, for lawyers representing the Trump family in connection with the Russia investigation. On Sept. 17, the New York Times published a story about internal discussions among President Donald Trump's lawyers about how to respond to requests from the special counsel investigating Russian influence, Robert Mueller III. That story was based on a conversation that a reporter overheard between two of Trump's lawyers, Ty Cobb and John Dowd, while dining at a Washington, DC, steakhouse.
Before that, Cobb had also fallen victim to @SINON_REBORN, responding to messages that the prankster sent pretending to be White House social media director Dan Scavino, according to Business Insider.