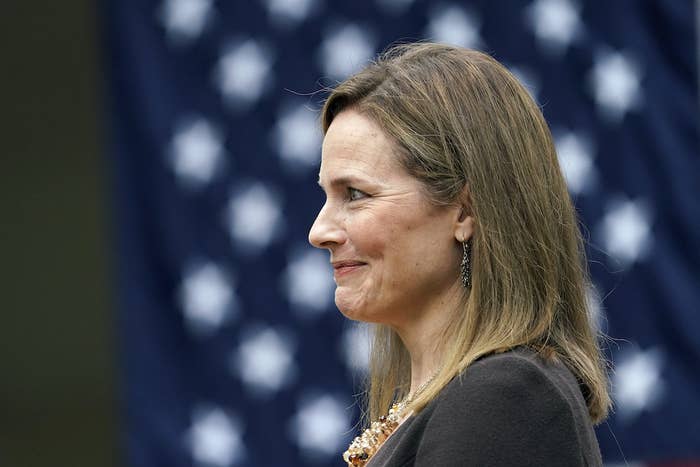 WASHINGTON — President Donald Trump announced Saturday that Judge Amy Coney Barrett is his nominee to replace the late justice Ruth Bader Ginsburg, officially launching what is likely to be a bitter confirmation fight focused on Barrett's anti-abortion beliefs and Republicans' attempts to seat her so near the Nov. 3 election.

Just over a week after Ginsburg's death on Sept. 19, Trump announced Barrett's nomination from the White House. Barrett, 48, was one of Trump's early federal court nominees and has served on the US Court of Appeals for the 7th Circuit since November 2017.
"She is a woman of unparalleled achievement, towering intellect, sterling credentials and unyielding loyalty to the Constitution," Trump said at the Rose Garden ceremony. Quoting praise from some of Barrett's former colleagues, he said, "I looked and I studied and you are very eminently qualified for this job, you are going to be fantastic, thank you, really fantastic."
Senate Democrats are expected to vigorously oppose Barrett's nomination, both on her record and on the principle that no nominee should be considered before the new Senate, and potentially a new president, is seated in January. Absent four defections from Republicans, however, Democrats lack the numbers to stop her from being confirmed. Only two Republicans, Sens. Susan Collins and Lisa Murkowski, have said they do not support acting on a nominee before the election; the vast majority of Republicans — including Sen. Mitt Romney, the lone Republican to vote to convict Trump during his impeachment trial this year — support moving ahead with a nominee.
"It's going to be very quick," Trump said, joking that Barrett's confirmation would be "extremely noncontroversial" in the Senate.
Republican Sen. Lindsey Graham, who chairs the Judiciary Committee, said in a statement Saturday that he will move forward on Barrett's nomination and ensure that she "gets a challenging, fair, and respectful hearing," though he did not lay out a timeline for doing so.
"Judge Barrett is highly qualified in all the areas that matter – character, integrity, intellect, and judicial disposition. She is an outstanding Supreme Court nominee by President Trump," Graham said.

Senate Majority Leader Mitch McConnell said Trump "could not have made a better decision in choosing Barrett." McConnell said he plans to meet with Barrett next week. He did not specify the timeline for a Senate vote, but said that it will come "in the weeks ahead," following a hearing in the Judiciary Committee.
McConnell also referenced Ginsburg's death: "It does seem fitting that another brilliant and talented woman at the height of their shared profession would follow in her footsteps onto the Court."
Senate Minority Leader Chuck Schumer, meanwhile, did not mince words on Saturday, saying in a statement that Barrett will be a vote to repeal Obamacare and restrict abortion rights. "Should Judge Amy Coney Barrett be confirmed, a far-right majority on the court could also turn back the clock on women's rights and a woman's right to choose, workers' rights, voting rights, civil rights, LGBTQ rights, environmental protections and more," Schumer added. "The future for DACA recipients also hangs in the balance with this nominee."
Schumer noted that Ginsburg said before she died that her wish was that Republicans not try to fill her seat before the election.
"Republicans are poised to not only ignore her wishes, but to replace her with someone who could tear down everything that she built. This reprehensible power grab is a cynical attack on the legitimacy of the Court," he said.

If confirmed, Barrett would deepen the court's conservative-leaning majority to 6–3. In recent years, Democrats have cheered as Chief Justice John Roberts Jr., a George W. Bush appointee, joined the court's four Democratic appointees in ruling against the Trump administration in fights over the census and immigration. But assuming Barrett lives up to Republicans' expectations, it will become harder for the left-leaning justices to end up in the majority in ideologically and politically divisive cases. Trump's other nominees, Justices Neil Gorsuch and Brett Kavanaugh, have, however, delivered surprises on LGBTQ rights and subpoena fights over Trump's financial records.

Barrett, a former law professor at Notre Dame Law School, has long been considered a Supreme Court frontrunner under Trump. Trump added her to his public list of potential nominees in November 2017, following Gorsuch's confirmation and less than a month after her confirmation to the 7th Circuit. It was a sign that the White House and outside groups that have backed Trump's push to reshape the federal courts were already comfortable with her conservative bona fides without knowing how she'd rule on the bench.
(Read more about Barrett's writings and rulings as a federal appeals judge.)

Speaking after Trump's announcement, Barrett paid tribute to Ginsburg, acknowledging the timing of her nomination so soon after Ginsburg's death, saying the justice "not only broke glass ceilings, she smashed them." But she also used her remarks to make clear she would be a justice in the mold of the late justice Antonin Scalia, a conservative icon and Barrett's mentor.
"I clerked for the justice more than 20 years ago but the lessons I learned still resonate. His judicial philosophy is mine, too. A judge must apply the law as written. Judges are not policymakers and they must be resolute in setting aside any policy views they might hold," she said.
Conservative and liberal groups are pouring millions of dollars into the confirmation fight ahead. The Judicial Crisis Network, one of the leading conservative advocacy groups that has backed Trump's judicial nominees, announced after Saturday's ceremony that it was committing $10 million to supporting Barrett's nomination, including an initial $3 million TV and digital ad buy. The Republican National Committee separately announced its own $10 million campaign.
Barrett's writings and public statements as a law professor — when she wasn't bound by judicial ethics rules that limit what lower court judges can say about their personal beliefs and Supreme Court decisions — have fueled criticism from Democrats and civil rights groups. They contend she will be a vote to reverse the abortion rights of Roe v. Wade; roll back legal protections for Black Americans, immigrants, and LGBTQ people; and strike down the Affordable Care Act if she's confirmed as a justice.

Democrats and liberal groups have condemned Barrett — who before becoming a judge spoke publicly about her belief that life begins at conception and was a member of University Faculty for Life at Notre Dame — as the replacement for Ginsburg, a pioneering women's rights lawyer and champion of the court's liberal wing.
Former vice president Joe Biden warned in a statement Saturday that Barrett would likely be a vote to overturn Obamacare, noting the "urgency" of the November election has been "made all the more acute by what's at stake at the U.S. Supreme Court.

"Barrett "has a written track record of disagreeing with the U.S. Supreme Court's decision upholding the Affordable Care Act. She critiqued Chief Justice John Roberts' majority opinion upholding the law in 2012," he said.
Biden added, "The Senate should not act on this vacancy until after the American people select their next president and the next Congress."

NARAL Pro-Choice America president Ilyse Hogue released a statement in advance of Saturday's announcement calling Barrett's nomination and Republicans' decision to move forward "an attack on our very democracy" and "un-American."
"Amy Coney Barrett's record tracks with Trump's promises in the 2016 election — a nominee who would be a sure vote to end legal abortion in this country. Her positions show she is a clear and present threat to reproductive freedom and the promise of Roe," Hogue said.
Anti-abortion and conservative religious liberty groups have especially backed Barrett. They've denounced questions and comments that Barrett faced about her Catholic faith from Senate Democrats during her confirmation hearing in 2017, particularly from Sen. Dianne Feinstein, the Senate Judiciary Committee's top Democrat, who told Barrett, "The dogma lives loudly within you."
Feinstein's quote became a rallying cry for Barrett's supporters and fueled accusations that Democrats have an anti-religious, and specifically anti-Catholic, bias; the conservative Heritage Foundation included a mug featuring the quote in a Supreme Court–themed holiday gift guide post in 2018. Feinstein's office defended her comments in a statement to the Washington Post at the time, contending it was fair to ask about Barrett's ability to separate her faith from the work of a judge given her past writing on the subject.
While Barrett's 7th Circuit nomination was pending in 2017, the New York Times reported that she was a member of the People of Praise, which describes itself as a charismatic Christian community. Members make a "lifelong promise of love and service" to one another known as a "covenant," according to the community's website — the group pushed back on the Times' description of that as a "loyalty oath," saying it doesn't bind members to act in a certain way in their professional lives.
Asked about Barrett, a spokesperson for the group told BuzzFeed News that they do not share membership information.
Members of People of Praise known as "heads" serve as spiritual advisers to other members, and the group also responded to reporting that women who served in that role were known as "handmaids." Given the popularity of Margaret Atwood's 1985 novel, The Handmaid's Tale, and the recent TV show based on it — about a totalitarian society where women are denied rights and are forced to be subservient to men — media reporting about Barrett questioned if there was a connection to People of Praise.
The group addressed the issue in 2018, saying it no longer used the term, "recognizing that the meaning of this term has shifted dramatically in our culture." Atwood has never said that People of Praise inspired the novel. A 2017 New Yorker profile of Atwood connected the novel's inspiration with an article about a Catholic congregation in New Jersey that referred to wives as "handmaidens."
Barrett earned her law degree in 1997 from Notre Dame Law School, followed by clerkships for Judge Laurence Silberman on the DC Circuit and the late justice Antonin Scalia. After brief stints in private practice at law firms, she went into academia, landing back at her alma mater Notre Dame in 2002, where she was a professor until Trump nominated her for the 7th Circuit in 2017.

She was popular with students, earning the law school's "Professor of the Year" award three times. Her scholarship focused on constitutional law, federal court procedure, and originalism, a legal philosophy embraced by conservatives that focuses on the "original public meaning" of laws and the Constitution, as opposed to factors such as lawmakers' intent or changes in society's values over time. She has continued to teach since becoming a judge.
As with most of Trump's nominees to the federal appeals court and the names on his Supreme Court short list, Barrett has been a member of the Federalist Society, the prominent conservative lawyers group that has long served as a pipeline to federal judgeships and senior government positions under Republican administrations. The Federalist Society does not comment on membership.
In her three years as a judge, Barrett has largely landed on the conservative end of the ideological spectrum in cases involving abortion, immigration, gun rights, consumer rights, workplace discrimination, and legal protections for law enforcement — the issues likely to matter most in her confirmation fight.
On abortion, she hasn't written opinions or dissents, but she has joined other Republican appointees in siding with Indiana in two cases involving challenges to state laws that placed restrictions on abortion. On gun rights, she's taken a more expansive view of the reach of the Second Amendment, and she sided with the Trump administration in a fight over the government's effort to limit which immigrants are eligible for permanent residency.
Trump told reporters on Wednesday that he expected the outcome of the presidential election to wind up before the Supreme Court, so it was "important to have nine justices." Barrett hasn't participated in cases so far related to how people can vote remotely during the coronavirus pandemic, as Trump's campaign and the Republican National Committee fight in state and federal courts across the country to limit mail-in voting leading up to the Nov. 3 election and Democrats and voting rights groups fight to expand it.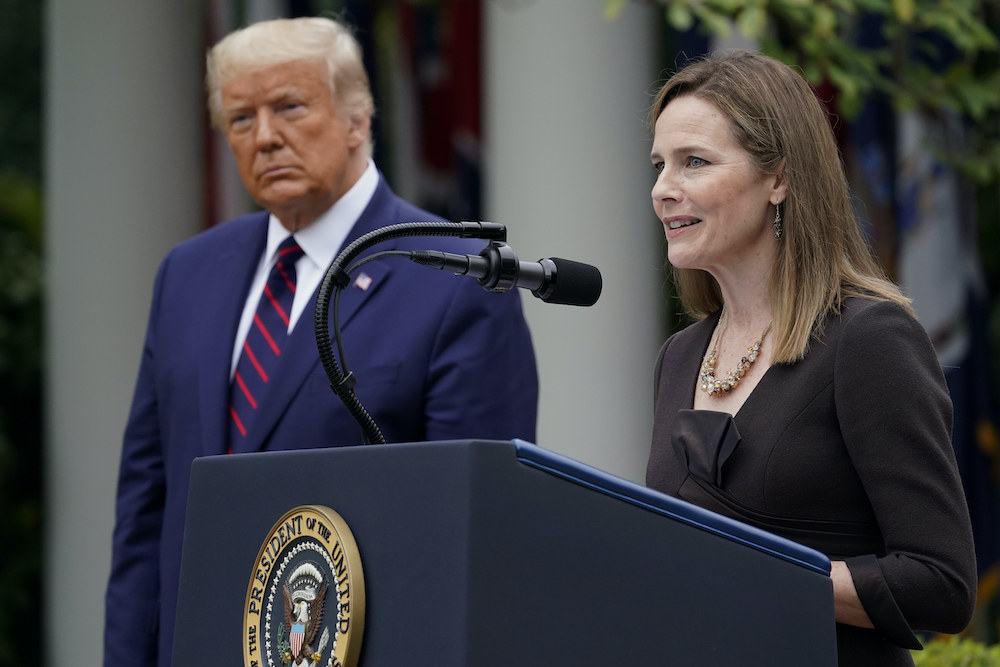 Opponents of Barrett's have looked to her writings prior to becoming a judge to get a sense of how she would rule on major political issues as a Supreme Court justice. One of her most quoted pieces of writing was also one of her earliest — a law review article published in 1998 that she cowrote with a professor while she was still a law student, called "Catholic Judges in Capital Cases." The piece explored the role of a judge's faith in criminal cases that involved the death penalty, concluding that "Catholic judges (if they are faithful to the teaching of their church) are morally precluded from enforcing the death penalty."

The thrust of the piece was not about abortion, but Barrett's critics have focused on a few references to it in the article. In one footnote, Barrett and her coauthor touched on whether Catholic judges should recuse in cases involving abortion — it was an "easier" call, they wrote, because "the state and the unborn child's mother are (at least typically) acting with gross unfairness to the unborn child, whereas the moral objection to capital punishment is not that it is unfair to the offender."
At her confirmation hearing, Barrett said she was a "junior partner" in crafting the article, and that, 20 years later, it did not reflect how she approached decision-making. She told the Senate Judiciary Committee there were no types of cases where she would feel "obliged to recuse on grounds of conscience." Responding to written questions from senators, she wrote, "I would stress that my personal church affiliation or my religious belief would not bear on the discharge of my duties as a judge."
John Adams, a lawyer in Chicago who clerked for Barrett from 2017 to 2018, said the judge never shared her personal beliefs when working on cases in chambers.
"We discussed the arguments the litigants brought in their briefs and argued orally to her, and she approached every case with a foundational commitment to the belief that either side could be correct," Adams said. "To the extent that her personal views differed from what the law required, I would have no idea because she never expressed her personal views."
In January 2013, Barrett spoke at an event at Notre Dame about the 40th anniversary of Roe v. Wade, the landmark Supreme Court decision that established a woman's right to have an abortion. An article about the speech that appeared in the school's campus magazine reported that Barrett spoke about "her own conviction that life begins at conception" and that she thought it was "very unlikely" that the Supreme Court would overturn the abortion rights established by Roe.
"The framework of Roe [v. Wade] essentially permitted abortion on demand, and Roe [v. Wade] recognizes no state interest in the life of a fetus," she said at the time, according to another story about the event from campus newspaper The Observer.
Barrett signed on to a February 2012 letter that called the Affordable Care Act's requirement that employers provide insurance coverage for contraception an "assault on religious liberty and the rights of conscience." Barrett joined several hundred academics in signing the letter, which also denounced the Obama administration's attempt at providing an accommodation for religiously affiliated employers as "morally obtuse."
In 2017, before she was confirmed to the 7th Circuit, she wrote a law review article that criticized the Supreme Court's 5–4 decision — written by Roberts, joining the court's liberal arm — upholding the ACA.
"Chief Justice Roberts pushed the Affordable Care Act beyond its plausible meaning to save the statute," Barrett wrote. She drew a line between Roberts and three of the court's other Republican appointees at the time — Scalia and Justices Clarence Thomas and Samuel Alito Jr. — whom she called "staunch textualists," referring to a type of legal analysis embraced by the right that involves a stringent focus on what the text of laws say over other factors, such as what lawmakers intended.
In October 2015, she signed on to a letter in advance of an assembly of Catholic bishops that expressed support for a host of Catholic teachings, including opposition to abortion and that marriage should only be between a man and a woman. The Supreme Court recognized the fundamental right to marriage for same-sex couples just three months earlier.
Paul McLeod and Sarah Mimms contributed to this report.