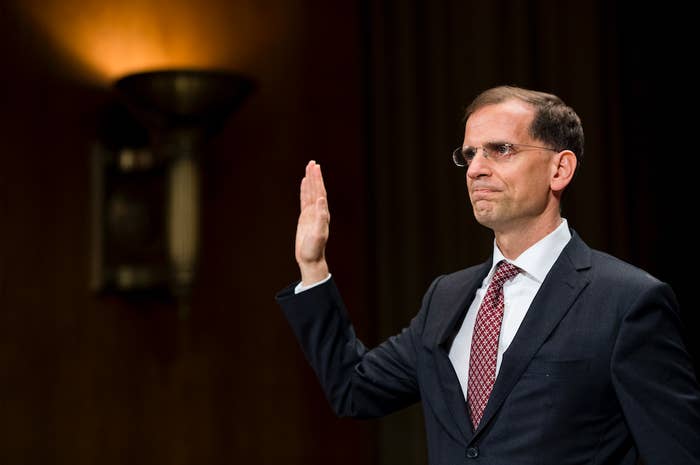 Deputy White House counsel Greg Katsas, nominated for a powerful federal judgeship, declined to provide details at his confirmation hearing on Tuesday about his work on some of President Donald Trump's most controversial — and legally contested — executive actions.
Katsas testified that he gave legal advice on Trump's executive orders on the travel ban, protections for religious expression, and the creation of an election integrity commission, as well as the administration's decisions to end the Deferred Action on Childhood Arrivals program and to adopt new birth control rules.
But citing attorney-client privilege and the need for executive branch confidentiality, Katsas, who is nominated for the US Court of Appeals for the DC Circuit, said he couldn't discuss the nature of that legal advice. His answers frustrated Democrats on the Senate Judiciary Committee, who had hoped to use Katsas' hearing to gain insight into legal goings on at the White House since January.
Katsas said he provided "legal advice on a few discrete legal questions" arising from special counsel Robert Mueller's investigation into Russian influence in the 2016. But he said he couldn't say more than that — including what advice he gave and who he gave it to — again citing the need for executive branch confidentiality as well as a concern about undermining Mueller's work.
"What on earth could you possibly say there that would undermine the work of the special counsel," asked Democratic Sen. Sheldon Whitehouse of Rhode Island, adding later that Katsas' response suggested that he knew something specific about the investigation that would explain his reluctance. Katsas replied that he was worried about saying something that could reveal the scope, focus, or progress of Mueller's investigation.
Katsas said he would recuse himself from matters related to the special counsel investigation that he worked on, but, pressed by Connecticut Sen. Richard Blumenthal, another Democrat, Katsas wouldn't commit to removing himself from any case that came before the DC Circuit that involved Mueller's probe. He said he would consider whether he knew about facts in the case, or if his involvement would create an "appearance of impropriety."
Katsas said he had given legal advice related to a lawsuit filed by Blumenthal and other congressional Democrats alleging that Trump's business entanglements violate the Emoluments Clause of the US Constitution, which prohibits federal officials from accepting gifts, financial benefits, and other "emoluments" while in office. Katsas he would recuse himself from Blumenthal's case.
Katsas is likely to be confirmed, given the Republican majority in the Senate and the lack of any apparent Republican opposition. Texas Sen. Ted Cruz, addressing Katsas's two young children, who were in attendance on Tuesday, said: "I'm going to tell you, he's going to be confirmed."
Katsas has served as the deputy White House counsel since January, and helped steer the Justice Department transition team for the Trump administration in the weeks leading up to Trump's inauguration.
He has largely stayed out of the limelight. Mueller reportedly has indicated that he will likely want to speak with White House Counsel Don McGahn and a former White House lawyer, James Burnham, who is now at the Justice Department, but Katsas testified on Tuesday that he had not been interviewed by Mueller nor had he been asked to.
Minnesota Sen. Al Franken asked about notes that Katsas prepared for a speech in March in which, under a section called "challenge," he wrote, "this POTUS." Franken asked what about Trump posed challenges.
"The president was extremely high energy," Katsas said. "He had made a series of campaign promises, he demands results from people who work for him, and everyone in the White House was working very, very hard on executive orders and presidential memoranda and such."
Katsas served as a senior official in the Justice Department throughout former president George W. Bush's two terms. In between his time in government, Katsas has worked at the law firm Jones Day, which has seen a number of its attorneys go to work in the Trump administration, including McGahn and US Solicitor General Noel Francisco.
Illinois Sen. Dick Durbin,, a member of Democratic leadership, asked if Katsas believed that waterboarding is torture, noting that Katsas, at his confirmation hearing in 2008 for his nomination to lead the Civil Division at the Justice Department, would not say that it was. Katsas said on Tuesday that waterboarding was "likely" torture, but that he was hesitant to speak in the abstract.
When Katsas said that cruel, inhuman, and degrading treatment of detainees would be unlawful, Durbin asked if those terms described waterboarding. "It clearly could be," Katsas replied. Durbin said he was "surprised" by the exchange and had hoped that a decade later he would have gotten a clearer answer.
If confirmed, Katsas, an experienced appellate lawyer, would replace retired DC Circuit judge Janice Rogers Brown, who resigned in July. Katsas was a frontrunner for the seat from the start; he wrote in his Senate questionnaire, which is provided to committee members before a confirmation hearing, that one of his colleagues in the counsel's office asked him if he wanted to be considered for the job on the same day that Brown's retirement became public.