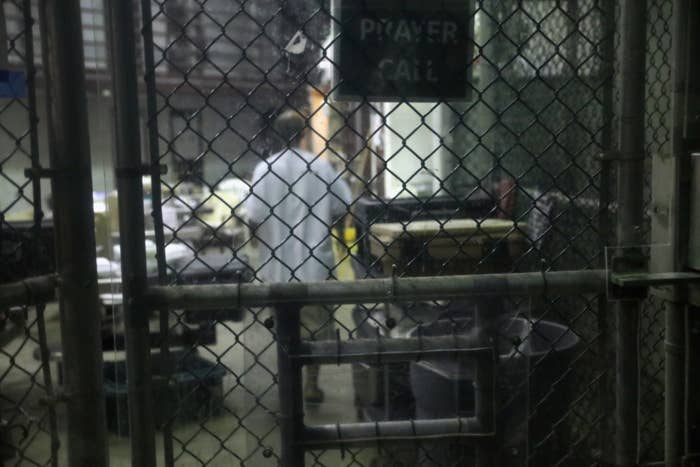 Sixteen years to the day since prisoners first arrived at the US military facility at Guantánamo Bay, Cuba, a group of detainees have filed a new challenge to their detention based on President Donald Trump's public opposition to prisoner releases and what they characterize as his "raw animus" against Muslims.
In what is now a common feature of Trump-era legal battles, one of the president's tweets is central to the petition filed in court by the detainees' lawyers on Thursday. In arguing that Trump exceeded his authority and that the continued detentions are unlawful, the lawyers cited a Jan. 3 tweet from Trump in which he said "there should be no further releases from Gitmo."
That tweet — combined with the fact that no detainees have been freed since Trump took office, Trump's pledges to reverse Obama-era policies, and the president's comments about Muslims — is proof the administration is failing to make the kind of case-specific decisions required under previous US Supreme Court decisions about Guantánamo Bay, the lawyers argue.

"Their individual circumstances do not matter [to the administration]," Baher Azmy of the Center for Constitutional Rights, one of the lawyers for the detainees, told BuzzFeed News on Thursday. "All of them ... are subject to the same illegal policy and therefore, the courts have to act."
A National Security Council spokesperson said in an email to BuzzFeed News that, "Decisions regarding terrorists are made on a case-by-case basis, taking into account legal requirements and the facts of each case."
"No detainees have been released thus far under President Trump. President Trump remains committed to using military detention and all available tools to defeat terrorism and protect the United States and its interests abroad," the spokesperson said.
Justice Department spokeswoman Lauren Ehrsam said in a statement that the department is reviewing the filing.

There are 41 detainees still held at Guantánamo Bay. The last transfer of detainees was announced the day before Trump was sworn in, on Jan. 19, 2017.
The 11 detainees pursuing the latest detention challenge in the US District Court for the District of Columbia are all Muslim, and have been held for between 10 and 16 years, according to the petition filed Thursday. None are facing criminal charges. Each previously lodged unsuccessful challenges to their detentions in court.
The Jan. 3 tweet is the only explicit statement by Trump concerning current Guantánamo Bay detainees cited in the petition. Azmy told BuzzFeed News that Trump should be taken at his word, and that the tweet reflected a campaign promise and Trump's philosophy. In court papers, the lawyers pointed to other comments Trump had made about Guantánamo Bay — during the campaign he said he would keep it open and "load it up with some bad dudes" — and his negative remarks about Muslims.
An across-the-board policy that the US government will not release detainees, regardless of their individual circumstances, violates the scope of the president's post-9/11 power to detain enemy combatants as defined by earlier US Supreme Court decisions, the detainees' lawyers argued in the petition.
"Like other policies initiated by this President, it is a reflection of executive will and discretion, driven by undifferentiated suspicion of Muslims as a group, an entitlement to animus, as well as reflexive opposition to prior executive action," the lawyers wrote.
Two of the petitioners, Tofiq Nasser Awad al-Bihani and Abdul Latif Nasser, were already cleared for release, according to the filing. Both men were placed into "exit protocols" at the end of the Obama administration in preparation for being transferred to another country, the lawyers said, but those transfers didn't take place before Trump took office. Five of the 41 remaining detainees have been approved for release.
"The current executive's open hostility to transferring any detainees, no less those already administratively cleared for transfer, cries out for principled and courageous judicial intervention," they wrote.
The latest petition raises an argument that was rejected last year by a federal judge in Washington — that the indefinite and "amorphous" nature of the fight against terrorism wasn't the sort of traditional wartime situation that the Supreme Court had in mind more than a decade ago when it said the US government could detain individuals without charge in order to stop enemy combatants from going back to the battlefield.
"Petitioners are ostensibly being held in connection with an ever-expanding 'war' against terrorism involving new actors bearing no actual connection to Al Qaeda or 9/11, which appears to have neither geographic, durational nor organizational constraints," the lawyers wrote. "The laws of war, permissive as they can be, did not contemplate such sweeping detention authority."
Last February, a federal district judge in Washington rejected a detention challenge filed by Moath al-Alwi, who has been held at Guantánamo Bay since early 2002. Al-Alwi's lawyers argued that the fact that Obama in 2014 and 2015 announced that the US combat mission in Afghanistan was over meant that the government could no longer detain him. US District Judge Richard Leon wrote that he would defer to the executive branch's position that the US was still engaged in "active hostilities" against al-Qaeda, the Taliban, and their affiliates, regardless of what Obama had said.
Al-Alwi is appealing that decision, and is not part of the petition filed Thursday.
The latest challenge was filed in each of the 11 detainees' existing court cases, which are assigned to different judges. Azmy said it would be up to the court to decide whether the judges in those cases would separately consider the petitions, or whether a single judge would be assigned to handle them. The petition doesn't make detainee-specific arguments, aside from references to the fact that al-Bihani and Nasser had been cleared for release.
"I think as we've seen in other circumstances, like the Muslim ban or the transgender military ban, courts are recognizing that this president isn't acting with lawful discretion, he's acting out of hubris, animus, misinformation," Azmy said. "When rights are at stake, we're hopeful the court will tolerate that less than they have before, and a time will finally come when they become meaningfully involved in these detentions again."
UPDATE
Updated with comment from a Justice Department spokeswoman.
UPDATE
Updated with comment from a National Security Council spokesperson.