Another one of President Donald Trump's judicial nominees has withdrawn his nomination, the White House said on Monday.
Matthew Petersen, a member of the Federal Election Commission, was nominated for the US District Court for the District of Columbia. Less than a week after his confirmation hearing before the Senate Judiciary Committee, when he struggled to answer basic questions about court procedure and the law, he withdrew his nomination and the president accepted the withdrawal, a White House official told BuzzFeed News.
Petersen's withdrawal took place on Saturday, according to the White House official. The Huffington Post first reported that Petersen had withdrawn his nomination.
In a letter to Trump dated Dec. 16 obtained by BuzzFeed News, Petersen wrote that his nomination had become a "distraction" to the administration.
"I had hoped that my nearly two decades of public service might carry more weight than my two worst minutes on television," Petersen wrote. "However, I am no stranger to political realities, and I do not wish to be a continued distraction from the important work of your administration and the Senate."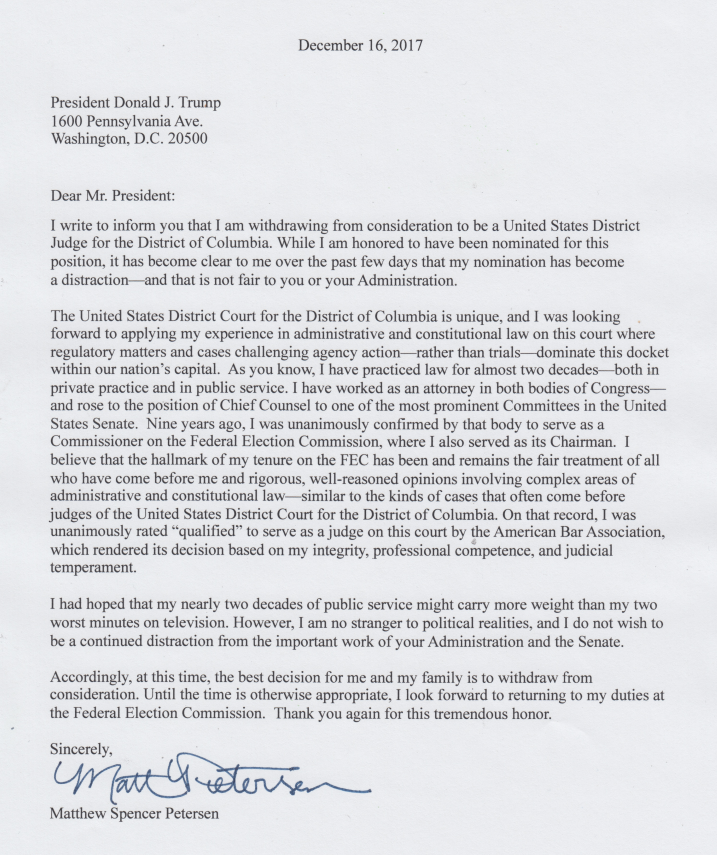 Petersen appeared before the Senate Judiciary Committee on Dec. 13, and his exchange with Sen. John Kennedy went viral soon after. Kennedy, a lawyer, had asked Petersen and other judicial nominees appearing before the committee that day about their courtroom experience. After Petersen explained that he had never tried a case or argued a motion in court, the Louisiana Republican pressed Petersen about his knowledge of court procedures and the law, and Petersen was unable to answer several questions.
Kennedy told WWL-TV on Monday that Trump called him over the weekend to talk about Petersen's nomination.
"He has told me, 'Kennedy, when some of my guys send someone who is not qualified, you do your job,'" Kennedy said.
Petersen is now Trump's third unsuccessful judicial nominee. Last week, the White House confirmed that it would not move forward with two other district court nominees, Brett Talley and Jeff Mateer.

An FEC spokesperson did not immediately return a request for comment by Petersen.
From an excerpt of the transcript of Petersen's exchange with Kennedy:
Sen. Kennedy: I'm sorry to interrupt you, but we're only given five minutes for five of you. When's the last time you read the Federal Rules of Evidence?
Petersen: The Federal Rules of Evidence all the way through? Would, well, comprehensively, would have been in law school. Obviously I have been involved when I was associate, that was something we had to stay closely apprised of. There have been some issues dealing with evidentiary issues, that will cause me to examine those periodically in our oversight role in the litigation division at the FEC. There have been some issues dealing with evidentiary issues that will cause me to examine those periodically in our oversight role.
Sen. Kennedy: Well, as a trial judge you're obviously going to have witnesses. Can you tell me what the Daubert Standard is?
Petersen: Senator Kennedy, I don't have that readily at my disposal, but I'd be happy to take a closer look at that. That is not something I've had to contend with.
Sen. Kennedy: Do you know what a "motion in limine" is?
Petersen: Again, my background is not in litigation, as when I was replying to Chairman Grassley. I haven't had to, again, do a deep dive. And I understand and I appreciate this line of questioning. I understand the challenge that would be ahead of me, if I were fortunate enough to become a district court judge. I understand that the path that many successful district court judges have taken has been a different one than I've taken. But as I mentioned in my earlier answer, I believe that the path that I have taken... to be one who has been in a decision-making role on now I'd guess now somewhere between 1,500 and 2,000 enforcement matters, overseeing I don't know how many cases in Federal Court the Commission has been a party to during my time...
Sen. Kennedy: I've read your résumé. Just for the record, do you know what a "motion in limine" is?
Petersen: I would probably not be able to give you a definition right here at the table.
Sen. Kennedy: Do you know what the Younger abstention doctrine is? Any experience with that?
Petersen: I've heard of it.
UPDATE
Updated with information about Matthew Petersen's letter to President Donald Trump.