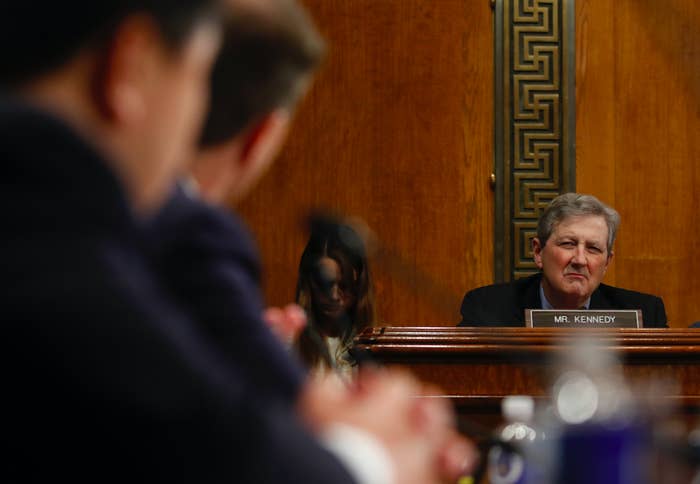 President Donald Trump is confronting an unlikely source of dissent in his quest to rapidly fill more than 100 vacant court seats with conservative judges: a first-term Republican senator.
Sen. John Kennedy has been in office less than a year, but the Louisiana Republican has already established himself as a wild card on judicial nominations.
It started over the summer, when Kennedy, from his perch on the Senate Judiciary Committee, became the first Republican to publicly criticize one of Trump's appeals court nominees — "I'm not impressed," he told a nominee who had blogged about politics under a pseudonym. At hearings this fall, Kennedy expressed frustration when he felt nominees weren't answering his questions directly.
This week, Kennedy split with the White House in a big way, not only becoming the first Republican to vote against one of Trump's nominees, but also publicly airing his grievances with White House Counsel Don McGahn, who plays a lead role in vetting and recommending potential judges to the president.
It's not clear just how much of a problem Kennedy will pose to the White House as it moves to reshape the judiciary. Kennedy has voted for most of Trump's nominees. But on Tuesday he voted "no" on deputy White House counsel Greg Katsas' nomination to the US Court of Appeals for the DC Circuit, and Politico reported that he would oppose Alabama federal district court nominee Brett Talley, whose record he criticized. At a Senate hearing on Wednesday, Kennedy raised concerns about at least two other nominees.
With 52 Republicans in the Senate, one defector isn't enough to stop Trump from getting nominees confirmed. But it does open up a new front of opposition for the White House to contend with. The smooth confirmation of conservative judges has been a bright spot for Trump and congressional Republicans as they've struggled to score legislative wins. Conservative advocacy groups that have taken on Democrats for opposing Trump's nominees have signaled that they're also prepared to mobilize against Republicans who stand in the way.
Carrie Severino, chief counsel of the Judicial Crisis Network, told BuzzFeed News Kennedy's vote against Katsas "took me as much by surprise as anyone."
Asked if the Judicial Crisis Network, a conservative group that has funded six-figure ad campaigns supporting Trump's nominees, would run ads against Republicans who opposed Trump's picks, Severino said, "We are always prepared to make the case for quality judges."
Kennedy revealed on Wednesday that he had tangled with McGahn over a Louisiana nominee for the US Court of Appeals for the Fifth Circuit, Kyle Duncan. Leading up to Duncan's hearing on Wednesday before the Senate Judiciary Committee, Kennedy had yet to throw his support behind the nomination. On a form known as a blue slip that Kennedy submitted earlier this month to the committee about Duncan, instead of checking one of the two available options — "I approve" or "I oppose" — Kennedy drew a third line and wrote, "undecided."
"My return of the blue slip should in no way be construed as an indication that I will vote for Mr. Duncan," Kennedy wrote.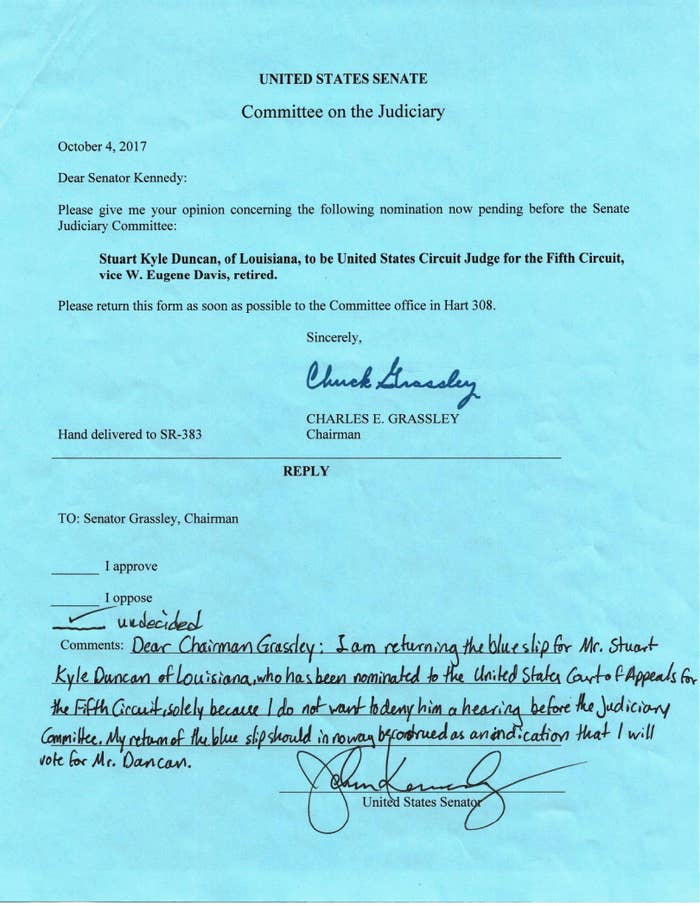 Kennedy explained during Wednesday's hearing that he was undecided because he wasn't familiar with Duncan's background, and that Duncan's Senate questionnaire wrongly implied that Kennedy put forward Duncan's name to the White House. Kennedy suggested he had been steamrolled by McGahn.
"I first learned about Mr. Duncan's nomination when I received a phone call, actually a series of phone calls, from Mr. Don McGahn ... and Mr. McGahn was very firm that Mr. Duncan would be the nominee, to the point that he was on the scarce side in one conversation of being polite," Kennedy said, adding that McGahn later apologized.
Louisiana Sen. Bill Cassidy offered his version of events at the hearing, saying that he had submitted Duncan's name, along with several others, to the White House after convening a committee of local lawyers and business leaders to vet applicants. Cassidy said Kennedy looked at the names before they were sent to the White House.
A senior administration official told BuzzFeed News in a statement that "the White House consulted extensively with Senators Cassidy and Kennedy on both Fifth Circuit vacancies and the District Court vacancies in Louisiana, consistent with our practice of consulting with all home-state Senators on judicial selections." Trump has also nominated US District Judge Kurt Engelhardt to one of the Louisiana seats on the Fifth Circuit, which also covers Texas and Mississippi.
"We value Senator Kennedy's input on judicial nominations and hope we can work together to continue the Trump Administration's success on judicial nominees," the official wrote.
The Judicial Crisis Network and other conservative groups have rallied around Duncan's nomination. On Wednesday, Severino put out a statement saying, "The people of Louisiana are waiting to find out if Senator Kennedy stands with them and President Trump or liberal special interest groups in Washington."
"This stuff is pattycake"
Kennedy's votes and his comments about Trump's nominees have given liberals a sliver of hope that Republicans won't always act as a monolith on judicial nominees, even as Kennedy on Wednesday reiterated his support generally for conservative judges. Without Republicans switching sides, Democrats have little means of blocking Trump's nominees.
"It's telling that now you have both Democrats and Republicans hopefully standing up for the Senate as an independent institution whose job is not just to rubber stamp Trump nominees but to provide critical advice and consent," said Dan Goldberg, legal director of the liberal advocacy group Alliance for Justice.
Asked after Wednesday's hearing what factors he considers in deciding how to vote on judicial nominees, Kennedy replied, "Experience. Intelligence. Integrity. Fairness. Impartiality, and an understanding about the importance about the appearance of impartiality."
Kennedy told reporters his opposition to Katsas was rooted in concerns about conflicts of interest. Katsas, who joined the White House counsel's office in January, faced questions at his confirmation hearing in October about what role he played in Trump's travel ban orders, the decision to end the Deferred Action for Childhood Arrivals program, and other controversial actions. Katsas declined to provide details on legal advice he provided to Trump and other officials, citing attorney-client privilege and the need to protect executive branch confidentiality.
"I think that [Katsas'] credentials are breathtakingly impressive," Kennedy told reporters. "I think there's an appearance of a conflict of interest for someone to represent a client on Thursday and then Friday go across the street and sit on a court that hears cases involving the client. … I think that undermines the integrity of the judiciary."
Katsas was confirmed this week 50–48, with West Virginia Democrat Sen. Joe Manchin voting yes and two Republicans sitting out.
Besides the Katsas confirmation vote, Kennedy has broken with Republicans on floor votes related to judicial nominees two other times. On Monday, he voted against ending debate and moving to a final vote on Katsas. And on Nov. 16, he voted against going to a final vote on the nomination of Dabney Friedrich, a former member of the US Sentencing Commission, to the US District Court for the District of Columbia. Kennedy ultimately voted to confirm Friedrich, however. A spokesperson for Kennedy did not respond to a request for comment on the Friedrich vote.
Kennedy has said he's against the nomination of Talley, a senior Justice Department official, to the US District Court for the Middle District of Alabama because of Talley's lack of courtroom experience and because he didn't include in his Senate questionnaire that his wife is Ann Donaldson, who serves as McGahn's chief of staff. Talley's supporters have disputed that Talley was required to list Donaldson as a possible conflict of interest and have pointed to his other legal experience as evidence of his qualifications.
Talley has also come under scrutiny for posts he appeared to have written on an Alabama sports website, TideFans.com. BuzzFeed News reported that TideFans.com poster "BamainBoston," who identified himself in one post as Talley and shared other personal information that matched Talley's background, wrote thousands of posts, including some about politics, immigration, gun control, and other nonsports subjects. Slate reported that one post defended the early Ku Klux Klan.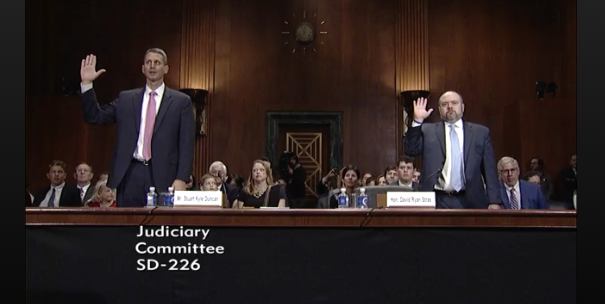 At Wednesday's hearing for Duncan and David Stras, a Minnesota Supreme Court justice nominated for the Eighth Circuit, Kennedy asked if either had ever blogged in support of the Ku Klux Klan; Duncan and Stras said they had not. Kennedy also asked questions that suggested he had concerns about Texas district court nominee Jeff Mateer and Court of Federal Claims nominee Damien Schiff.
Had Duncan or Stras ever called a child part of Satan's plan, Kennedy asked; CNN reported that Mateer described transgender children as evidence of Satan's plan in a 2015 speech. Duncan and Stras said they had not. Had either nominee ever called a past or present US Supreme Court justice a prostitute, Kennedy asked; Schiff described Justice Anthony Kennedy as a "judicial prostitute" in a 2007 blog post. Duncan and Stras said they had not.
Kennedy declined to comment after the hearing about whether he would oppose Mateer and Schiff.
Kennedy voted in favor of Katsas and Talley's nominations in committee, although the reports about the TideFans.com posts and Talley's decision not to include his wife in his questionnaire came out after the committee vote. Asked about his vote for Katsas in the committee, Kennedy didn't provide a clear answer — he said he thought Katsas had excellent credentials, but that there were conflict of interest issues.
No other Republican has publicly come out against Trump's judicial nominees. Kennedy declined to comment on whether he'd gotten any pushback from his Republican colleagues for voting against Katsas, but said that even if he did, it wouldn't make a difference.
"That kind of pressure doesn't bother me," Kennedy said.
During Wednesday's hearing, Kennedy suggested that he also wasn't bothered by his tussle with the White House. Duncan at one point told Kennedy that he regretted the senator felt disrespected in the process. Kennedy told Duncan that he didn't feel disrespected, and even if he did, it wouldn't matter. Kennedy's last job was as Louisiana's tax collector, after all.
"This stuff is pattycake compared to that," he said.