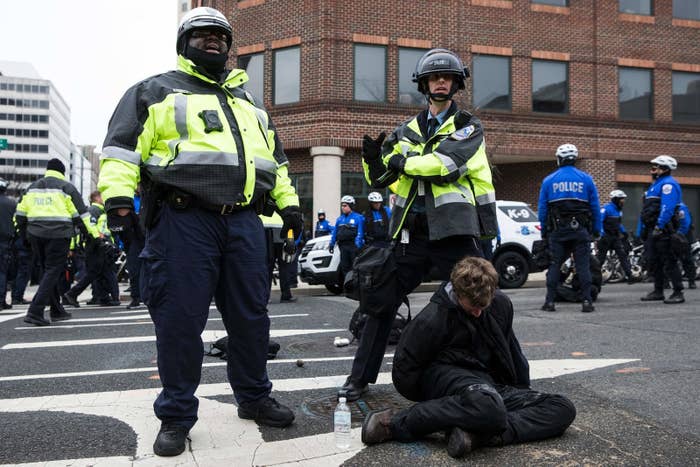 A few hours after police arrested more than 200 people for allegedly rioting on Inauguration Day in January, one of the arrestees filed a civil class action against police, claiming the arrests were unlawful and that officers used excessive force.
On Monday, the lawyer who filed the case abruptly dropped it, filing a notice in court that offered no explanation for the move. The lawyer, Jeffrey Light, told BuzzFeed News that he plans to refile the case at a later date, but he declined to explain why he dismissed it now or say when he would refile.
The lawsuit was on hold in the US District Court for the District of Columbia while the criminal prosecution against the group arrested on Inauguration Day — including the main plaintiff in the civil suit, Benjamin Carraway — proceeds in District of Columbia Superior Court.
Trials in the criminal cases are being scheduled for 2018 as the defendants continue to fight the charges. Most of the arrestees were originally charged with one count of felony rioting, but a grand jury in April returned a new indictment that includes at least eight counts of rioting and property destruction charges against the 200-plus defendants. Defense lawyers are pursuing motions to dismiss the latest indictment.
Unnamed officers with the Metropolitan Police Department and US Park Police were named as defendants in the civil suit. A spokesperson for the MPD declined to comment, and a Park Police representative did not immediately return a request for comment.
Adding to the mystery of the future of legal action against law enforcement over their response to the Inauguration Day demonstrations was an announcement from the DC chapter of the American Civil Liberties Union of a press conference in front of the federal courthouse in Washington on Wednesday about "police conduct during the Inauguration Day protests."

But while press conferences in front of courthouses tend to herald lawsuits, a spokesperson for the ACLU declined to comment on whether the organization would be filing any legal action. The press conference announcement did say that "impacted individuals" would provide "first-person accounts of serious police misconduct."