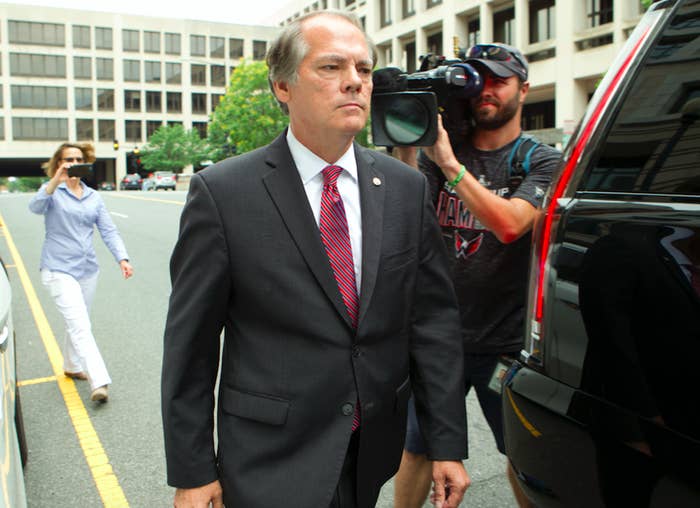 A federal judge on Thursday said she would not issue an order blocking President Donald Trump from talking publicly about the charges against former Senate Intelligence Committee staffer James Wolfe, finding that such an order wasn't necessary to ensure Wolfe gets a fair trial.
Wolfe's lawyers had argued that Trump made prejudicial and inaccurate statements after Wolfe was arrested and charged with lying to the FBI. Trump told reporters that the Justice Department had "caught a leaker," and said, "You cannot leak classified information." Trump also said of Wolfe's case: "I'm a very big believer in freedom of the press, but I'm also a believer that you cannot leak classified information."
Wolfe is not charged with leaking classified information. He's accused of lying to the FBI about his contacts with reporters; the indictment suggests he may have shared nonpublic information with journalists, but that's not the basis for the criminal charges. Wolfe's lawyers argued that Trump leads the Justice Department, which is prosecuting Wolfe, and had improperly pronounced that Wolfe was guilty of an offense he wasn't charged with.
US District Judge Ketanji Brown Jackson said she did not have to grapple with whether she had the power to order Trump not to talk about the case — Wolfe's lawyers acknowledged that their request was "unprecedented" — because Wolfe hadn't shown that such an order was needed. High-profile cases draw media coverage, the judge said, and people say misleading things about cases of public interest all the time. There was no evidence that Trump's comments were so prejudicial or incurable that Wolfe couldn't get a fair trial — if necessary, jury screening or trial instructions could address any concerns in the future, she said.
"The defendant's right to a trial by an impartial jury is not hindered just because of misleading or inaccurate statements," Jackson said.
Wolfe's lawyers declined to comment to reporters after the hearing, but said in a written statement issued later that they "respectfully disagree with the Court's decision."
"We will be studying the Judge's ruling closely as we consider our options, including Mr. Wolfe's appellate rights. We remain very concerned that Mr. Wolfe's 6th Amendment right to a fair trial could be prejudiced by further comments by President Trump," his lawyers said.
Wolfe, who previously served as director of security for the Senate Intelligence Committee, is facing three counts of making false statements to the FBI. He pleaded not guilty and his lawyers have said they plan to "vigorously" fight the charges.

Wolfe had a personal romantic relationship with one of the reporters identified in the indictment only as "Reporter #2," who is believed to be Ali Watkins of the New York Times. Watkins previously worked for BuzzFeed News and Politico. The New York Times reported that prosecutors secretly seized years' worth of Watkins' phone and email records, prompting concerns from press freedom groups and media outlets about the Justice Department's handling of the investigation.

The government said it is in the process of producing evidence to Wolfe's lawyers and expected to turn over most of the materials by next week. There is no trial date. Wolfe is due back in court for another status hearing on Aug. 23.
UPDATE
Updated with comment from James Wolfe's lawyers.
CORRECTION
Ketanji Brown Jackson's name was misspelled in an earlier version of this post.