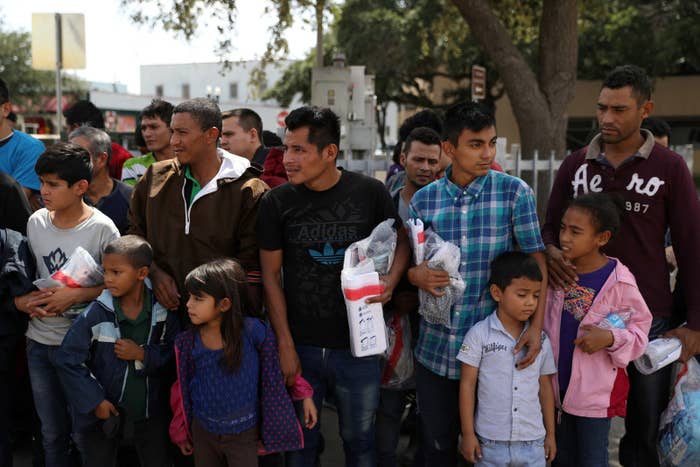 A federal judge on Monday ordered a temporary halt to the deportation of reunited immigrant parents and children as he considers whether to adopt longer-term restrictions on family removals.
US District Judge Dana Sabraw's order came in response to arguments by the American Civil Liberties Union in recent days that deporting parents and children immediately after they were reunited would not give a parent enough time to decide what was best for their child — to leave the country with the parent or to stay behind to pursue other options, such as asylum claims.
The ACLU asked the judge for an order delaying deportations for one week once a family is reunited. Sabraw agreed to a temporary hold while he considers that request in the coming days.
The Trump administration is in the process of reuniting families separated at the border, per an order from Sabraw in late June. Several dozen children under 5 years old were already reunified with a parent under the first part of Sabraw's order. The government said it had identified 2,551 children in government custody ages 5 to 17 who may be eligible for reunification by Sabraw's July 26 deadline, according to court filings.

At a hearing on Monday, Sabraw slammed the government for a declaration filed Friday by Christopher Meekins, an official with the Department of Health and Human Services, who argued that the judge's reunification order and deadlines could put children in danger of being placed with someone was not actually their parent or who posed some other risk. Sabraw called the government's response "exasperating" and "deeply troubling."
The more time-intensive vetting process under the Trafficking Victims Protection Reauthorization Act that the government uses to place unaccompanied immigrant children with sponsors — a process that Meekins said the government would prefer — was not appropriate in the context of parents and children separated at the border, Sabraw said. For most parents and children, he said, there would not be a concern about the validity of the parental relationship, and delaying reunification was not in the best interest of the children.
"[HHS] is failing in this context, in this case, because it is so wed to the TVPRA process and so unwilling to let go of it," the judge said. "The bottom line is Mr. Meekins apparently wants to hold children for months while the ordinary TVPRA process is completed."

Notwithstanding the criticism, Sabraw expressed his support for the reunification plan that the government submitted over the weekend. Under that plan, the government would streamline its process for vetting parents and only use DNA testing — a process that the government previously said had slowed down reunifications — if there were a concern that an adult may not actually be a parent.
Sabraw heard testimony on Monday from Jonathan White, an HHS official described by a Justice Department lawyer as the "architect" of the government's reunification plan. White said that since around June 22 — soon after Trump signed an executive order addressing border separations — data analysts from HHS, Immigration and Customs Enforcement, and Customs and Border Protection had been working together to compare their respective sets of information to identify separated parents and children.
Of the 2,551 children identified as potentially eligible for reunification under Sabraw's order — the order bars reunification if a parent is unfit or would pose a danger to the child — White said the government had found possible parental matches for 2,480 children. It was still working to find the parents of the remaining 71 children, he said. White said he did not know how many of the parents already had final removal orders, meaning they were subject to deportation.
Of the 2,480 children who were matched, White said that 1,317 had been cleared for reunification by the Office of Refugee Resettlement, the HHS office that oversees the detention of children. Of that group of 1,317 children, White said ICE had cleared 918 for reunification with the parent in ICE custody; 51 were not cleared for reunification — White did not provide reasons — and 348 were pending clearance.
Justice Department lawyer Sarah Fabian told Sabraw she would need to now confirm if the judge's decision to temporarily halt deportations would slow down reunifications, saying there could be an issue with how much space is available to house families. Sabraw said that delays as a result of his latest order were "not an option."

"If space is an issue, the government will have to make space," the judge said.