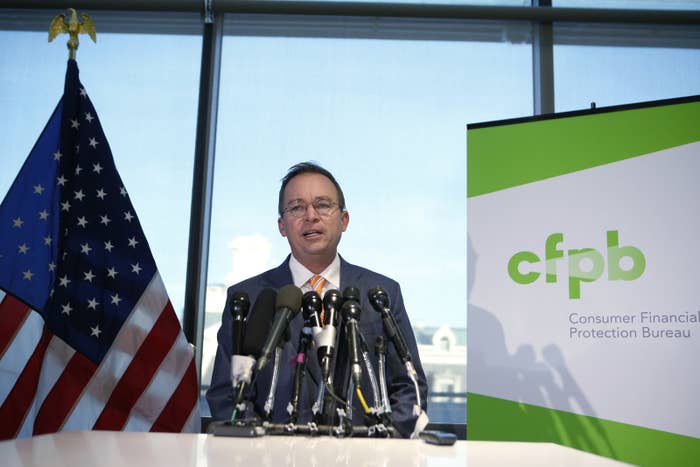 A federal judge on Tuesday handed a win to the Trump administration in the latest fight over the scope of President Donald Trump's authority, denying a request for an emergency order to block Trump from appointing Mick Mulvaney, the director of the Office of Management and Budget, as the acting head of the Consumer Financial Protection Bureau.
US District Judge Timothy Kelly, announcing his decision from the bench on Tuesday afternoon, said that Leandra English — the CFPB official suing Trump and Mulvaney and claiming to be the rightful acting director — had failed to show that she was likely to succeed in her lawsuit at this stage of the case.
The ruling doesn't resolve who is in fact in charge of the bureau right now. Kelly's decision to deny English's request for a temporary restraining order against Trump and Mulvaney isn't a definitive ruling on the merits of the case, although it means Kelly is likely to rule for Trump in the end.
English's lawyer, Deepak Gupta, told reporters after the hearing that he and English would weigh several options, including trying to immediately appeal — whether they can appeal at this stage is unclear — or securing a ruling from Kelly as quickly as possible that would definitely be appealable under court rules.
Gupta repeatedly asked Kelly to smooth the path for an immediate appeal by considering English's request for a temporary restraining order as a request for a preliminary injunction instead. Kelly declined, saying that it was Gupta's decision to pursue an emergency motion in this way.
White House spokesman Raj Shah put out a statement applauding Kelly's decision, saying that it "provides further support for the President's rightful authority to designate Director Mulvaney as Acting Director of the CFPB."
"It's time for the Democrats to stop enabling this brazen political stunt by a rogue employee and allow Acting Director Mulvaney to continue the Bureau's smooth transition into an agency that truly serves to help consumers," Shah said.
As of Tuesday, both Mulvaney and English were showing up to work and acting as if they were each the acting director, according to their lawyers. Gupta said that English had received emails from Mulvaney reprimanding her — he did not provide details about those messages — and that there was concern that her job could be in jeopardy, even though there hadn't been any direct threat of firing.

The situation started on Nov. 24, when Richard Cordray, the bureau's inaugural director, announced that he would be stepping down as of midnight. He also announced that he was appointing the bureau's chief of staff, Leandra English, to deputy director — a promotion that was meant to ensure she would take over as acting director until a permanent successor is nominated by Trump and confirmed by the US Senate.
But later that day, the White House announced that Trump had designated Mick Mulvaney, the director of the Office of Management and Budget, to serve as acting director of the CFPB in Cordray's absence. English maintained that she was the rightful acting director, and filed a lawsuit challenging Mulvaney's appointment late Sunday evening.
The White House has support not only from the Justice Department's Office of Legal Counsel — Assistant Attorney General Steven Engel wrote in a Nov. 25 memo that Trump had authority to choose an acting director — but also the general counsel of the CFPB, Mary McLeod. McLeod, who joined the bureau in December 2015 during Cordray's tenure, concluded in a separate Nov. 25 memo that Trump had acted within his authority.
English's legal challenge to Mulvaney's appointment is twofold: First, she's arguing that the Dodd–Frank Act, which created the CFPB, articulated a stand-alone succession order for the bureau that should take precedence. Second, she contends that even if the court concludes that Trump does have authority to appoint an acting director under the Vacancies Reform Act, Mulvaney is an improper pick because of the other hat he wears as director of OMB. The CFPB's independence is undermined if it's led by a sitting executive branch official, English's lawyers argued.
English's lawyers filed an emergency motion Sunday night asking the court to block Trump from making an acting director appointment and to stop Mulvaney from serving as acting director while the case moved forward. On Monday afternoon, the case was assigned to US District Judge Timothy Kelly, a Trump nominee who was confirmed in September.
Kelly scheduled a hearing on Monday to hear arguments, but he did not rule from the bench. Instead, he said he'd wait to read the Justice Department's response to English's emergency motion and then decide what to do. DOJ filed its response shortly before midnight on Monday, and then Kelly scheduled a second hearing for Tuesday afternoon.
The fact that Trump nominated Kelly hasn't been raised as an issue in the case. Judges aren't disqualified from ruling on cases that involve the presidents who nominated them. Kelly did give a nod to his conservative legal roots, though. In explaining the factors he weighed in denying English's request for an emergency order, he touched on whether the legislative history of the Dodd–Frank Act offered any guidance. Prominent conservative legal thinkers, including the late US Supreme Court Justice Antonin Scalia, have resisted giving too much weight to legislative history. Kelly on Tuesday said he was "dubious" of the value of legislative history, and that in the CFPB case, the record was ambiguous at best.