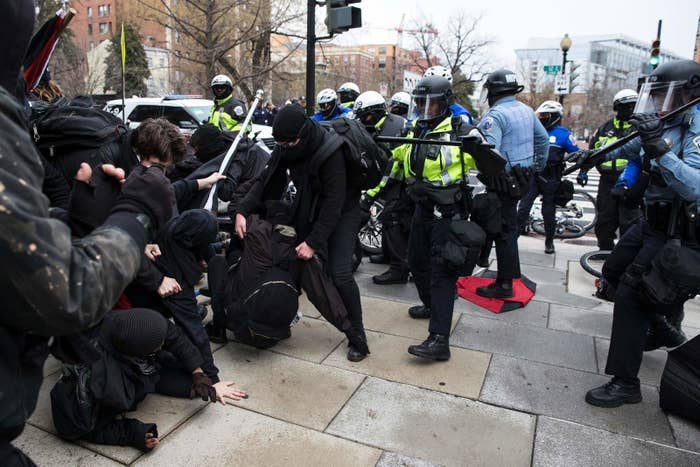 As trial dates are set for more than 200 people charged with rioting in Washington, DC, on Inauguration Day, a sentence hearing on Friday for one of the few defendants to plead guilty so far offered early clues into how the judge will hand down punishments going forward.
Judge Lynn Leibovitz is presiding over all the Inauguration Day rioting cases in District of Columbia Superior Court. On Friday, she sentenced Dane Powell, the first defendant to plead guilty to felony charges, to four months in prison. The sentence was more than Powell asked for — his lawyers argued for no jail time — but less than the six months sought by prosecutors.
Leibovitz made clear that in announcing Powell's sentence on Friday, she was only addressing his conduct. Still, her questions and remarks shed light on how she'll weigh evidence and craft sentences going forward. The judge made clear that acceptance of responsibility will be no guarantee against jail time, and she signaled how she was starting to distinguish between different types of defendants — those involved in planning the demonstration that ended in mass arrests, versus those who were not, for instance.
Leibovitz said she gave "great weight" to Powell's decision to plead guilty early, and that his acceptance of responsibility "sharply" reduced the sentence she would have handed down otherwise. However, she said that a sentence of no jail time would be inappropriate; Powell admitted to breaking store windows downtown and throwing rocks and other objects at police officers.
Police in Washington arrested more than 200 people during President Trump's Inauguration Day on Jan. 20 during a demonstration billed as an "anti-capitalist" and "anti-fascist" march. Many marchers wore all black and covered their faces, and some broke the windows of stores and cars as they proceeded through downtown. There were multiple clashes between police and protesters.
Powell, 31, of Tampa, Florida, pleaded guilty to one count of felony rioting and one count of assault on a police officer. When asked by Leibovitz how Powell's conduct compared with others, Assistant US Attorney Jennifer Kerkhoff said that Powell was among the most violent. The majority of defendants face eight charges, while Powell faced 12 charges for rioting, property destruction, and assaulting police officers.
Prosecutors presented videos and photographs on Friday that showed a masked Powell breaking store windows and hurling bricks and other objects at police. Six police officers were hospitalized that day, according to the government, including one who suffered a concussion. There was no evidence tying objects that Powell threw to any specific injuries sustained by officers, though — a point that Leibovitz clarified at sentencing.
Powell's attorneys and prosecutors declined to comment after the hearing.
To date, 15 defendants have pleaded guilty to misdemeanor charges, and none of those individuals have received jail time, although they were ordered to pay fines.
Leibovitz sentenced Powell to 36 months in prison, and then suspended all but four months of the sentence. The government had asked that Powell be ordered to pay a $5,000 fine, but Leibovitz declined to include that in the sentence. He'll also spend two years on probation.
Trial dates for the rest of the defendants — who face maximum sentences stretching into the decades on the full set of charges — have been scheduled for the fall and into 2018. More than half of the defendants have signed onto a "Points of Unity" statement, in which they've pledged not to cooperate with prosecutors and to reject plea deals that harm other defendants.
The judge drew a distinction between Powell and individuals involved in planning the Jan. 20 demonstration, a sign that she may hand down a harsher punishment where there is evidence of planning. She also drew a line between Powell and individuals whose participation on Jan. 20 was limited to marching and wearing all black.
A number of defendants are arguing that they were not involved in any of the property damage or violence against police, and are being unlawfully prosecuted because of the actions of a few. Leibovitz has yet to rule on a motion to dismiss the indictment filed by a group of defendants who argue that prosecutors failed to tie individual defendants to particular criminal acts.
In Powell's case, the government asked for a sentence of 36 months, with all but six months suspended. Kerkhoff said that Powell came to the demonstration armed — videos showed him carrying a black flag on a pole that he used to break store windows — and that on multiple occasions he picked up bricks and pieces of concrete to throw at police officers.
"He wasn't brave that day. He was a violent coward," Kerkhoff said.
Powell's attorney Ashley Jones said that Powell was "deeply remorseful" that people were injured, and that he didn't come to Washington with the intention of destroying property or hurting anyone. Powell was an Army veteran and a "deeply engaged American citizen" who wanted to protest because he was worried about the direction of the United States, she said.
"It was during the protest that he got carried away," Jones said.
At the conclusion of the hearing, Powell's lawyers asked if Powell could surrender in August to begin his sentence, explaining that he was about to finish a term of school. According to court filings from his lawyers, he's in the applied science program at St. Petersburg College. Leibovitz denied the request, and ordered him into custody right away.