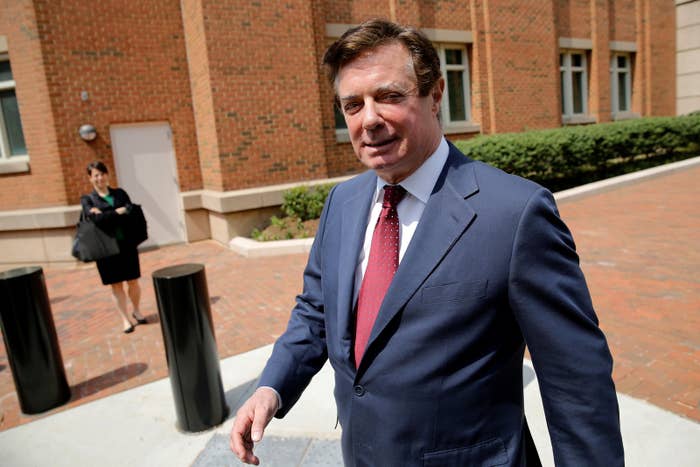 A federal judge on Tuesday denied former Trump campaign chair Paul Manafort's motion to dismiss the indictment returned against him by a grand jury in Washington, DC — rejecting Manafort's challenge to special counsel Robert Mueller's appointment.
This is the second time that US District Judge Amy Berman Jackson has rejected efforts by Manafort to invalidate Mueller's appointment. She previously dismissed a civil lawsuit that Manafort filed raising similar arguments in the hopes of stopping the special counsel's office from indicting him again in the future; Tuesday's ruling means that the criminal charges already filed against him in the US District Court for the District of Columbia will go forward.
Jackson wrote that "the indictment falls squarely within that portion of the authority granted to the Special Counsel that Manafort finds unobjectionable: the order to investigate 'any links and/or coordination between the Russian government and individuals associated with the campaign,'" citing Mueller's original appointment order last May.
Given Manafort's position with Trump's campaign in 2016 and his past work for pro-Russia political figures and parties in Ukraine, it was "logical and appropriate" for investigators to focus on him, Jackson wrote. She noted that the appointment order used the phrase "links and/or coordination," which meant Mueller had more leeway to probe ties between people affiliated with Trump's campaign and Russia.
"In order to reach the end of the road, and come to a conclusion about whether there was coordination or not, a key place to begin is with the individuals who would have been in a position to coordinate," Jackson wrote. "Who had connections to the Russian government? Who attended meetings on behalf of the campaign? Given the combination of his prominence within the campaign and his ties to Ukrainian officials supported by and operating out of Russia, as well as to Russian oligarchs, Manafort was an obvious person of interest."
Even if the charges against Manafort didn't fall under the Russia-specific section of Mueller's appointment order, Manafort's motion to dismiss the indictment would still fail because it was rooted in internal Justice Department regulations that don't create legal rights that a person can go to court to enforce, the judge concluded.

Deputy Attorney General Rod Rosenstein's order appointing Mueller stated that in addition to the Russia probe, Mueller had authority to investigate "any matters that arose or may arise directly from the investigation." Manafort argued that language gave Mueller too much undefined power from the start, describing it in court papers as a "blank check."
Jackson disagreed, writing that Rosenstein had the authority "to define the Special Counsel's charter broadly." She said that Mueller didn't write his own job description — he inherited a preexisting investigation into Manafort — and noted that Rosenstein said in sworn congressional testimony that he discussed the scope of the investigation when Mueller was appointed and confirmed in an August memo that Mueller was authorized to investigate Manafort's pre-campaign business activities.

"So even in the unlikely event that the Acting Attorney General and the Special Counsel never discussed what the investigation included at the time of the appointment, the singular event that defendant insists would be necessary to make his indictment valid — an explicit referral of the specific matter to the Special Counsel — has taken place," the judge wrote.
A spokesperson for the special counsel's office declined to comment. A spokesperson for Manafort did not immediately respond.
Manafort is facing a separate indictment out of Mueller's investigation in the US District Court for the Eastern District of Virginia. US District Judge T.S. Ellis III heard arguments on Manafort's motion to dismiss those charges earlier this month — he repeatedly pressed the lawyer arguing for Mueller's office to explain how Manafort's case related to the Russia probe — but he has not ruled yet.

In the DC case, Manafort is facing charges of conspiring to defraud the United States by failing to report foreign financial accounts, conspiring to commit money laundering, failing to register as an agent for a foreign entity, and making false statements about his work in Ukraine. He was originally charged along with his longtime associate and former deputy campaign chair Rick Gates, but Gates took a plea deal earlier this year and is cooperating with Mueller's office.
Jackson has yet to rule on Manafort's motions to suppress evidence that investigators seized from a storage unit and his home in Virginia. Similar motions are pending before Ellis in Virginia, as well as a motion filed by Manafort that Ellis hold a hearing to figure out who has been leaking nonpublic information about his case to the media. Both judges are scheduled to hear arguments next week.