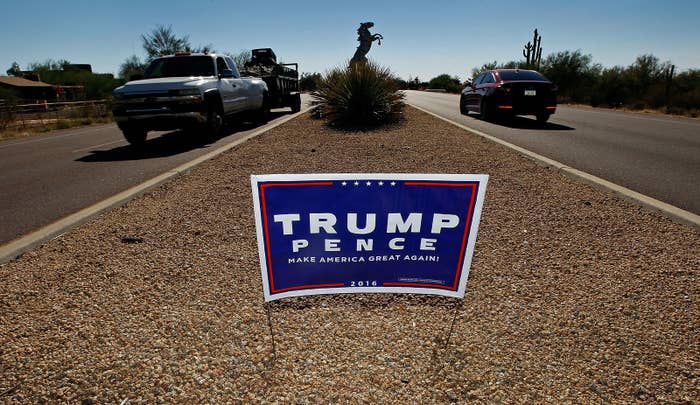 A former Trump campaign staffer is suing to challenge a nondisclosure agreement that she says she was required to sign in order to work on the campaign.
Jessica Denson, who says she joined the campaign in August 2016 and was later promoted to manage Hispanic outreach, filed a lawsuit against the campaign last year, claiming she was the victim of discrimination and harassment by other campaign officials. She's now suing in federal court to stop the campaign from invoking her nondisclosure agreement in order to force the state court case into arbitration — a dispute resolution process that largely takes place in secret and, per the terms of Denson's agreement, would be binding.
Denson's case was filed on March 26 in the US District Court for the Southern District of New York. Bloomberg News first reported the lawsuit on Monday.
Denson's case isn't about Trump's personal conduct, setting it apart from other recent high-profile lawsuits filed by women who claimed affairs with Trump and are challenging confidentiality agreements. In the federal court case, Denson noted that her original lawsuit against the campaign "contains no allegations whatsoever pertaining to the personal life or business affairs of Donald Trump or any of his family members or businesses."
Denson is arguing that the nondisclosure agreement she signed with the campaign, which includes a section giving the campaign discretion to send disputes to arbitration, should be unenforceable because the campaign was trying to block her from exercising her legal rights.
"In effect, the Defendant has weaponized the NDA by using it as a club to thwart and chill employees' assertion that Defendant has violated their legal rights in the course of their employment by the Defendant," wrote Denson, who is representing herself in both cases.
The Trump campaign is represented in Denson's earlier case by Lawrence Rosen of LaRocca, Hornik, Rosen, Greenberg & Blaha. The campaign doesn't have a lawyer listed yet in the new federal court case, and Rosen and a campaign spokesperson did not immediately return a request for comment. Denson also was not immediately reached.
According to Denson's original lawsuit, which was filed in November in New York County Supreme Court, she first started working on the campaign as a national phone bank administrator, serving under Data Director Camilo Jaime Sandoval. She said that in early September, Steve Bannon, who was the campaign CEO at the time, promoted her to organize the campaign's Hispanic outreach efforts. Federal Election Commission records show that a Jessica Denson was on the campaign's payroll in the fall of 2016.
Denson claimed she faced discrimination and harassment from Sandoval and another senior campaign adviser, A.J. Delgado. She accused Sandoval of "starting a rumor" that she leaked information about Trump's taxes, trying to have another staffer steal her personal laptop, and engaging in cyberbullying. She accused other campaign officials of being hostile toward her, and retaliating when she complained. The complaint sought $25 million in damages.
According to exhibits that Denson included in the federal court case, the campaign went to the American Arbitration Association in December, arguing that Denson's state court lawsuit violated her nondisclosure agreement. The campaign is seeking $1.5 million.