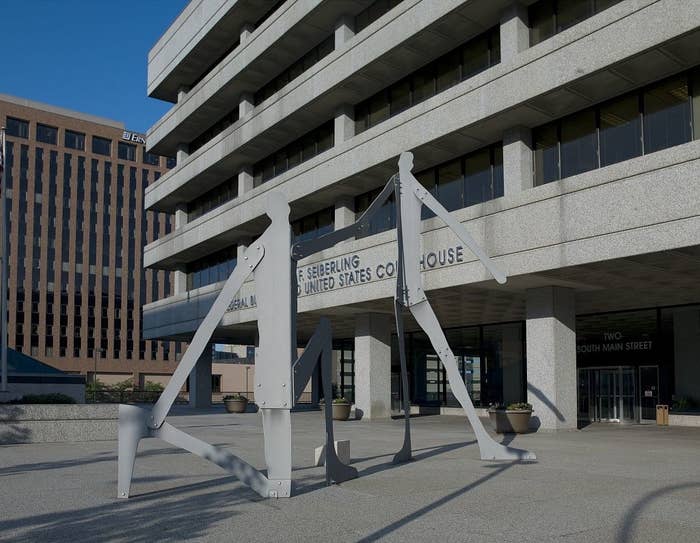 A federal judge in Ohio is suing the federal judiciary, claiming that other judges violated his constitutional rights in ordering him to undergo a mental health screening — and threatening his position on the court if he refused — after finding he committed misconduct.
US District Judge John Adams, who sits in Akron, faced disciplinary action last month after a panel of judges found that he mistreated another official in his courthouse and refused to cooperate with an investigation into his behavior by undergoing a mental health exam.
Adams, represented lawyers from the conservative government watchdog group Judicial Watch, filed a lawsuit on Thursday in the US District Court for the District of Columbia, naming the panels of judges who issued orders against him as defendants.
For a federal judge to file a lawsuit, let alone to sue his colleagues and the court system that he works in, is unusual. Federal judges filed a lawsuit several years ago against the US government seeking pay raises, but that didn't involve judges accusing each other of violating the law, as Adams has done.
Adams could not immediately be reached. His lead attorney, Paul Orfanedes, litigation director at Judicial Watch, did not immediately return a request for comment. Judicial Watch is best known for filing Freedom of Information Act lawsuits seeking documents from federal agencies, but Orfanedes has represented Adams during the misconduct proceedings.
Adams was nominated by President George W. Bush in 2003. Before he was confirmed, he was a state court judge and a prosecutor in Ohio, and also worked in private practice.
According to a public document issued in his misconduct case in August, Adams was accused of committing misconduct in his dealings with a magistrate judge in his court. Federal magistrate judges are not Senate-confirmed like US district judges, but often take on significant roles in managing cases, including ruling on whether recently arrested criminal defendants should be released before their next court appearance and managing the exchange of evidence in civil lawsuits.

After a magistrate judge missed a deadline that Adams had set for completing work on a case in February 2013, Adams issued an order that the magistrate judge explain why that magistrate judge should not be held in contempt. The magistrate judge submitted an explanation, and Adams accepted it.
Adams' district court colleagues objected to how he had handled the situation, however, and four judges filed a judicial misconduct complaint against him. A special committee of judges — publicly available records about the case don't specify who those judges were — led the initial investigation, and eventually expanded the probe to include whether Adams was suffering from any emotional or mental instability. The committee hired a forensic psychiatrist to examine him, but Adams refused to undergo testing or provide any documents to the psychiatrist.
In July 2015, the special committee gave its report to the Judicial Council of the Sixth Circuit — the body of judges that handle judicial complaints against judges who serve within the Sixth Circuit, which covers Ohio, Michigan, Kentucky, and Tennessee. The committee concluded that Adams' behavior suggested he might have a disability that prevented him from having a relationship with his colleagues and handling his work as a judge.
In February 2016, the Sixth Circuit council issued an order finding that Adams had committed misconduct in his treatment of the magistrate judge and his refusal to undergo the mental health exam. The council ordered that Adams be reprimanded and undergo the mental health screening. It ordered that he also not handle cases for two years — a limitation that could be suspended if Adams took the exam and was found to be able to do his job. If Adams continued to refuse the testing, the council said that it intended to recommend that Adams voluntarily retire.
Adams challenged that order before the Committee on Judicial Conduct and Disability of the Judicial Conference of the United States, which can review circuit-level decisions in judicial misconduct cases. That committee largely upheld the Sixth Circuit council's order in August, although it said that Adams could continue to handle cases.
According to committee's August memorandum, the investigation showed that the incident with the magistrate judge "was the culmination of an increasingly strained relationship between Judge Adams and his colleagues that began in 2008," when Adams' preferred candidate for a magistrate judge position was not selected. Adams had also stopped participating in court events and administrative business and had generally refused to interact with other judges, the conduct committee noted.
In his lawsuit against the Sixth Circuit council and the Judicial Conference committee, Adams is claiming that forcing him to go through an involuntary mental health screening violates his constitutional rights to due process — he said he wasn't given notice about what judicial duties he was allegedly unable to perform as a result of any suspected mental disability — and against unreasonable searches. He's also challenging the constitutionality of the Judicial Conduct and Disability Act, the federal law that lays out the authority of federal judges to mete out discipline.
Adam's lawsuit is unusual, but not unprecedented, according to Stephen Gillers, a law professor at New York University School of Law and an expert on judicial ethics. He cited the case of the late Oklahoma federal judge Stephen Chandler, who in the late 1960s went to the US Supreme Court when the Judicial Council of the Tenth Circuit temporarily barred him from handling cases. He was eventually reinstated, according to a 1989 obituary by the Associated Press, and the Supreme Court never ruled on the merits of his claim.
"Adams claims the Judicial Counsel and the Judicial Conference are violating his constitutional rights. He has nowhere else to go now but court and he's entitled to seek relief there," Gillers said.