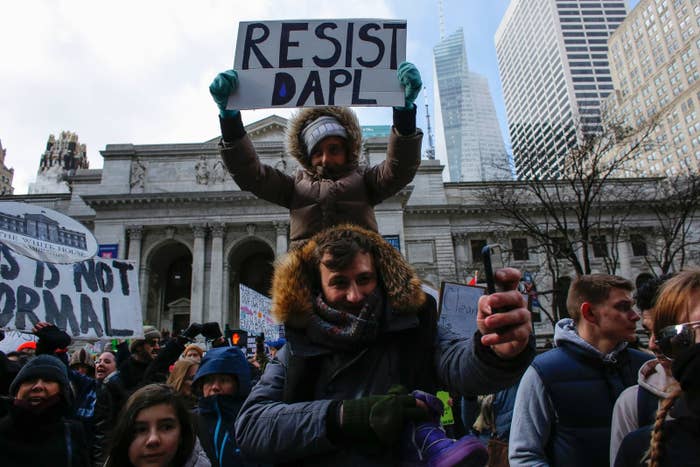 WASHINGTON — A federal appeals court on Saturday rejected a last-minute request to block the Dakota Access Pipeline, just a few days before the company building it says it could be ready to handle a flow of oil.
In a one-page order, a three-judge panel of the US Court of Appeals for the DC Circuit said that the Native American tribe trying to block the pipeline failed to satisfy the "stringent requirements" necessary for an immediate injunction.
The Cheyenne River Sioux Tribe earlier this week filed the request with the DC Circuit seeking emergency action. A federal district judge last week denied a request for an immediate injunction halting progress on the pipeline, prompting the rush to appeal.
According to the latest report filed on March 13 in court by Dakota Access LLC, the company building the pipeline, oil could be introduced into the pipeline on March 20, at the earliest.
A federal district judge in Washington has required the company to file weekly reports on the status of construction. The company's next update is due March 20.
The Cheyenne tribe is arguing that the flow of oil through the pipeline under Lake Oahe in North Dakota would desecrate water used by the tribe in sacred ceremonies. According to the tribe, the oil represents a black snake prophesied to cause destruction.
The tribe contends that the US Army Corps of Engineers' decision to grant the easement needed for the privately-built pipeline to go through federal lands violated the federal Religious Freedom Restoration Act, which generally prohibits the government from burdening a person's religious exercise.
The action by the DC Circuit doesn't end the legal challenges to the pipeline. The Cheyenne tribe could ask a full sitting of the DC Circuit to reconsider the panel's decision, or it could take the issue to the US Supreme Court.

There are also other plaintiffs with different claims still pending against the pipeline. Other Native American tribes are arguing that the US Army Corps of Engineers' actions violated federal environmental and historic preservation laws and ran afoul of trust obligations to protect tribe treaty rights.
In December, the Army Corps of Engineers announced that it would not grant an easement for the pipeline to cross Lake Oahe, saying it would consider whether an environmental review was needed. President Trump reversed course, ordering the Army Corps to expedite consideration of the easement request. The Army announced on Feb. 7 that it would grant the easement.
Attached to Saturday's order, DC Circuit Judge Patricia Millett wrote in a separate concurring statement that she wasn't expressing an opinion about the district judge's findings on the merits of the tribe's religious freedom claim, but concluded that the tribe failed to clear several other legal hurdles for the court to enter an injunction now.
Judges Brett Kavanaugh and Robert Wilkins were also on the order denying the injunction request.