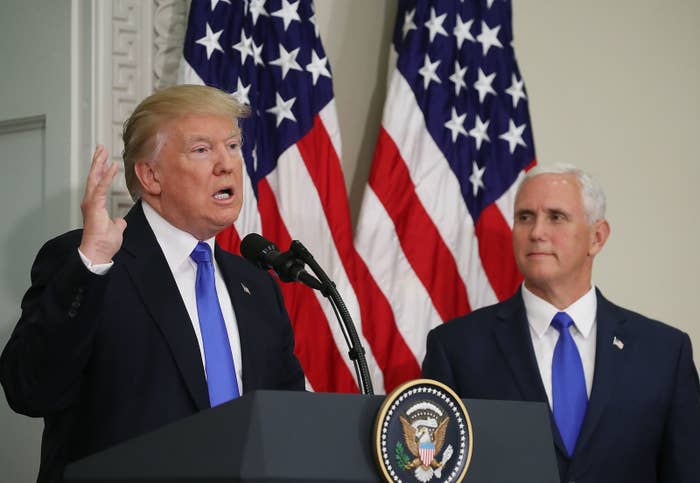 A member of President Donald Trump's election integrity commission is suing the commission, claiming he's been blocked from getting information about its activities.
Maine Secretary of State Matthew Dunlap is one of the commission's Democratic members. When his role was first announced in May, Dunlap told BuzzFeed News that despite criticism of the commission from other Democrats and civil rights groups — one called it "a thinly veiled voter suppression task force" — he felt it would be better to be on the inside.
But now he says he's been shut out. His lawsuit, filed on Thursday in the US District Court for the District of Columbia, alleges a series of violations of the Federal Advisory Commission Act, which requires that presidentially established commissions "be fairly balanced" and meet transparency requirements.

"In fact, the Commission's superficial bipartisanship has been a facade," Dunlap's lawyers wrote. "The Commission's operations have not been open and transparent, not even to the commissioners themselves, who have been deprived access to documents prepared by and viewed by other commissioners."
In a statement, Kansas Secretary of State Kris Kobach called the lawsuit "baseless and paranoid." Kobach said he did not receive any correspondence about commission activities between Sept. 12 and Oct. 17 because the commission's work was "stalled" by lawsuits challenging the commission, the arrest of a staff member — a researcher was arrested in October on child pornography charges, according to the Washington Post — and the death of commission member David Dunn.
"It is not at all surprising that Commission staff were very busy during this period. Ironically, Dunlap's lawsuit is only going to increase the workload faced by Commission staff and Department of Justice Attorneys," Kobach said.
Representatives for Vice President Mike Pence, the commission's chair, did not immediately return requests for comment, nor did a representative of the commission.
According to the lawsuit, Dunlap said the information freeze began over the summer. He claims he learned the commission would be sending letters to all 50 states and the District of Columbia seeking data from voter rolls in a June 28 conference call, hours before the letters were sent out. Dunlap said he received four documents in advance of the group's first official meeting on July 19, and other members introduced records that he hadn't gotten.
Dunlap claims he didn't receive any "substantive" information in advance of a Sept. 12 meeting, and hasn't received any information about the commission's work since then. Dunlap said he sent a letter on Oct. 17 to the commission's designated federal officer, Andrew Kossack, asking for copies of communications between commissioners since May. According to the lawsuit, he hasn't received any documents, despite evidence from another lawsuit that they exist.
"On information and belief, certain commissioners continue to work, research, and communicate behind the scenes without involving Secretary Dunlap or sharing documents with Secretary Dunlap as required by law," Dunlap's lawyers wrote.
Dunlap also claims that despite his requests that commission staff and members use his Maine government email address for official business, they've continued to use his personal email address. BuzzFeed News previously reported that Dunlap and at least one of other member, Alan King, a probate judge and election official in Alabama, received emails about commission business at their personal accounts. Lawyers for a civil rights group suing the commission over its compliance with transparency requirements have argued this practice violates federal law.
As of now, the commission has seven Republican members and four Democratic members, according to the lawsuit. Dunlap claims other Democratic members have been shut out as well, although he is the only one suing.
UPDATE
Updated with comment from Kris Kobach.