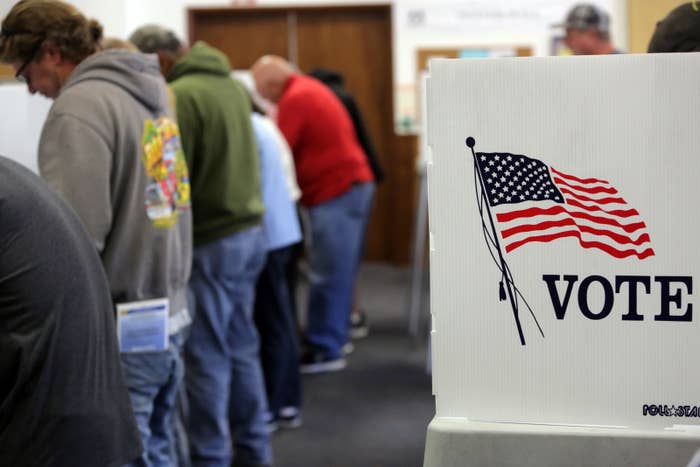 Maine Secretary of State Matthew Dunlap said he wasn't looking to take on more work when his counterpart in Kansas, Kris Kobach, contacted him earlier this year to ask if he'd be interested in working with the vice president's office on an examination of US voter systems.
But after talking it through with his staff, Dunlap told BuzzFeed News that he decided it was better to be involved than not.
"With all the controversy over some of the president's statements about elections, this may be a situation where you want to be at the table to help with the story," Dunlap said.
The White House on Thursday announced that President Trump had signed an executive order establishing a presidential advisory commission on "election integrity." Vice President Mike Pence will chair the commission, and Kobach will serve as the vice chair. Dunlap is one of five other members announced on Thursday; there's one other Democrat involved so far, New Hampshire Secretary of State Bill Gardner.
Dunlap said that he hasn't received any details yet about the scope of the commission's work or the reach of its authority in terms of gathering information. He said that no one involved has spoken with him directly about whether the commission will investigate the president's unsubstantiated allegations of widespread voter fraud during the 2016 election, but he said he expected it to be on the agenda. Kobach has long argued that voter fraud is rampant and widespread and has been prosecuting cases in his home state of Kansas.
The commission's mandate, according to the executive order, is to "study the registration and voting processes used in federal elections" and submit a report to the president. The text of the order focuses on the issue of voter fraud.
The commission has already been criticized by others on the left. Sherrilyn Ifill, president and director-counsel of the NAACP Legal Defense and Educational Fund, put out a statement calling the commission "a thinly veiled voter suppression task force." Dunlap said he was aware of the criticism.
"Ultimately if we get into a real examination of some of those [voter fraud] claims, my suspicion is we're not going to find very much," Dunlap said. "If they try to take something that's nothing and make it into something, how are you best postured to counter that? ... It seems like from inside would be the best case."
In addition to Pence, the commission can have up to 15 members. A spokesman for Pence said the full commission would be announced at a later date.