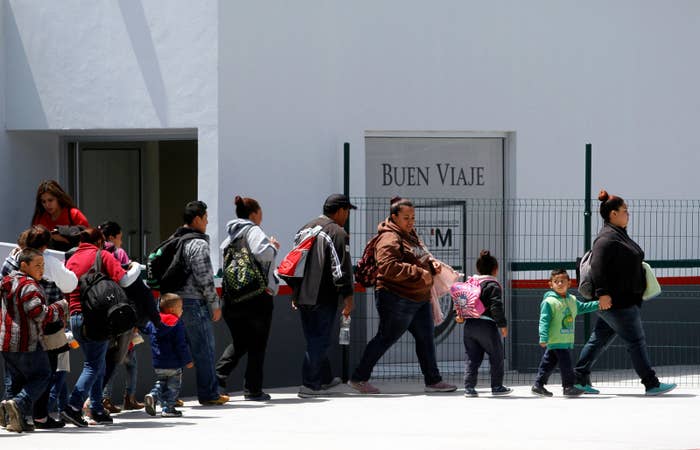 A coalition of Democratic attorneys general filed a new legal challenge to the Trump administration's immigration practices Tuesday, taking on not only the separation of families at the border, but also the treatment of asylum-seekers.
The lawsuit, filed in federal court in Seattle, is the latest in a growing number of cases challenging border separations. It appears to be the first case not filed directly on behalf of an immigrant parent or child seeking reunification; the state and local officials involved argue they're also harmed by the administration's policies and have the right to sue to protect their residents.
Democratic officials pledged to sue last week as President Donald Trump faced growing public pressure to address the spike in family separations at the border. The lawsuit asks a judge to order the administration to "expeditiously" reunite separated families unless a parent is found to be unfit, halt family separations going forward, block the administration from turning away asylum-seekers at the border, and prohibit officials from tying family reunification to the status of a parent's asylum claim — the lawsuit accuses officials of pressuring people to drop asylum claims in order to regain custody.
The state officials say that although the executive order that President Donald Trump signed last week was aimed at addressing border separations, "any relief offered by the Order is illusory." Trump's order didn't include details about how the administration would reunify families who had already been separated, the attorneys general argue, and much of its effect depends on Congress acting or a federal judge in California agreeing to change a 1997 settlement agreement that limits how long children can be held in immigration detention.
The lawsuit also separately accuses the administration of unlawfully turning away individuals who arrive at official points of entry and claim asylum. The attorneys general cite news reports of asylum-seekers who say they've been told to turn back because the United States doesn't have space to house them.
The complaint cited Trump's comments about Mexicans and immigrants from Latin American countries — starting with his characterization of Mexicans as "criminals" and "rapists" in the 2015 speech launching his presidential campaign — and his pardon of former Maricopa County, Arizona, sheriff Joseph Arpaio, arguing that the administration's immigration policies were consistent with Trump's own "bias."
The state officials are arguing that the separation of families interferes with their ability to honor state policies that favor "family integrity," and burdens state courts and other agencies responsible for managing children placed with guardians or in foster care. They also contend that the administration's plan to keep families in detention attacks state interests in licensing facilities that serve children.
More broadly, the states and DC are arguing that they have an interest in ensuring the well-being of their residents and protecting their constitutional rights.
"These rights include due process and equal protection rights afforded to alien parents and their minor children, and rights and protections under federal asylum and refugee laws, international human rights laws, and state laws," the attorneys general wrote.
A federal judge in California is expected to rule soon on a request by the American Civil Liberties Union for a preliminary injunction that would force the administration to reunite families within 30 days, or within 10 days if the child is younger than 5 years old. Other cases that involve individual parents seeking court intervention to be reunited with their children are pending in Washington, DC, and Washington state.