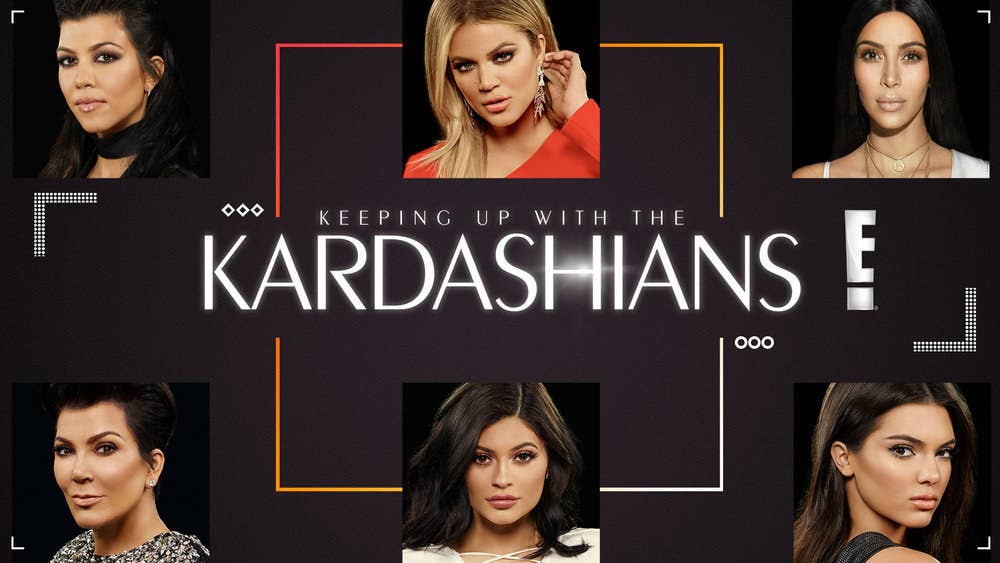 UPDATE
Since this piece was published, Khloe confirmed her pregnancy; Kim and Kanye welcomed a baby girl, Chicago, in January; Kylie gave birth to a baby girl on February 1, 2018.
Google autocomplete is our collective subconscious, so when you search for "Kardashian pregnancy," it knows what you really want. "What episode does Kourtney give birth to Mason?" reads one of the related queries. "What episode did Kim announce her pregnancy with North?"
Perusing those results, you could be forgiven for forgetting that these pregnancies are not just storylines for a television show but also life events in the most literal sense: at their culmination is the creation of a brand-new life. Instead, we experience everything the Kardashians do as part of a stream of content, a narrative crafted to attract attention and earn money — which, to be fair, is because that's exactly how they want us to interact with them.
So it's hard not to read reports of three simultaneous pregnancies (Khloé, Kylie, and Kim-via-surrogate) coinciding with their show's 10th anniversary as a piece of truly masterful PR orchestration on their part: "I tell ya, the Devil works but Kris Jenner works harder," as the viral tweet goes. (Last week, Variety published an interview in which Kris said that her dream finale for the show would be Kylie's wedding.)
So far, the only confirmed pregnancy is Kim's: "We're having a baby!" she tells Khloé via FaceTime in a trailer for this season of Keeping Up With the Kardashians that she tweeted out last Thursday. Refusing to comment on stories until the Kardashians can address them on their own platform is standard practice for the family: Consider Kylie's lip injections. The change in her appearance was undeniable — it was right there on her face! — but she spent a year talking around reports she'd had work done, going the old "good makeup" and "faces change as you age" routine before she decided to come clean — on an episode of the show, naturally. Similarly, after Kim was the victim of an armed robbery in Paris late last year, she spoke publicly about the incident for the first time on KUWTK. And in Sunday's season premiere, Kendall finally commented and apologized for her appearance in a much-maligned Pepsi commercial this past April.
Refusing to comment on stories until the Kardashians can address them on their own platform is standard practice for the family.
It's smart for them to withhold until we're watching on their terms (especially since numbers for the show, as well as for Kylie's summer spinoff, are down), but it's also a risk: The longer they wait the clearer it becomes that we are being toyed with. There's always speculation around how much of their lives are stunts being pulled for our benefit, and if this is one, it could be a disaster of Kris Humphries–level proportions. (Kim married and divorced Kris in a 72-day span in 2011, prompting widespread allegations that the wedding had been staged, as well as petitions to E! to take the show off the air.)
The public has always been wary of the Kardashians: Because their primary currency is attention, we know we could dethrone them ourselves if only we could somehow stop looking at them and stop talking about them all the time. There's something especially infuriating about seeing how boldly they manipulate our interest, and how eagerly we continue to allow them to do it. How can we stop ourselves from wanting to know what happens next when they keep sucking us into their stories?
That they now have their own platforms — Keeping Up as well as their paid subscription apps — only highlights how much control they have over their own narratives, and this power can work both with and against them. Sometimes it seems, well, empowering: Instead of selling their lives to the tabloids, they're communicating with fans relatively directly. They're not making stories of themselves, selling the news of their family's lives for profit; they're only ever setting the record straight, trying to be honest, to be allowed to share. (They are, of course, making money off the apps and the show, but somehow cutting out the tabloid middleman obscures the tawdry, obviously transactional nature of the exchange.)
But then we can't help being reminded that they could be talking to us right now, if they wanted to. And we start to wonder: How long are we going to be willing to live on the Kardashians' schedule? They'll comment on the existence of these stories (Kris told The Hollywood Reporter "It wouldn't be the family if something didn't happen every single day," the day after rumors of Kylie's pregnancy started circulating, and Kim has tweeted several times accusing outlets of making up details and sourcing), but they won't simply confirm or deny their content.
It was one thing when it was just Kim's surrogacy that was under speculation, as it has been since late June when TMZ reported that she and husband Kanye West had hired a surrogate after Kim was diagnosed with a medical condition called placenta accreta, which makes carrying another child herself, as she did during her two previous pregnancies, a potentially life-threatening endeavor. No one was tremendously scandalized that a married couple was having another child, and the story was being presented to us in a familiar fashion: In September, TMZ broke the news that the surrogate was pregnant and due at the end of January 2018. That was a soft-confirm; we got the hard evidence from the KUWTK teaser trailer when it went up last week.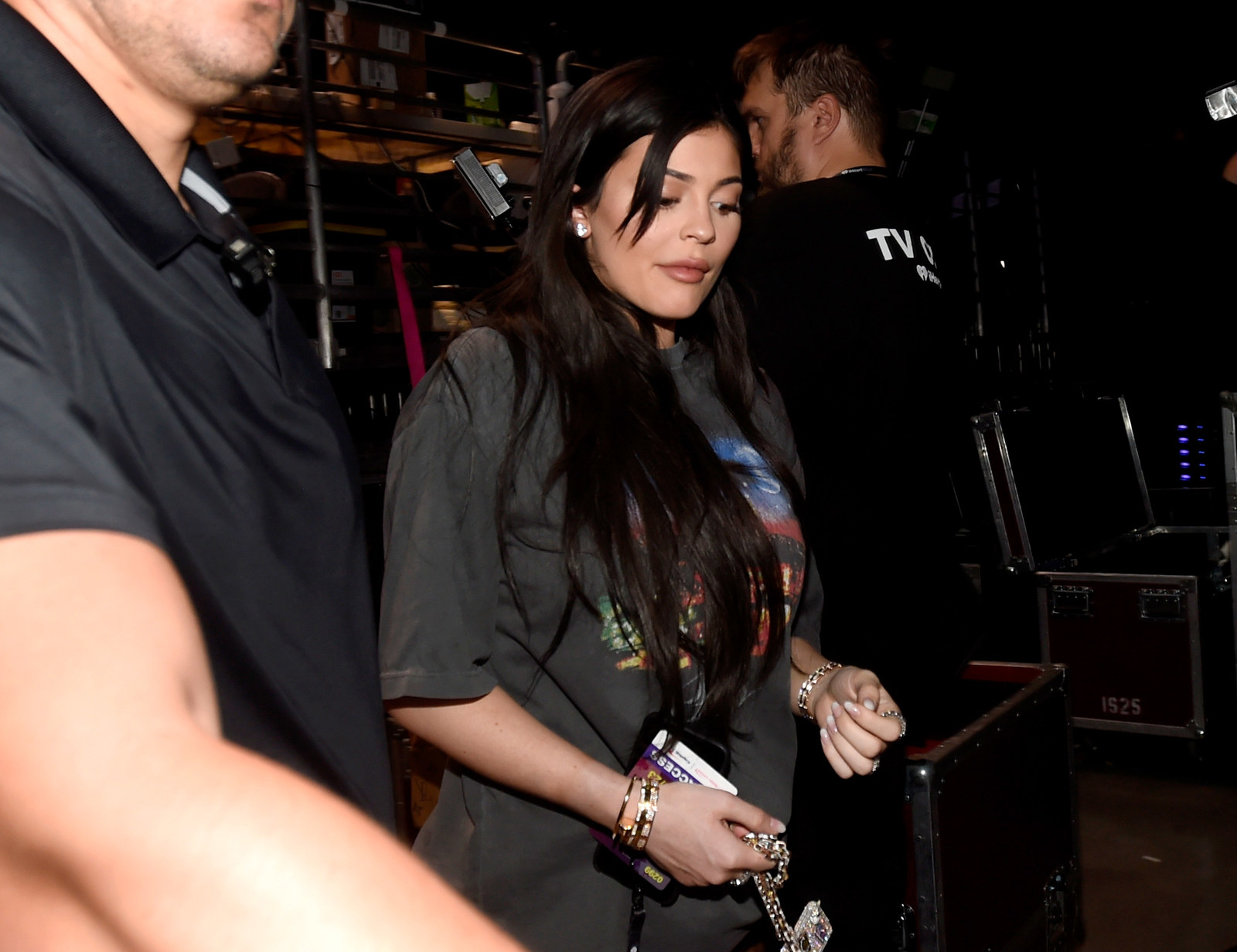 It's less clear what the family are doing, or what they'll be able to do, with TMZ's report from Sept. 22, alleging that 20-year-old Kylie is pregnant with her first child, a girl.
There are near-constant rumors that one Kardashian womb or another is occupied: Every time one of the sisters Snapchats a nursery or wears a sweatshirt, the internet percolates reports that she's "hinting." So the sourcing of these stories is critical: TMZ, which was the first on record about both Kim and Kylie, is famous for only publishing gossip when it has receipts.
Kylie's story is a juicy one: Until recently, she was looking to be the family's next breakout star, an up-and-coming beauty mogul and Gen Z sex symbol waiting in the wings to take over for Kim as Kim moves deeper into motherhood (and approaches 40). Kylie is still super young, and she's fresh off a breakup from a messy, long-term relationship with the rapper Tyga. The timeline around that breakup is murky enough that there was briefly some speculation that the baby could have been the product of that relationship — which would have made a very complicated set of half-siblings between the children produced by Kylie and Tyga, Tyga and his ex Blac Chyna (a son, King), and Chyna and her ex, Kylie's half-brother, Rob (a daughter, Dream). Instead, the father is thought to be 25-year-old rapper Travis Scott, who Kylie has been dating since mid-April.
So when US Weekly reported that Khloé has a baby on the way with her boyfriend, basketball player Tristan Thompson, four days after Kylie, it seemed like a rude joke someone might make about the family. (In fact, cracks about how no one could "keep up" with them proliferated on Twitter.) Three unrelatedly, simultaneously pregnant sisters — one of them 20, unmarried, and five months into a new relationship — stretched the limits of public credulity. Blind Gossip claimed it had reported that Kris wanted a triple pregnancy storyline on KUWTK years ago. "The drama drives viewers to their TV show/s… which in turn drives social media popularity… which in turn drives product sales," the site noted, calling them not a family but a "manufactured business enterprise."
The lack of denials, at this point, seems damning: Of course the family can't respond to every rumor, but in this case they'll comment on the existence of the rumors, and the way they're being reported and sourced, without ever acknowledging the content of those claims. The Kardashians have made careers of playing with the media; by now, they're seasoned experts at controlling a news cycle. From their early days calling the paparazzi on themselves to hiring photographers to get the shots they want circulating to speculation that Kris "leaked" Kim's sex tape to jumpstart her daughter's and the family's careers, they're not above working every angle to make sure they get what they want.
But something new is happening to the family: After 10 years in the public eye, expertly tailoring their lives to meet our expectations, it's possible that they've hit upon a storyline that they know we won't buy — and have decided to roll with it anyway. Perhaps the problem the Kardashians are now facing is that they are people and not just avatars for reality television storylines. These are life-cycle events, and it's entirely reasonable that three sisters in three sexually active, heterosexual relationships between the ages of 20 and 36 might end up pregnant at once. It's entirely possible that they're just pregnant because it happened, because they wanted to be.
But their lives and bodies are also the site of their careers, and so they're stuck trying to figure out how to live the private lives they want without disturbing their carefully maintained public facade. And that balance — between the demands of being human and the demands of celebrity — may ultimately prove to be much trickier than simply plotting and selling the image of an enviable life.
Zan Romanoff is a full-time freelance writer and the author of A Song To Take The World Apart and Grace And the Fever. She lives and works in Los Angeles.