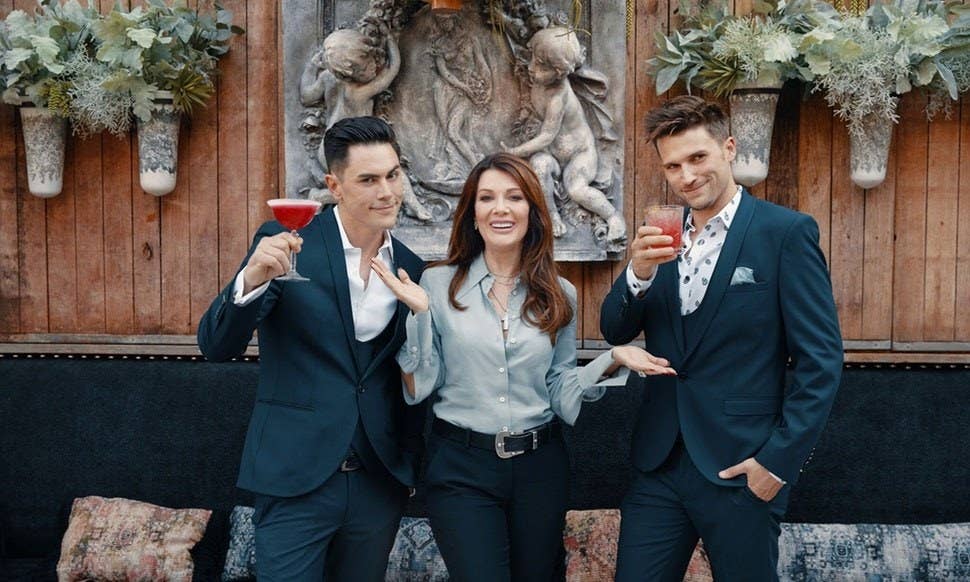 At 6 p.m. on a Saturday in late August, young women with birthday hats strapped under their chins tumble out of cabs and onto the sidewalk, wafting the scent of vodka sodas into the evening air. On the patio of the Abbey, the infamous gay bar in West Hollywood, a couple of go-go boys in perilous shorts are dancing listlessly to a disco remix of Sister Sledge's "We Are Family."
And outside of a bar called Tom Tom, a line has formed. The people in it wear the self-conscious expressions of line-standers everywhere: They know, and want you to know that they know, that it's a little ridiculous that they're baking in 85-degree heat to wait for a cocktail on a block that's lined with bars.
If they defected and walked about 500 feet, they could already be neck-deep in a Bye-Felychee cocktail in the mostly empty dining room of Pump, which is owned by the same woman who owns Tom Tom: the buxom, British Real Housewives of Beverly Hills star Lisa Vanderpump. Walk three or four blocks farther and they'd be tucking into the happy hour menu at another Vanderpump property, SUR, whose waitstaff is the subject of their own Bravo reality show, a reliable ratings smash called Vanderpump Rules.
The people in the line are likely aware of these facts, and they are also impervious to them. They wait, and wait. Every time a group goes in, another one takes its place on the sidewalk, meaning the line has about 30 people in it at all times until long after the sun has set. They are surprisingly diverse: a pair of young white women in their going-out clothes stand next to a casually dressed Indian couple whose sole adornment is the wife's crystal-encrusted slides. Couples on dates slip into seats at the bar, while groups of friends doing a happy hour hang hold out for tables; tourists and locals rub elbows companionably inside and out.
Waiting in line to get access to the latest hot spot is nothing new, and just as some people find it embarrassing, there are others who wear their line-waiting like a badge of honor. Either way, though, people in these lines are usually waiting because they are (or want to be) enthusiastic fans of whatever's at the end of their vigil.
At Tom Tom, however, this isn't always the case. A survey of the people waiting in that Saturday night line, and of those who'd given up and gone to Pump and SUR instead after all, suggested that they were, at best, ambivalent about the restaurants themselves.
"It's the Disney World of Bravo," a guy named Jason says by way of explaining his presence at Tom Tom. The three men he's with nod in agreement. In their jeans and T-shirts, they're clearly not regulars on WeHo's put-together party scene.
"We're laughing at ourselves being here. We're aware."
The explanation makes almost too much sense: An immersive experience for fans of a media franchise? A lot of line-waiting and mediocre food and outrageous prices and who cares, we're doing it anyway? Check, check, and check.
But unlike actual Disney World, which calls for childlike wonder, Jason and his friends have come here at an ironic, slightly disdaining distance. "We're laughing at ourselves for being here. We're aware," he assures me.
They've come to have this experience, but also to be above it: to confirm that even though they've been sucked in — to the point of spending cold, hard cash on their fandom — they're not those fans, the ones who don't see that what they're doing is embarrassing. "I don't think we're here for the food or the drinks," he continues.
The lone girl in their group pipes up. "We're just here to be here," she says.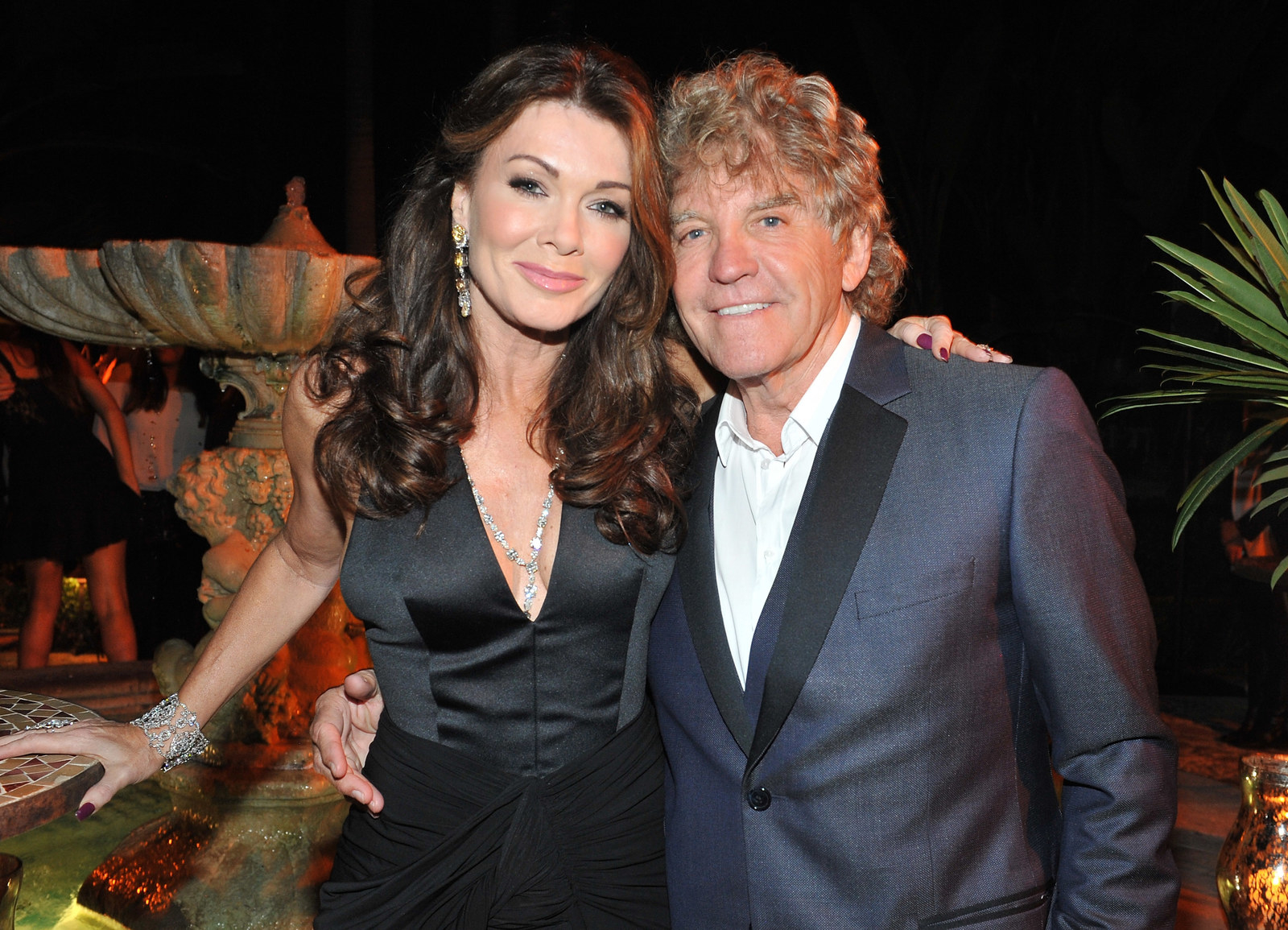 As brands turn away from straight retail and toward interactive opportunities, it's no wonder that reality TV is also seeking ways to monetize by getting fans to feel like they're buying experiences instead of stuff. Restaurants are one of the easiest avenues to lure customers for this purpose while also charging them for it, so it's very lucky for Lisa Vanderpump that they're built right into the premise of her show.
Vanderpump was a restaurateur long before she was a reality television personality: She and her husband, Ken Todd, have opened 26 restaurants, bars, and clubs together. In 2005, they joined forces with another couple, Guillermo and Nathalie Zapata, to revamp a West Hollywood spot that the Zapatas had owned for nearly a decade: SUR Restaurant.
In 2009, Vanderpump and Todd opened Villa Blanca in Beverly Hills, and in 2010, she joined the original cast of The Real Housewives of Beverly Hills, a new installment of Bravo's megahit Real Housewives franchise, which follows the drinking and drama of rich women in big cities all over the world.
"I never intended to make my career from it," Vanderpump told Glamour in January of her decision to join the show. "But I was smart, and I used the show to draw attention to my businesses."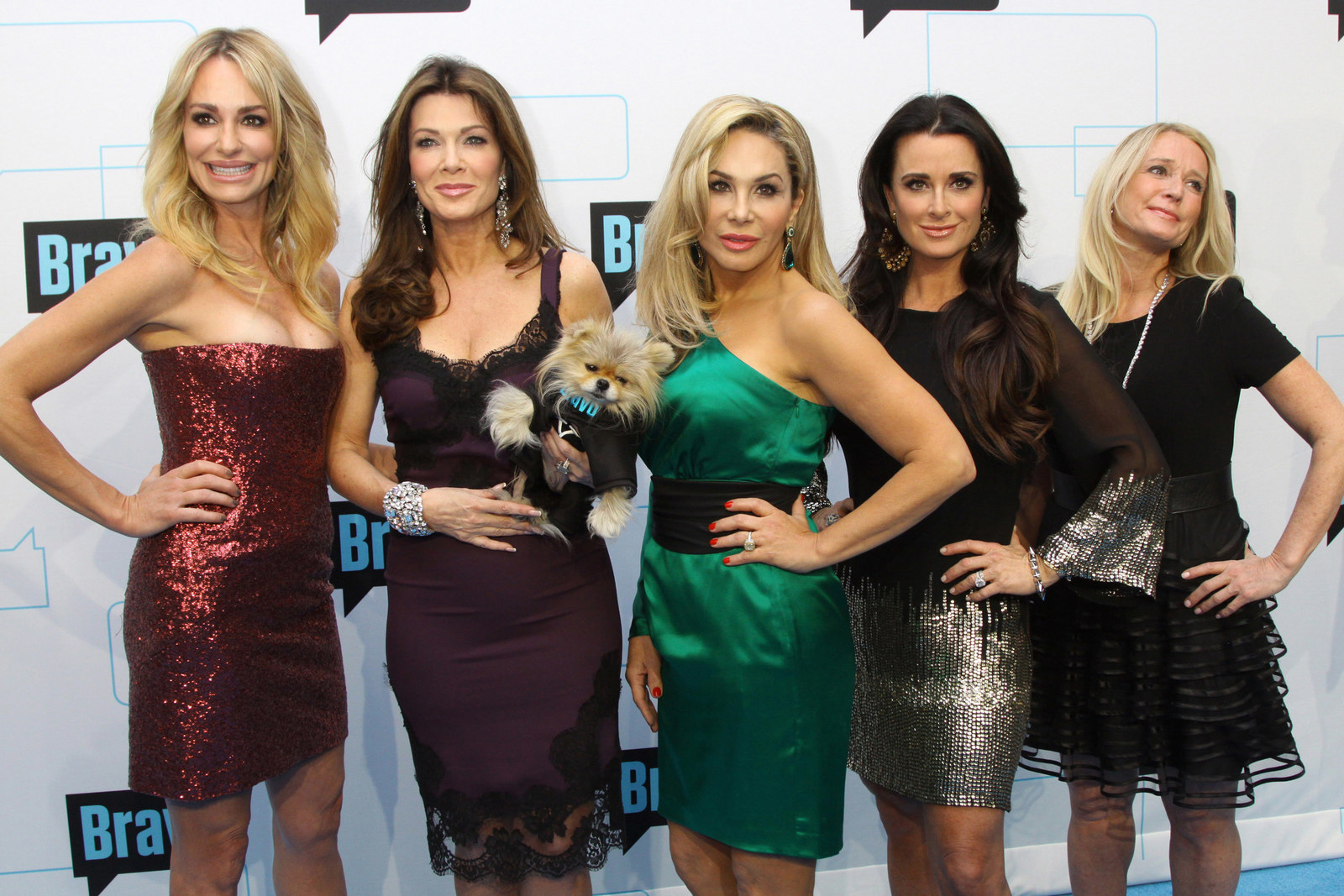 Being a Housewives cast member made her a celebrity, but the public's focus was more often on her flair for the dramatic than her entrepreneurial skill, so Vanderpump proposed a spinoff set in her restaurant, where her role as "Big Boss Lady" (and its existence as an exciting place to hang out) would be front and center. Vanderpump Rules debuted on Bravo in 2013; now approaching its seventh season, it follows a group drawn from the waitstaff at SUR as they fuck, fight, and do things like eat stuff that's been marinated in each other's butts on camera.
Over the course of seven seasons, the cast has gone from a bunch of fresh-faced LA clichés to demi-celebrities.
Over the course of those seven seasons, the cast has gone from a bunch of fresh-faced LA clichés — struggling actors, musicians, and models waiting tables to make ends meet — to demi-celebrities. And in the process, they've fed themselves into a very strange fame Ouroboros. The money they get for appearing on the show (and doing the club appearances, sponsored Instagram posts, and brand collaborations made possible by their fame) obviates the need to have a day job, but the day job is, supposedly, the reason they're being filmed in the first place.
Cast members Stassi Schroeder and Kristen Doute have both officially stopped working at SUR (Schroeder now has a podcast and Doute a T-shirt company), but the rest of the cast walks a fine, funny line: They take shifts, recite specials, and mix drinks during the summer months, when Vanderpump Rules is taping, but the rest of the year they're rarely seen in uniform.
When they are at SUR, they're less likely to be serving than doing special events: Hostess Billie Lee recently made an appearance at a holiday weekend brunch, for instance; James Kennedy drops in for sporadic DJ nights. You can still get a full 360-degree immersive reality TV experience, where you meet and interact with the characters you know from your screen — but it's far less readily available than it was in the early seasons, when the cast had no choice but to wait on tables of men who were passing around bikini pictures of them while they tried to work.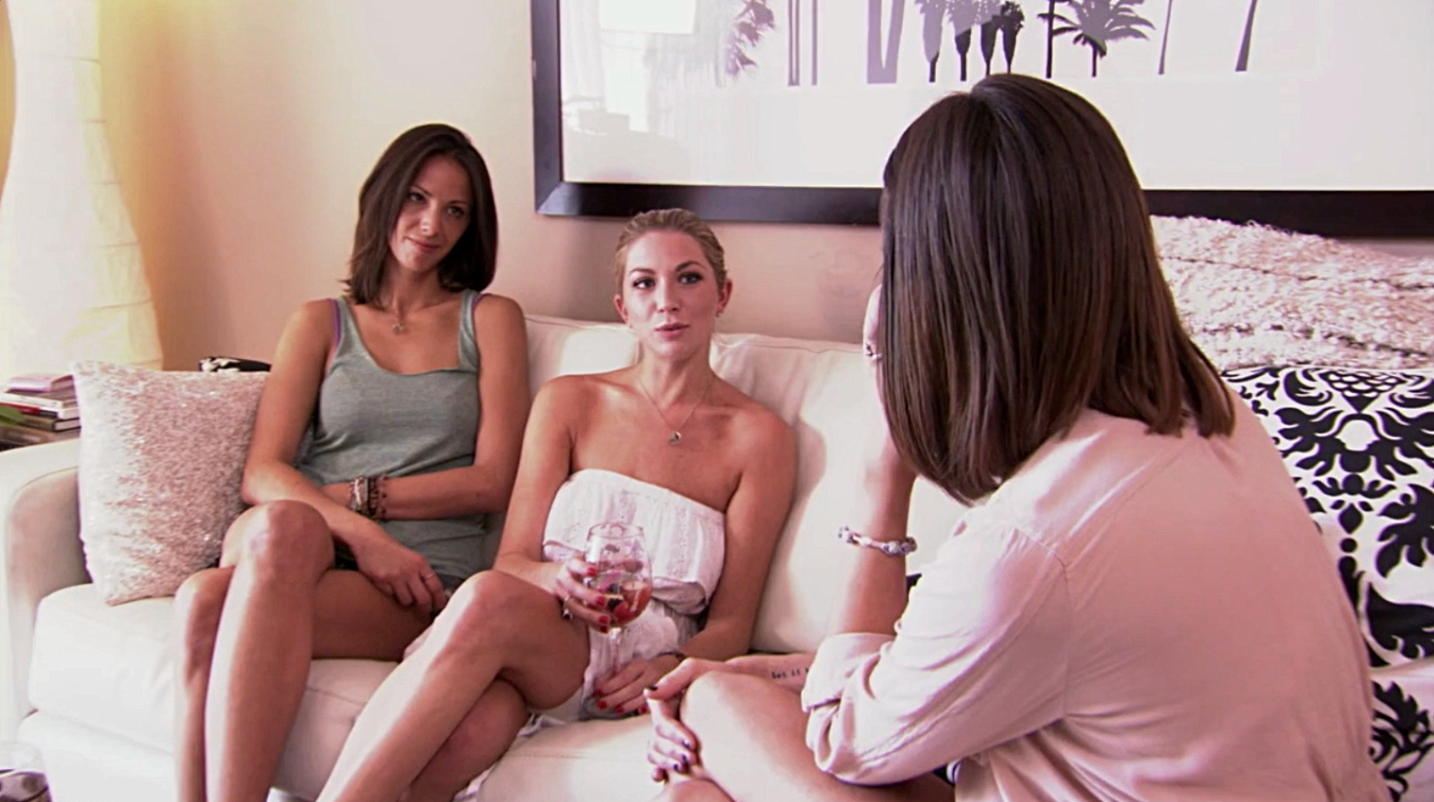 The grotty broke-living authenticity of the early years, which were far from glossy or aspirational, are now a thing of the distant past. In the show's pilot, Schroeder and a new SURver named Scheana have an impassioned, drawn-out argument over the best way to split tips; these days, even though it's never discussed on camera, it's hard not to know that Jax Taylor, the show's sociopathic beefcake villain, can make $10,000 to $20,000 just for showing up at a club.
This transition to wealth and fame could have spelled doom for the Vanderpump franchise, but Lisa Vanderpump remains an extraordinarily canny businessperson, and so she's figured out how to create new roles for her cast to grow into while keeping her restaurants relevant to their exploits. In the finale of the fifth season, at Katie Maloney and Tom Schwartz's long-awaited wedding, Vanderpump approached Schwartz and his friend and castmate Tom Sandoval with a business proposition. She wanted to open a new bar, she said. They would be its namesakes, but also, more importantly, her partners in opening it.
Thus Tom Tom, and thus its line.
Tom Tom created a natural narrative throughline for Vanderpump Rules' sixth season as the Toms tried to learn the ropes of restaurant ownership. They accompanied Vanderpump on a business trip to Vegas, where they challenged themselves to show up to all of their early-morning meetings on time and not hungover. (They are 35 years old. They couldn't do it.) They struggled to come up with the money Vanderpump wanted them to invest: $50,000 each, an amount that seemed calibrated to allay audience suspicions that the Vanderpumpers had grown too wealthy behind the scenes.
In one fell swoop, Lisa Vanderpump had gifted herself a plot arc that would breathe fresh life into Vanderpump Rules and allow its cast to evolve past their bartender beginnings without taking them out of her empire — and also a way for herself and her businesses to make money even when the cameras aren't rolling.
The experience at Tom Tom starts on the sidewalk, where a besuited door attendant doesn't seem to do anything (at least in the early evening he doesn't check IDs, and there's a host who seats you when you arrive) — except add an air of exclusivity to the proceedings.
Inside, the decor will be familiar to anyone who knows Vanderpump's tastes: The space is replete with mirrors and chandeliers and fresh flowers, bedecked in chrome and glass and velvet. Bartenders are mostly men and uniformly Ken-doll handsome, dressed in tight-fitting aqua button-downs they unbutton just enough to give a hint of their well-defined pectoral muscles. They flirt reflexively and professionally, making plenty of eye contact.
There's a clockwork theme at Tom Tom. Lisa wanted this place to have an "elegant steampunk" vibe, so the logo sports a trio of small gears nestled in its O's, and behind the bar a larger set of clockwork-looking mechanisms shift and spin.
They feel like a metaphor for the whole Tom Tom experience: They're fun to look at, and they make you feel like you're somewhere dramatic and larger-than-life for a while, until you look too long and think — that's now how gears work. These cogs don't connect to anything; they don't move each other, much less anything else. They're here to give you a sense of being somewhere fantastical, but what, exactly, is fantastical about a giant clock? For that matter, what do clocks or steampunk mean to Lisa Vanderpump, Tom Schwartz, and Tom Sandoval? What are they supposed to mean to me? I have no idea. What does the cocktail name "Clockwork Pink" mean, except that the theme of the bar is clockwork, and Lisa Vanderpump likes pink?
Don't ask. It doesn't matter. The theme is clocks but the theme is also You're on reality TV. Tom Tom puts you on the set of a reality television show and allows you to redirect the optics, so that it's you being filmed, broadcasting to friends and family, Look where I am! I deserve to be looked at! Going to Vanderpump restaurants is an opportunity to bridge the gap between what we've seen on screens and our own minor league lives: to verify something — anything — about television and celebrity for our very own selves. It is an irresistible type of research: to step through the repeating mirror, the infinite replication of the digital screen, and touch and taste with our own singular irreducible bodies. Tom Tom is the door between worlds — mine, and Lisa Vanderpump's, and Vanderpump Rules'.
Which can be especially appealing for Los Angeles transplants. "I've been [living in LA] less than a year, and all my friends back home are like, 'Oh my god, are you going there?'" a girl named Alex, who is very tall and wearing all black, says. Back home is Chicago: a big city, sure, but not known for its star sightings. "And like, well, obviously yes. I need to snap everything inside and send it to them so they can pretend they're here."
People come to visit SUR, Pump, and Tom Tom the same way they might do a back-lot tour at Universal Studios.
Her friend Maggie — petite, blonde, tan, with very big eyes and bigger eyelashes and a skintight baby pink dress — nods her head. "People back home love it so much when I snap it," she says.
People come to visit SUR, Pump, and Tom Tom the same way they might do a back-lot tour at Universal Studios, or go sit on the 500 Days of Summer bench in downtown LA: Because this is the set where the action happened. But there's something different about visiting the site of a reality TV show, because of the complicated things the word reality means in this context.
There are also, I should say, people who come to these places with pure heart and open minds. Janelle and her husband, Alex, are a sweet-looking young couple; I spot them at SUR, and then again standing outside of Tom Tom. I notice them in part because their look is much more business casual than West Hollywood's standard bro'd-out bar attire, and also because they have a baby with them. When we chat, they're rocking her in her stroller as they try to get a glimpse inside of Tom Tom.
They're visiting from Canada, it turns out, Manitoba, "right in the middle." Janelle watches VPR, so in addition to the Hollywood sign, Santa Monica's beaches, and an outdoor mall called the Grove, she and Alex had to come see the Vanderpump places. Dinner at SUR was great, they report. They ordered the goat cheese balls, naturally, since they are SURver Stassi's favorite.
Janelle and Alex are the only people I talk to all night who don't act like they and I both are in on a very elaborate joke of some kind. They wanted to see Los Angeles; they wanted to see celebrities, which are few and far between in Manitoba. So they came here to see them. What's so weird or embarrassing about that?
They are also the only people who seem to be having a legitimately good time.
What makes Tom Tom markedly different from Disneyland is that at Disneyland, access is tiered by price point: You can buy FastPasses for rides and private audiences with Minnie Mouse, and if someone else has those things, those who don't know exactly how they got them.
At the bar, though, the rules of access are much less clear, and that makes the stories that happen while you're there all the more valuable. Some people will visit on a dead night and see no one — or basically no one, anyway. Janelle and her husband caught Lisa's son, a busser and entirely minor character named Max, in action, but if they'd come a week later, when I actually went inside for a drink, they could have seen Lisa's daughter, Pandora, conferring with the staff (and also the girls next to me pretending to take pictures of each other in order to take pictures of her).
And it's not just the cast we're angling to spot: There are famous people — like, really, really famous — who are VPR fans. Media personality Chrissy Teigen has declared it "the best show in television history"; Rihanna is also a fan.
There's something almost democratic about the idea that Rihanna is just as enthralled by these manchildren and their baby brides as I am — that Lala Kent sucking on a baby bottle to quell her anxiety is famous and fascinating to Rihanna the same way she is to me. Despite Teigen joking about setting up shop in SUR's back alley to watch the drama go down live, though, she's never been spotted eating there — but who knows? It could happen.
So there's a free-floating head-turn-y anxiety to the whole experience that makes it especially hard to enjoy your Kentucky Muffin cocktail in peace. Everyone is looking: sizing up who's here as a joke and who's here for real, and who knows someone, or might, or is someone.
Of course, if they are someone, this is Los Angeles, where we pretend we don't care about famous people, and so decorum dictates that you have to look away.
Pandora is my only VPR cast sighting during my trip to Vanderpump Restaurant Row (though Kristen Doute later posts an Instagram from that Saturday night of herself at Tom Tom, along with her best friend, Schroeder, and their sometime nemesis Ariana Madix).
But that doesn't mean she's all there is to see. As I'm wrapping up my conversation with Janelle and cooing at her baby, two cabs pull up to the curb and out spill six or eight perfectly preserved women who must be in their late forties. They are all wearing tight, tiny dresses and high-heeled sandals and drinking out of red plastic Solo cups and taking raucous selfies. Is one of them a Housewife? A friend of a Housewife? Are they having a bachelorette party? What are they doing here?
I go to ask, but as I'm approaching, the host sticks his head out and beckons to them: They made a reservation, or they know someone, but either way, they're whisked inside.
And I am left standing on the sidewalk, bereft of the narrative I want from life in the Vanderpump bubble: the sense that I live among these people, and that as much as I mock the cast members' disheveled apartments, and their fixation on the idea that Lisa Vanderpump is a tastemaker, and their dumb drama and their even dumber need to tell me about it, I am still allowed to go to their parties, and to know all of their secrets because of their show. This is supposed to be a world where I'm the all-seeing eye, who has watched the drama unfold on television, who is streaming her own life onto her phone, who is the most powerful person in the room.
But I have no way of following those women's story, or finding out who they are. On the sidewalk outside of Tom Tom, the line snaking away from me, longer now than when I first got here, I realize: This isn't reality television, but instead a dose of plain old reality. I've bought my way onto the set, but not into the storyline, and Bravo's cameras aren't here right now, which means that no one is going to tell me what happens next. ●