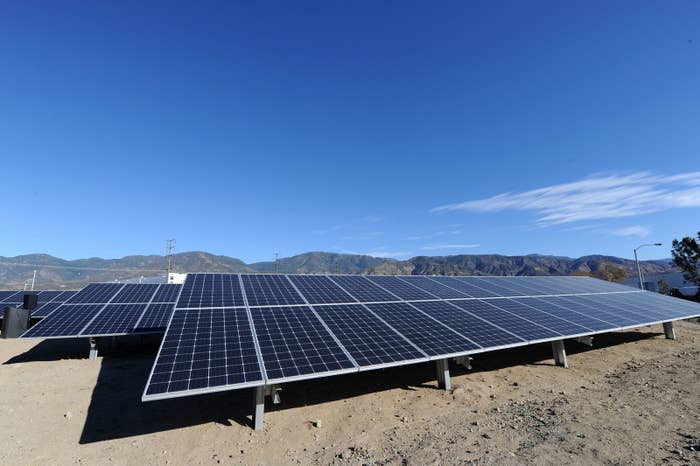 President Trump announced on Monday afternoon that the US will put 30% tariffs on foreign-made solar panels this year in a landmark trade decision that has sent shockwaves across the US solar industry.
The move aims to help American-based solar manufacturers losing business to the flood of cheap solar panels coming out of China and elsewhere, according to the Trump administration. Trump officials also recently announced new tariffs on imported washing machines.
But it's unclear how many solar companies will actually benefit from the controversial decision. Many companies rely on the cheap imported panels and fear the news will actually hurt the booming US solar industry, leading to massive layoffs, increased prices, and a drop in new business.
"We feel the decision is a blow to the industry as a whole," Clark Packard, a trade expert at the libertarian free market group R Street Institute, told BuzzFeed News.
"It boggles my mind that this president — any president, really — would voluntarily choose to damage one of the fastest-growing segments of our economy," Tony Clifford, chief development officer of the company Standard Solar, said in a statement. "This decision is misguided and denies the reality that bankrupt foreign companies will be the beneficiaries of an American taxpayer bailout."

Under the new ruling, the US will initially put 30% tariffs on imported solar products this year. Then the tariffs will be reduced by 5% annually, ending at 15% in the fourth year. The first 2.5 gigawatts of imported cells are exempt. It hasn't been announced when exactly the tariffs will take effect.

Trump's announcement is a victory for the two struggling solar companies — Suniva and SolarWorld — that petitioned the US government to take on this case last year and has asked for even higher tariffs.

"Over the last 5 years, nearly 30 American solar manufacturers collapsed; today the President is sending a message that American innovation and manufacturing will not be bullied out of existence without a fight," Suniva said in a statement. "We look forward to working with the Administration as these tariffs go into effect and beginning global settlement negotiations."
As part of this case, the US International Trade Commission ruled in October that cheap, foreign-made solar panels were hurting US businesses. However, commissioners did not agree on how to respond, sending Trump a list of varying recommendations in November. The final decision is similar to the ITC's most aggressive recommendation, which was to initially impose 35% tariffs.
"The ITC found that U.S. producers had been seriously injured by imports and made several recommendations to the President," US Trade Representative Robert Lighthizer said in a statement. "The President's action makes clear again that the Trump Administration will always defend American workers, farmers, ranchers, and businesses in this regard."

According to an estimate by the trade group Solar Energy Industries Association, however, the decision could result in a loss of 23,000 current and future jobs in the US. SEIA has contended that Suniva and SolarWorld's financial problems stemmed from poor management.

It could also lead to increased solar costs and a drop in new installations. According to an analysis by GTM Research, the new tariffs could lead to an approximate 11% reduction in potential installations over the next five years. That's assuming there's an initial increase in solar equipment costs by 10 to 12 cents per watt.