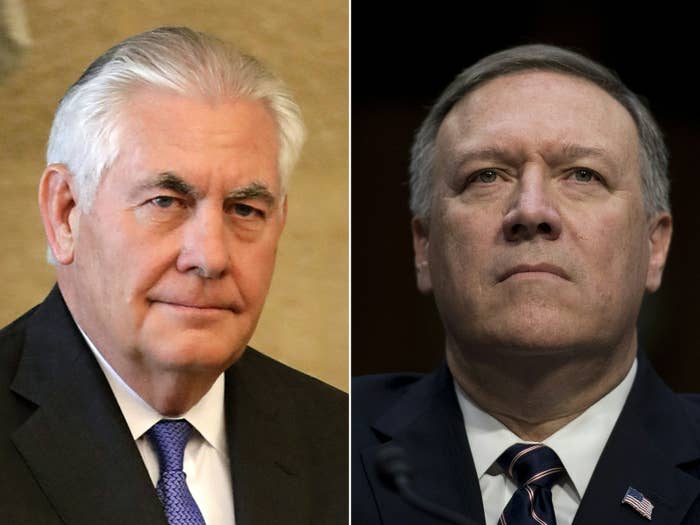 Trump's recent firing of Rex Tillerson so CIA director Mike Pompeo can soon take over as Secretary of State has environmental groups and climate experts shook.

This latest staffing change in the Trump administration — announced Tuesday on Twitter — means the nation's top climate negotiator is set to switch from a former oil executive to an oil-and-gas funded politician.
Environmental advocates had vocally opposed Trump's initial pick of Tillerson, the former CEO of ExxonMobil, an oil giant that used to fund the misinformation of climate change. But he wasn't as tough on climate efforts as they expected, and now some say Pompeo could be worse.
When he was a Republican congressman from Kansas, Pompeo questioned whether most scientists actually agree that global warming is real. He's also criticized the Paris climate agreement, once saying that Obama was signing it "to bow down to radical environmentalists." For consistently voting against pro-environmental regulation, Pompeo received a 4% lifetime rating by the League of Conservation Voters, and his congressional bid was funded in part by the oil-and-gas industry and the Koch brothers.
And last year, during his confirmation hearing to run the CIA, Pompeo ducked questioning about his climate views. "I, frankly, as the director of CIA, would prefer today not to get into the details of climate debate and science," Pompeo told Congress.
In contrast, Tillerson acknowledged climate science in his confirmation hearing and proved to be one of the administration's moderating voices on climate change. He was among those who tried — and failed — to keep the president from pledging to withdraw the US from the Paris climate agreement. Under his watch, career staff continued to participate in the global talks on how to carry out the Paris agreement, although in smaller numbers than before. They also kept up other climate partnerships and research efforts.
What was Tillerson's climate legacy at the State Department? "He didn't really have a legacy," Alden Meyer, director of strategy and policy at the science advocacy group Union of Concerned Scientists, told BuzzFeed News. "He took a hands-off approach. He left it to the career staff to engage on the climate negotiations, which is generally a good thing."
In other words, Tillerson didn't interfere with existing climate work, but he also didn't do much to help it.
Tillerson's big mark on the agency, however, was the exit of top officials and long-time staff, which has resulted in lingering vacancies and low morale, according to David Victor, an international relations professor at the University of California, San Diego.
With Tillerson leaving the department at a low point for environmental concerns and employee enthusiasm, what will Pompeo, if confirmed by Congress, do?
No one can read the future, of course. But some climate advocates and experts have speculated Pompeo will likely avoid the climate work, letting staff continue as usual. They are also concerned about the possibility of the US stepping back even further on the issue. The third, and most unlikely, scenario is Pompeo becoming an advocate for fighting climate change.
Scenario 1: Climate stays a low priority, and current activities continue business-as-usual.
With a tentative meetup of US and North Korea leaders on the horizon, a possible reconsideration of the Iran nuclear deal, and many vacant positions to fill, there's a likely chance Pompeo won't come out swinging on climate change, according to several climate policy experts.
"We know he's had some pretty strong skeptical views on climate change in the past," Andrew Light, a former State Department climate official who is now at the World Resources Institute, told BuzzFeed News. "I just don't think he's going to be coming into the department with this on the short list of things to do."
The transition process will include filing some empty positions, and if those nominations are viewed as toxic to the Democrats in Congress, there will be delays, Victor noted. "Pompeo is going to take over a new job and there's going to be a tremendous learning curve."
If it happens that Pompeo's time is devoted to other issues, and he can't get the staff he wants working on climate, then the agency's programming will quietly continue under the lead of existing staff.
Scenario 2: Pompeo dramatically goes after climate work.
The worst-case scenario for climate activists is that Pompeo digs into climate denial and further condenses the State Department's international climate work. This could mean pulling the US out of the United Nations body that oversees international climate talks, or the US not sending any officials to ongoing climate negotiations, or getting rid of the staff and budget for the agency's environmental work altogether.
Some slightly less extreme steps could include the US cutting its funding to the Intergovernmental Panel on Climate Change, the United Nations group evaluating climate science, or more strongly pushing a fossil fuel agenda abroad.
Some climate denial groups are excited about the prospect. "It's good news for us," Myron Ebell, director of Competitive Enterprise Institute, a conservative group that denies climate change is an urgent problem, told the Huffington Post.
Meanwhile, the Sierra Club, the League of Conservation Voters, 350.org, and more environmental groups have already called on Congress to reject Pompeo's nomination.
"Trump wants to give the stewardship of our international relations to an extremist," Michael Brune, executive director of the Sierra Club, said in a statement. "The Senate must reject Mike Pompeo."
Why would Pompeo take such steps? It could be to get some easy wins for Trump and his base on an already unpopular issue, according to UC San Diego's Victor. But if Pompeo does go this route, it's unclear how big an impact this will have on a global stage, Victor said, where other countries have already started turning elsewhere for climate finance, energy, and technical support.
Scenario 3: Pompeo becomes a climate advocate.
The best-case scenario, according to climate advocates, is also the most unlikely — that Pompeo decides to support the US fighting climate change.
What Pompeo says during his not-yet-scheduled confirmation hearing, where he's expected to again get asked about climate change, will offer clues as to what direction he takes.
But ultimately it's Trump, who has questioned climate science, who decides what the administration does on the matter.
"Will Pompeo stand up to the president as an independent voice on climate change?" asked Jeremy Symons, vice president of political affairs at the Environmental Defense Fund. "There's no evidence that would be the case."