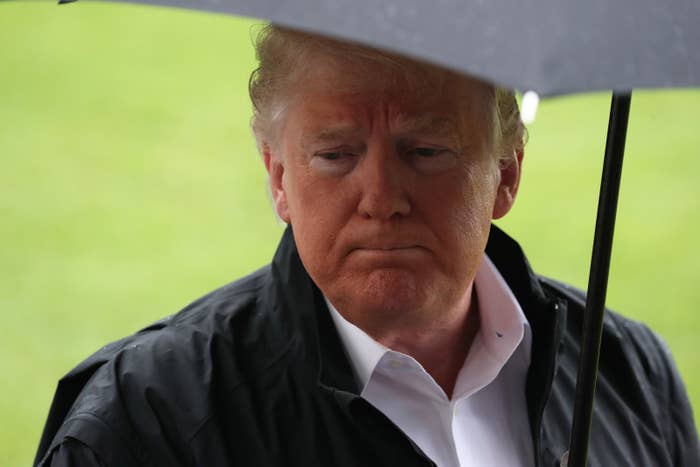 President Donald Trump questioned whether humans are to blame for the changing climate, claimed that "a really big political agenda" is driving scientists' warnings about its impacts, and then said he's not a climate denier in an interview Sunday.
"I think there's probably a difference, but I don't know that it's man-made," Trump told CBS's Lesley Stahl on 60 Minutes. He later added: "I'm not denying climate change. But it could very well go back."
Climate scientists called Trump's climate comments "disturbing," "nonsense," "disappointing," and "sad."
"It is indeed disturbing to see the president of the United States displaying both ignorance of the science and contempt for the scientists themselves," Michael Mann, a professor of atmospheric science at Penn State, told BuzzFeed News in an email. Trump's stated doubts about a human link is an example of climate change denial, Mann said.
Kerry Emanuel, a meteorology professor at MIT, agreed. "The vast majority of the world's climate scientists agree that most of the climate change over the last several decades is manmade," Emanuel wrote in an email.
And Trump's right that the climate could go back, Emanuel said, but there's a hitch: "[I]t will go back, once we stop emitting greenhouse gases. The problem is that this will take several thousand years."
The president made his comments days after Hurricane Michael's historic, devastating landfall on the Florida Panhandle, and a week after a major report warned that the window for limiting future warming is only a few decades, or less.
Sunday's CBS interview was just the latest instance that Trump, members of his administration, or other Republicans, have expressed doubt about the scientific consensus that human-made climate change is real and an urgent problem, and trying to make the economic case for not taking action.
"I will say this: I don't want to give trillions and trillions of dollars," Trump told Stahl. "I don't want to lose millions and millions of jobs. I don't want to be put at a disadvantage."
Also this weekend, Florida Sen. Marco Rubio similarly questioned whether human actions were contributing to climate change, and told Jake Tapper on CNN's State of the Union that he's "not going to destroy our economy" to respond to the threat.
But scientists say that as temperatures go up, the impacts to the US economy will mostly be bad.
During Trump's recent interview, he questioned the idea that changing climate had contributed to Michael churning into an especially intense storm. "They say we had hurricanes that were far worse than we just had with Michael," Trump said. When Stahl pressed Trump about who "they" were, he did not specify.
Scientists say Michael was one of the strongest hurricanes to strike the US since record-keeping began in 1851. The storm made landfall as a Category 4 hurricane with a central pressure of 919 millibars and maximum sustained winds of 155 mph.
"We know that there is a direct relationship between the warming of the oceans and the increase in intensity of these storms," Mann said. "The fact that Michael was the strongest Atlantic basin storm to make landfall so late in the season is tied to the record-level bathtub-warm sea surface temperatures it encountered in the Gulf."
Trump also took aim at climate scientists themselves. When Stahl pointed out that some experts warn about catastrophic climate impacts, Trump said: "You have to show me the scientists. They have a really big political agenda."
Keith Seitter, head of the American Meteorological Society, called this claim "misleading and very damaging," in a letter to Trump on Tuesday. He added that the group's members would "welcome the opportunity" to work with the president and his staff on this issue.

"It's hard to find words for how hard it is to explain to young people that the science they learn every day is dismissed by the president," Kirstin Dow, a geography professor at the University of South Carolina, told BuzzFeed News, "and that the things they learn as they practice in their lab, and as they conduct experiments, and as they review scientific literature, is being treated as illegitimate, tentative, and potentially a hoax or fake."
The most up-to-date summary of how climate change is already impacting the United States is documented in the National Climate Assessment, which was released last year by mostly federal scientists.
"He would be welcome to contact our team," Katharine Hayhoe, a climate scientist at Texas Tech University and one of the outside academics involved in the report, told BuzzFeed News. "The report is in their hands."
The real issue isn't whether climate change is real or not — it's what we are going to do about it, Hayhoe said.

"That is why I was most disappointed in hearing the president's comments. He didn't engage with the real issue: the solutions."
UPDATE
This story has been updated to include a comment from the American Meteorological Society.
CORRECTION
A comment about the hurricane-climate link was given by Michael Mann of Penn State. A previous version mistakenly attributed the comment to MIT's Kerry Emanuel.