More than 6,300 public schools nationwide, serving more than 3.5 million kids, are located in flood zones and risk damage from heavy rains and tropical storms, according to a report published on Tuesday.

And even when a school is not in a flood zone, the kids attending it could live in one, notes the report, published by the research and public policy nonprofit The Pew Charitable Trusts and the consulting firm ICF.
"When a school floods, it can mean more than a day off of school," Laura Lightbody, director of Pew's Flood-Prepared Communities project and one of the study authors, said in a press call. Besides disrupting learning, there can be high costs associated with repairing schools, she said.
There are more than 96,000 public schools in the US, serving 50 million-plus students. Lightbody and her colleagues scored the flood risk for each school based not only on whether a school is in a flood zone, but also the percentage of its community in a flood zone and the number of federally determined flood disasters in its county since 1953. (For about 12,500 of these schools, however, digital flood map data wasn't available and the analysis couldn't be completed.)
The researchers then evaluated each county in the country based on the flood risk of every school within it, and ranked the top 100. Louisiana has 24 of these high-risk counties, and Florida has 15. Florida's Monroe County, at the very bottom of the state, is the nation's riskiest.
One of the biggest findings of the report is that the counties at risk of flooding — especially the top 100 — are in a mix of coastal and inland locations. "Every state across the country faces flood risk," Lightbody said.
This report comes almost a year after record-setting rains inundated central Louisiana last August. Flooding from the massive event left dozens of schools in disrepair only a few days into the school year. The impacts linger today.
"There are still school buildings in Livingston and East Baton Rouge parishes that will not reopen for the 2017-2018 school year," Sydni Dunn, a spokeswoman for the Louisiana Department of Education, wrote in an email to BuzzFeed News. All students are still able to go to school, she added, thanks to sharing facilities or setting up temporary ones.
In Livingston Parish, for example, 16 schools suffered at least some flood damage and 3 of them remain closed, according to the parish's superintendent, Rick Wentzel. Paying for all this "is a pretty big burden," Wentzel said. The costs associated with repairing the schools and other school-owned buildings, and setting up alternative plans have so far been "in the neighborhood of 45 million," he said, with the Federal Emergency Management Agency (FEMA) covering almost half of those costs.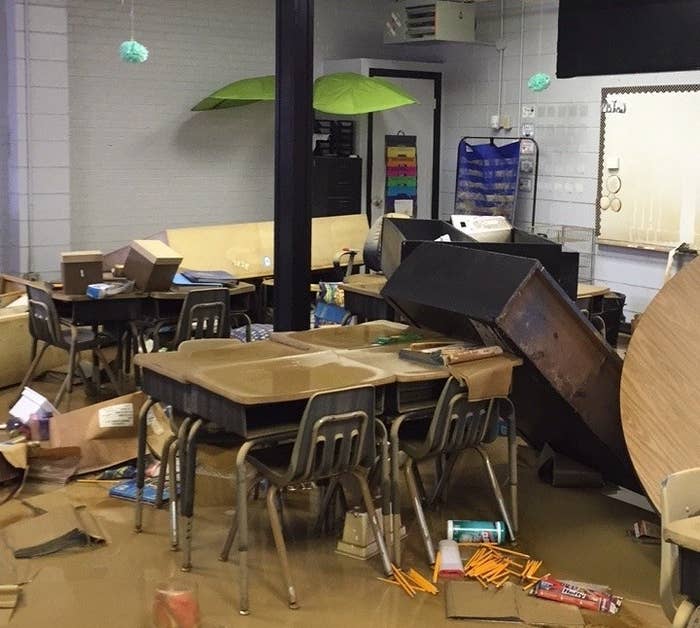 For many months after the event, several schools undamaged or minimally damaged by the floods hosted students from damaged schools. While some schools accepted more students, others hosted different sets of students in the mornings and afternoons.

Changes to school location and schedules—"difficult on families," Wentzel said, especially when those communities face other flood-related damages. Wentzel only moved back into his own flood-damaged home three weeks ago and knows teachers still squatting in FEMA trailers.
Although the schools "didn't have any kind of mitigation plan" before the floods, that's now changing, Wentzel said.
A lack of funding, combined with aging buildings and minimal or nonexistent flood preparations can worsen the threat of damage to schools near flood zones, according to the new report.
The researchers list recommendations for policymakers to help schools prepare for flooding, such as requiring schools to use the federal flood insurance program.
That program, however, is set to expire at the end of September, meaning Congress needs to reauthorize it before then. Lawmakers in the House and Senate are using this as an opportunity to propose changes to the troubled program, which is $24 billion in debt.
Congress is grappling with how you make insurance rates, or premiums, reflect the real flood risk, while at the same time keeping the program affordable, Pew's Lightbody said.
"The reason people are talking about updating the problem is because it has failed," Rob Verchick, the Gauthier-St. Martin Chair in environmental law at Loyola University New Orleans, said. "It's just not a sustainable program."
We're having more and more storm damage, Verchick explained. That's because more people are moving and developing in flood-prone areas. It's also because of manmade climate change, which has resulted in heavier and more frequent rain in certain places, as well as rising seas, which contribute to wave-related damages during coastal storms.
CORRECTION
Sydni Dunn's name was misspelled in an earlier version of this post.