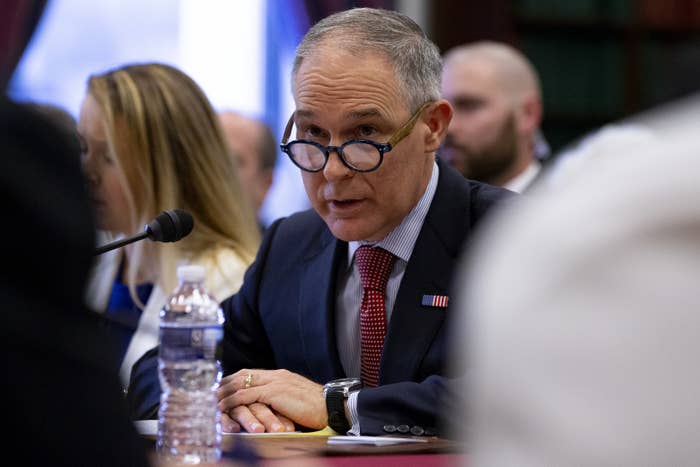 The Environmental Protection Agency has agreed to open "new reviews" into the ethics allegations against its chief Scott Pruitt, including how he arranged his former housing, which was tied to an energy lobbyist.
The EPA's Office of Inspector General announced it was looking into the allegations in a pair of letters sent this week to Democratic Reps. Don Beyer of Virginia and Ted Lieu of California. The OIG confirmed the announcement to BuzzFeed News, and the letters were released publicly Friday.
"Some of these matters will be reviewed as part of previously announced and still ongoing OIG reviews. Some will be the impetus for new reviews," EPA officials wrote.

However, the exact scope or form of these new reviews has not yet been finalized, according to Jennifer Kaplan, a deputy assistant inspector general at the EPA.
The officials acknowledge in their letters that the EPA's OIG has "received multiple requests from multiple members of Congress, as well as other OIG Hotline complaints" about the allegations against Pruitt.
"We do not comment on matters pertaining to EPA's IG," Jahan Wilcox, an EPA spokesperson, wrote in an email to BuzzFeed News.
For the first few months on the job, Pruitt stayed in a multi-floor apartment on Capitol Hill partially owned by the wife of an energy lobbyist and only paid $50 a night for the nights he was there. EPA ethics officials reviewed the situation after the fact, seemingly ruling the situation was not improper. A second bombshell memo, however, clarifies the agency's review was narrow and does not respond to all ethics concerns. Moreover, agency officials have said they were asked to make a determination on the housing without all the facts.
The Office of Government Ethics asked EPA's ethics team to look into several allegations besides the housing deal: expenses for his travel, after reports that Pruitt flew first class; his use of staff and expenses on security, following reports he spent millions on around-the-clock security even while on vacation; the approval of big raises for staff, after reports he approved significant pay increases for two close aides that the White House had not signed off on; the use of staff time, following reports one aide helped him find housing during work hours; and the reassignment, reshuffling, and firing of employees who reportedly questioned his actions.
EPA's ethics office team quickly bounced the request over to the agency's watchdog office, which is already auditing Pruitt's travel through the end of 2017, the EPA's use of a water rule provision to hire staff and give them pay raises, and more.
That's on top of other investigations into Pruitt and the EPA by other government watchdogs, Congress, and the White House. Just last week, for example, the Office of Government Accountability found the EPA broke two laws when it spent $43,000 on a secure phone booth for Pruitt before getting permission from Congress. Earlier this week, Pruitt was grilled about his ethics in back-to-back hearings in Congress. While Democrats uniformly criticized and questioned the agency administrator about his spending, housing, and treatment of staff, the response from Republicans was mixed. Some said his controversies were too big to ignore and asked for clarifications, while others defended him against what they called "a classic display of innuendo and McCarthyism."

"Pruitt repeatedly misled Members of Congress yesterday, and refused to answer their questions, in the hope that it would help take his scandals out of the headlines," Beyer said in a statement emailed to BuzzFeed News. "The Inspector General's letter announcing new reviews of Pruitt's actions makes it clear that the investigation into Pruitt's bad behavior will continue."
"I am pleased the EPA OIG has honored the request I made with Rep. Beyer and others to review Administrator Scott Pruitt's purported misconduct," Lieu said in a statement. "The Inspector General's letter also mentions new matters under review, which shows that Pruitt's alleged corruption may run deep. No one is above the law."