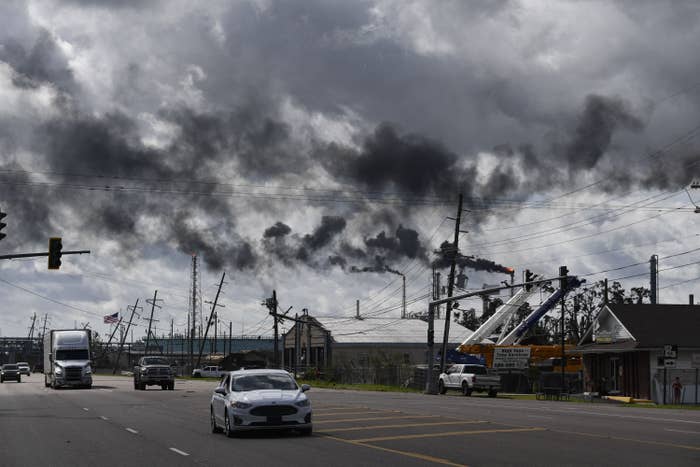 A massive Royal Dutch Shell manufacturing complex in Louisiana's St. Charles Parish is releasing nonstop plumes of smoke into the air after Hurricane Ida knocked out its power.
Local, state, and federal officials are monitoring the incident.
The plumes of smoke at Shell's Norco plant are just one of a growing number of sources of industrial pollution slowly coming into view across the Gulf Coast following the Category 4 hurricane's devastating blow to the region.
Ida washed out roads, flattened homes and businesses, felled trees, and knocked out power for roughly 1 million people, including the entire city of New Orleans. At least seven people died in the region due to the storm.
At this point, Shell is not saying much about the problems plaguing the Norco facility, one of the largest petrochemical plants in the country.
In response to questions from BuzzFeed News, an oil company spokesperson declined to say what gases are being released or what amount of emissions have already gone into the air.
The company also did not share a timeline for when the plumes of black smoke would stop.
"While the site remains safe and secure, we are experiencing elevated flaring," Curtis Smith, a Shell spokesperson, told BuzzFeed News in an email. "We expect this to continue until power is restored."
When it's up and running, Shell's combined refinery and chemical plant in Norco processes about 250,000 barrels of crude oil and 170,000 barrels of gasoline a day, in addition to generating billions of pounds of ethylene, propylene, and other chemicals.
Like other refineries and industrial sites along the Gulf Coast, Shell shut down the plant ahead of Ida's landfall.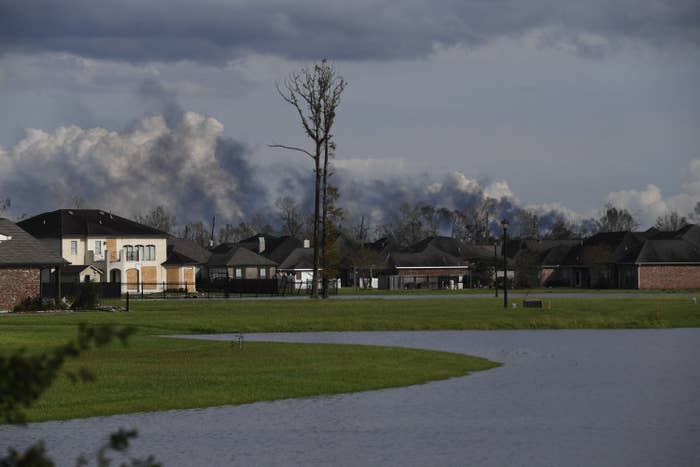 Industrial sites often spew dirty gases into the air during emergency shutdowns and restarts, threatening nearby communities with smog and other pollution that can make it hard for people to breathe.
Back in 2017, Hurricane Harvey led to Texas chemical and petroleum plants releasing a year's worth of pollution in a matter of days and weeks, according to a BuzzFeed News analysis.
According to Shell's Norco permit, some flaring in emergency situations is allowed, but it's unclear whether the current emission levels exceed what's allowable under the permit.
"Shell Norco is flaring," Gregory Langley, press secretary of Louisiana's Department of Environmental Quality, told BuzzFeed News in an email. "When there is an emergency condition, they are allowed to do this under their permit."
That being said, Langley added, "The flares at Shell Norco are large and produce some smoke."
Starting Thursday, Louisiana's environmental officials will monitor Norco's air quality using what's called a Mobile Air Monitoring Laboratory.
The Environmental Protection Agency is also sending a special plane to help monitor local air emissions in Norco, agency press secretary Nick Conger told BuzzFeed News in an email. EPA has received reports of the facility flaring four types of noxious gas: butadiene, benzene, hydrogen sulfide, and hydrogen, Conger added.
"Excessive smoke seen in the community is a result of a lack of electricity" at the plant, EPA officials wrote in an incident summary posted online Wednesday afternoon.
They noted that Shell is conducting its own air monitoring along the Norco fence line and in the surrounding community, reporting that information to emergency officials in St. Charles Parish, and company engineers "are looking at all options to try to reduce emissions to flare."
St. Charles Parish officials did not immediately respond to questions from BuzzFeed News. Shell also declined to provide information about its air monitoring results to BuzzFeed News.
Norco residents say the current flaring levels aren't normal.
"This is bad," Norco resident Peter Anderson told DeSmog. "I have never seen this many flares."
Beyond Norco, Shell is still assessing whether Ida damaged a chemical plant in Geismar, Louisiana, as well as any of the company's floating platforms and other infrastructure used for extracting fossil fuels offshore in the Gulf of Mexico.
Ongoing power outages, widespread storm debris, and impassable roads are complicating the ability of companies and government officials to quickly identify environmental impacts, such as emission releases and spills, triggered by the storm.
At least 138 major industrial sites are located in parishes hit hard by Ida, according to the New York Times.
As of Wednesday afternoon, the EPA had received 28 reports of possible spills and pollution events in places hit by Ida, including 17 possible air pollution incidents. None of them have so far required the EPA to do on-the-ground assessments.
Meanwhile, the Associated Press reported on Wednesday that there's a mileslong black slick of oil near an oil rig in Gulf waters. The spill was identified using aerial imagery.
UPDATE
This story has been updated to include a response from the Environmental Protection Agency, noting that officials have received reports detailing how four types of gases are being flared at the Norco plant and how the agency is deploying a plane to monitor local air emissions.