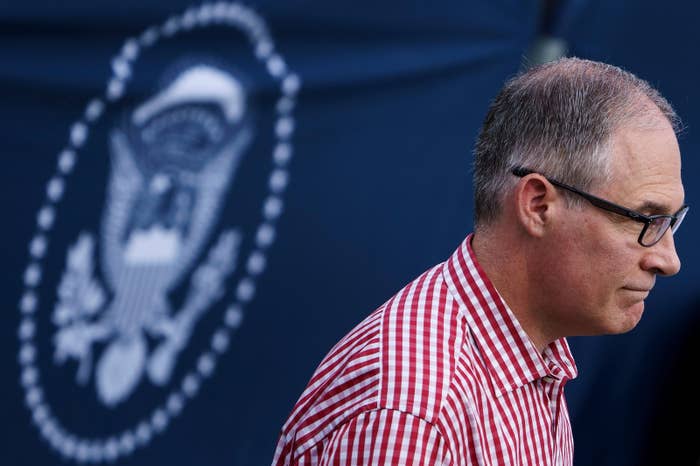 Scott Pruitt, one of President Donald Trump's most controversial and effective cabinet secretaries, is resigning from the Environmental Protection Agency after months of unending ethical scandals.
Trump tweeted the news Thursday afternoon, and said Pruitt's deputy, Andrew Wheeler, would at least temporarily take on his role beginning Monday, July 9.
In a conversation with reporters Thursday evening, the president lauded Pruitt for getting "rid of record-breaking regulations."
However, he did acknowledge that there were "controversies with Scott."
"Scott is a terrific guy. And he came to me and he said, 'I have such great confidence in the administration.' I don't want to be a distraction," Trump told reporters aboard Air Force One. "I think Scott felt that he was a distraction."

While Pruitt's resignation was "very much up to him," Trump said the two had been discussing it "for a couple of days."
"We've been talking about it for a little while," he said, adding that he believes Pruitt will "go on to do great things and he's going to have a wonderful life."
As for Wheeler, who is a former coal lobbyist, the president called him "a very environmental person. He's a big believer, and he's going to do a fantastic job."
Pruitt's exit comes just a day after he joined Trump and other administration officials at the White House for a Fourth of July celebration.
Pruitt has faced heavy scrutiny for potential ethical lapses tied to his spending, housing, treatment of staff, relationships with energy leaders, and travel on the job. A federal watchdog in April found the EPA violated two laws when it spent $43,000 on a secure phone booth for Pruitt without first seeking permission from Congress. The White House's Office of Management and Budget has also announced an investigation into the purchase.

Most recently, Pruitt has drawn scrutiny for asking aides to assist with his wife's job search, including approaching Chick-fil-A; using his staff to run errands for him, like getting fancy lotion sold at Ritz-Carlton hotels and look into getting a used mattress from the Trump International Hotel for Pruitt's own use; and for the EPA reportedly "scrubbing" his public calendar of certain meetings.
There are more than a dozen open investigations into Pruitt by government watchdogs, the Office of Special Counsel, Congress, and the White House. One overlapping area of scrutiny is Pruitt's leasing of an apartment near Capitol Hill for $50 a night for some of last year from the wife of an energy lobbyist. One of the clients of the lobbyist, the New York Times reported, got a pipeline expansion approved while Pruitt was staying at the apartment. Pruitt and the partial owner of the apartment have denied any impropriety.
EPA officials at first appeared to clear the condo arrangement of all ethics allegations once it became public. But a bombshell memo by the agency's top ethics official said the initial review was narrow in scope and based on limited information.
Pruitt, in his resignation letter to the president, said it has been an "honor" to serve in Trump's cabinet but that the "the unrelenting attacks on me personally, my family, are unprecedented and have taken a sizable toll on all of us." He wrote that his "desire in service to you has always been to bless you as you make important decisions for the American people." He added, "I believe you are serving as President today because of God's providence."
"History will not judge him well and let's just hope this guy never gets near another government agency," Judith A. Enck, a former EPA regional administrator, told BuzzFeed News after Trump announced Pruitt's exit.

Christine Todd Whitman, EPA chief under George W. Bush, told BuzzFeed News in an emailed statement that "For the sake of the reputation of Agency and the Administration, it is way past time for Scott Pruitt to have resigned."

Since becoming EPA's chief in February 2017, Pruitt has overseen a massive rollback of environmental rules, overhauled the agency's science advisory boards, met far more often with industry groups than environmentalists, put a political appointee in charge of grants, and de-emphasized climate change. Aside from just shifting policy, these changes have resulted in low morale at the agency, and hundreds of staff departures.
In a congressional hearing in late April, Pruitt blamed opponents of his deregulatory agenda for the focus on potential ethical lapses. "Those who have attacked the EPA and attacked me are doing so because they want to derail the president's agenda," he told a House committee. Conservative groups supportive of Pruitt's rule rollback have largely come to his defense in the ethical storm. "We're getting the word out that Administrator Pruitt is doing a good job in implementing the president's agenda and Administrator Pruitt is a key part of that agenda," Myron Ebell, director of the Competitive Enterprise Institute, told E&E News in April.
But as more allegations keep coming out, even some of Pruitt's conservative allies lost patience. Sen. James Inhofe, Pruitt's longtime political backer from Oklahoma, questioned his judgment in June. Conservative radio host Laura Ingraham has called for Pruitt to go. Editors of the National Review, a conservative news magazine, also called for Pruitt's departure in a June 13 editorial.
Inhofe praised Pruitt, though, in a statement after his departure. "He was single minded at restoring the EPA to its proper statutory authority and ending the burdensome regulations that have stifled economic growth across the country," he said. He did not mention any of his previous concerns with the outgoing administrator.
Pruitt's success at advancing Trump's deregulatory agenda was not lost on the White House, even as it has probed the many allegations against him. At a briefing in early April, press secretary Sarah Huckabee Sanders said Trump "thinks he's done a good job, particularly on the deregulation front," but added that the White House takes the ethical allegations "seriously."
But those allegations have weighed heavily over Pruitt and his agency for months.
Pruitt has also drawn public criticism, as well as internal and congressional review, for his expensive practice of traveling first class and spending millions on around-the-clock security.
Congressional Democrats outlined a series of allegations about Pruitt's behavior from a former top EPA official in an April letter to the administrator, suggesting his leadership "has been fraught with numerous and repeated unethical and potentially illegal actions." The allegations included blowing through his spending limit for redecorating his office, spending excessively on security, and insisting on using lights and sirens while traveling.
In reality, Pruitt has not faced dire security threats, according to documents obtained by BuzzFeed News. One of the threats against Pruitt investigated by the EPA's internal watchdog consisted of someone drawing a mustache over a portrait of Pruitt on the cover of a Newsweek magazine and posting the magazine inside an EPA elevator. That investigation was closed because of a lack of an "overt threat."
The list of complaints and concerns about Pruitt's tenure goes on. Under Pruitt's watch, multiple staffers have been hired or gotten big raises through an obscure provision in a water rule. At least five EPA officials have also been reassigned, demoted, or asked for new jobs after raising ethical and spending questions about Pruitt, the New York Times reported. EPA reportedly looked into opening a new office in Pruitt's hometown of Tulsa, Oklahoma, and tapped current and former lobbyists to plan the administrator's travel abroad. Pruitt also wanted to get commemorative coins issued for the department that would be exceptionally large and feature items symbolizing himself, such as a bible verse. The proposed coin didn't include the agency's logo because Pruitt thought it looked look a cannabis leaf, according to the New York Times. (The coins were never made.)
But Pruitt had a momentous stay at EPA, particularly on deregulation. The agency has undone, or proposed to undo, dozens of Obama-era environmental and climate rules. It has proposed to rescind protection to thousands of small waterways and planned to gut Obama's signature climate rule requiring power plants to curb their carbon emissions. In April, the EPA announced plans to weaken Obama-era rules intended to reduce climate pollution from cars and trucks, arguing they are too strict and to dramatically restrict the science it uses for rulemaking.
The rule changes have sometimes come soon after Pruitt has met with, or received letters from, industry groups that would directly be impacted by the restrictions — and they are largely being challenged in court by environmental groups or individual states. After each big announcement, companies that stand to benefit from the change have publicly embraced the decision. In April, for example, automakers cheered Pruitt's rollback of climate pollution rules for cars and light trucks. The Heartland Institute and other groups that deny the urgency of climate change have celebrated the deregulation agenda.
But Pruitt's EPA has faced defeats in court. Last July, for example, the EPA was ordered to enforce a methane pollution rule and a different court later ruled the agency needed to carry out 2015 ozone standards.
Pruitt's initial success at EPA has given him a higher profile than some other secretaries, and that came with reports that he had been eyeing other jobs. He reportedly asked Trump this spring to name him as a replacement for Jeff Sessions as attorney general. He's also, the New York Times reported in March, weighed a future presidential run.
Pruitt was one of the administration's top voices advocating for the US to pull out of the Paris climate agreement. Pruitt has not only questioned climate science on the job, but also last year called for a public debate on the issue. The White House has since squashed the idea. The agency has also taken down some of its climate content online, and stopped some of its scientists from talking at a climate conference in Rhode Island last October.
Pruitt was previously Oklahoma's attorney general, where he repeatedly sued the EPA over its environmental rules. Before that, he served eight years as an Oklahoma state senator.
Wheeler, who is now set to be acting head of the EPA, is a former coal lobbyist. The Senate approved him to be second-in-command at the EPA largely along a party-line vote in early April. At the time, energy companies and conservative groups praised Trump's decision to nominate Wheeler to the EPA.
"I am both humbled and honored to take on this new responsibility at the same agency where I started my career over 25 years ago," the soon-to-be acting chief said in a message to EPA staff Thursday night.